[?]
Not a member? Sign-up now, it's free!
Login
[?]
These are links to some of the major sections in the mixtape collective.
Lists: Browse various lists that are generated by the loads of data we have collected.
Contests: Check out the latest contests, see previous winners, and find out how you can be a part
Music: Check out our ever-growing database of musical knowledge! Use it to find any artist, album, or track that has been entered since the birth of the site and rate and find detailed usage statistics.
Main
[?]
Tired of looking at the same old pages? Try checking out a random one, you never know what you might find...
Random!
Songs for J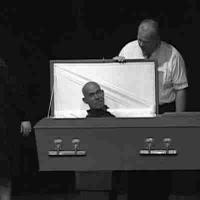 Songs for J
Created by:
johnny_luddite
Tracks:
15
Length:
00:59:43
Keywords
1. goodbye
2. friend
3. suicide
Created on
11/03/06 01:48am
Level
5
Points
2118
Total visitors
64
Unique visitors
45
description:
I wasn't planning to do another mixtape for a bit, I have done a lot lately. Something haoppened today to change my mind. A friend died, took his own life. Not a close friend, but someone I liked and respected a lot. Someone who had been good to me since I arrived in California. The numbness that followed the news was soon replaced by sadness, celebration of the coolness of the guy, bewilderment that none of his friends were able to present enough good arguments from stopping this from happening, and then anger that it had. Anger in general, and anger at my friend. All those feelings are somewhere in the mixtape, which is made with all those elements included, but mostly with love. The tracks all mean something in relation to my friend. Sometimes I will explain, sometimes I won't. Sometimes it should be evident.
tracklist
1
Scissor Sisters : Comfortably Numb
A predictable enough way to start, but I hope my friend would be amused that I avoided Flord and went for the [...]

SHOW MORE

Track 13 from Deejay Parade 2003 (Disc 2)
Length: 00:03:18
Year: 0000
Track Description:
A predictable enough way to start, but I hope my friend would be amused that I avoided Flord and went for the silly dance version instead.

SHOW LESS

2
Dusty Springfield : Spooky
My friend once claimed to have photographed ghosts in an old theater. He was also writing a book about canniba [...]

SHOW MORE

Track 1 from The Very Best Of...
Length: 00:02:45
Year: 0000
Track Description:
My friend once claimed to have photographed ghosts in an old theater. He was also writing a book about cannibalism. Again, I hope he would be amused by this choice.

SHOW LESS

3
David Bowie : Cracked Actor
He was a good actor, and all actors are more than a little cracked. We will be returning to Bowie later, and I [...]

SHOW MORE

Track 5 from Aladdin Sane
Length: 00:02:56
Year: 1973
Track Description:
He was a good actor, and all actors are more than a little cracked. We will be returning to Bowie later, and I make no excuse for it!

SHOW LESS

4
Annie Lennox : Why
One of the big questions of the day. We speculate but nothing is really achieved. Annie Lennox does have this [...]

SHOW MORE

Track 1 from Diva
Length: 00:04:54
Year: 1992
Track Description:
One of the big questions of the day. We speculate but nothing is really achieved. Annie Lennox does have this way of soothing the soul with that incredible instrument of hers, even on a sad song like this one. The song ends and the speculation continues...

SHOW LESS

5
The Smiths : I Want the One I Can't Have
...Most people have felt like this at some point. We all deal with things in a different way.

SHOW MORE

Track 3 from Meat is Murder
Length: 00:03:14
Year: 1987
Track Description:
...Most people have felt like this at some point. We all deal with things in a different way.

SHOW LESS

6
Neil Young : Only Love Can Break Your Heart
My friend used to come to an open mike night I co-ran on Friday nights. A lot of Neil Young songs got sung. Th [...]

SHOW MORE

Track 3 from After the Goldrush
Length: 00:03:05
Year: 1970
Track Description:
My friend used to come to an open mike night I co-ran on Friday nights. A lot of Neil Young songs got sung. This one fits.

SHOW LESS

7
Frank Zappa : Wind Up Working in a Gas Station
I have drifted through life mostly doing the things I wanted to. The expectation of getting a career and 'doin [...]

SHOW MORE

Track 1 from Zoot Allures
Length: 00:02:29
Year: 0000
Track Description:
I have drifted through life mostly doing the things I wanted to. The expectation of getting a career and 'doing something with your life' weighs heavier on some people.

SHOW LESS

8
Nirvana : Lithium
Depression is a fucking monster that visits most. I had this minor rage for a time that Kurt Cobain had someho [...]

SHOW MORE

Track 5 from Nevermind
Length: 00:04:16
Year: 1991
Track Description:
Depression is a fucking monster that visits most. I had this minor rage for a time that Kurt Cobain had somehow made suicide glamorous. A stupid idea, which ended up with me just being pissed off because there would be no more Nirvana. Music fans are shiteheads sometimes.

SHOW LESS

9
Sonny Rollins : I've Grown Accustomed To Your Face
Once at the Friday night open mike, we had something of a jazz jam going on. My friend said he didn't know muc [...]

SHOW MORE

Track 2 from Rollins Plays For Bird
Length: 00:04:51
Year: 0000
Track Description:
Once at the Friday night open mike, we had something of a jazz jam going on. My friend said he didn't know much about music, but he knew he liked this. I don't treally know what his musical tastes were. When we met we either talked about acting, or told jokes. I think he would have liked this though.

SHOW LESS

10
Leonard Cohen : Hey, That's No Way To Say Goodbye
It just isn't.

SHOW MORE

Track 0 from The Essential Leonard Cohen (Disc 1)
Length: 00:02:54
Year: 0000
Track Description:
It just isn't.

SHOW LESS

11
Peter Green : Crying Won't Bring You Back
Won't stop people crying of course. This is Peter Green past his prime, but it is still a touching and in part [...]

SHOW MORE

Track 3 from Green And Guitar
Length: 00:05:08
Year: 0000
Track Description:
Won't stop people crying of course. This is Peter Green past his prime, but it is still a touching and in part beautiful recording.

SHOW LESS

12
Sugar Blue : Miss You
Sugar Blue was the harmonica player on the Stones original version. This song seems to hang around on days lik [...]

SHOW MORE

Track 3 from Blue Blazes
Length: 00:06:11
Year: 0000
Track Description:
Sugar Blue was the harmonica player on the Stones original version. This song seems to hang around on days like these.

SHOW LESS

13
David Bowie : Slip Away
I was going to put a Stranglers song with a title that would have been a dark pun, but for once in my life, I [...]

SHOW MORE

Track 3 from Heathen
Length: 00:06:04
Year: 2002
Track Description:
I was going to put a Stranglers song with a title that would have been a dark pun, but for once in my life, I couldn't bring myself to do it.

SHOW LESS

14
Portishead : Mourning Air
When you need to stay in a bad way, but want to be soothed as well, you need Beth Gibbons. I wish my friend ha [...]

SHOW MORE

Track 7 from Portishead
Length: 00:04:15
Year: 1997
Track Description:
When you need to stay in a bad way, but want to be soothed as well, you need Beth Gibbons. I wish my friend had been a Portishead fan!

SHOW LESS

15
Jethro Tull : A Song For Jeffrey
Bye mate. Love, light and peace.

SHOW MORE

Track 9 from This Was
Length: 00:03:23
Year: 0000
Track Description:
Bye mate. Love, light and peace.

SHOW LESS
Tag Board
You must log in to leave a tag
Stuff
Quick Jump
johnny_luddite's other mixes
Related mixes
recent visitors
show all