[?]
Not a member? Sign-up now, it's free!
Login
[?]
These are links to some of the major sections in the mixtape collective.
Lists: Browse various lists that are generated by the loads of data we have collected.
Contests: Check out the latest contests, see previous winners, and find out how you can be a part
Music: Check out our ever-growing database of musical knowledge! Use it to find any artist, album, or track that has been entered since the birth of the site and rate and find detailed usage statistics.
Main
[?]
Tired of looking at the same old pages? Try checking out a random one, you never know what you might find...
Random!
My Favorite Things - CD 1 - Instrumental Jazz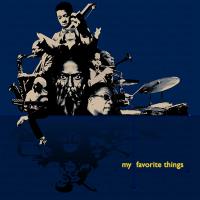 My Favorite Things - CD 1 - Instrumental Jazz
Created by:
afreu
Tracks:
16
Length:
01:17:48
Keywords
1. my favorite things
2. instrumental jazz
3. latin american
Created on
2/11/07 04:56am
Level
6
Points
2728
Total visitors
65
Unique visitors
30
description:
A girl I met, asked me to compile some Jazz music for her. So I made her a 2 CD mix. She said she likes latin-American rythms and good female voices.

So I decided to make her one CD with some instrumental jazz tracks, some featuring a Latin American theme and all being more of the faster kind. The second CD focuses on vocal Jazz with a few renowned Jazz singers and some stuff I just like.

All of the tunes are of course among my favorite jazz things.

This first CD is the instrumental thing, the second CD with vocal jazz tunes will follow shortly as extra mixtape.
tracklist
1
John Coltrane : I'm old fashioned
What better way to start a jazz mix than with the King himself. The song is one of my favorite Coltrane tracks [...]

SHOW MORE

Track 4 from
Length: 00:07:59
Year:
Track Description:
What better way to start a jazz mix than with the King himself. The song is one of my favorite Coltrane tracks and its title is a nice statement about my musical taste and the stuff she's going to hear on this mix.

SHOW LESS

2
Miles Davis : Walkin
Another Jazz heavy weight. Picking up the speed a little bit. I just love this song.

SHOW MORE

Track 2 from The Complete Concert 1964 My Funny Valentine + Four
Length: 00:08:09
Year: 1964
Track Description:
Another Jazz heavy weight. Picking up the speed a little bit. I just love this song.

SHOW LESS

3
Klazzbrothers & Cubapercussion : So What
Introducing the Latin American theme with the cuban version of "So What".

SHOW MORE

Track 8 from Jazz Meets Cuba
Length: 00:02:58
Year: 2003
Track Description:
Introducing the Latin American theme with the cuban version of "So What".

SHOW LESS

4
Curtis Fuller : Quantrale
Cooling it down a bit. Just an incredible song.

SHOW MORE

Track 6 from Blue note Trip - Movin On
Length: 00:05:57
Year: 0000
Track Description:
Cooling it down a bit. Just an incredible song.

SHOW LESS

5
Miles Davis : Seven Steps to Heaven
And here he is again :P I know three tracks of the same artist on one mix... I promise this is Miles Davis's l [...]

SHOW MORE

Track 6 from Seven Steps - the complete columbia recordings
Length: 00:05:33
Year: 2004
Track Description:
And here he is again :P I know three tracks of the same artist on one mix... I promise this is Miles Davis's last appearance on this mix. When I heard the first 9 seconds of Seven Steps for the first time I fell instantly in love with it. An incredible piece of Jazz. So it definitly belongs here.

SHOW LESS

6
Grant Green : Sunday Mornin'
Forget to mention she plays the guitar herself. So I thought it would be wise to include some jazz guitarist a [...]

SHOW MORE

Track 0 from Sunday Mornin'
Length: 00:04:02
Year: 1961
Track Description:
Forget to mention she plays the guitar herself. So I thought it would be wise to include some jazz guitarist and with Grant Green being one of my favorite jazz artists anyway I choose this tune.

SHOW LESS

7
The Jazz Crusaders : Young Rabbits
A track I found on Jazzanova's Jazz compilation. Like it a lot.

SHOW MORE

Track 0 from The Kings of Jazz
Length: 00:03:39
Year: 2006
Track Description:
A track I found on Jazzanova's Jazz compilation. Like it a lot.

SHOW LESS

8
Chico Hamilton : The Morning Side of Love
Awesome track! Nothing else =)

SHOW MORE

Track 0 from Blue Note Trip
Length: 00:04:21
Year: 2003
Track Description:
Awesome track! Nothing else =)

SHOW LESS

9
Dave Brubeck : My Favorite Things
A reference to the title of the mix with this nice and clean version of Richard Roger's jazz classic.

SHOW MORE

Track 0 from Time Signatures
Length: 00:02:58
Year: 1992
Track Description:
A reference to the title of the mix with this nice and clean version of Richard Roger's jazz classic.

SHOW LESS

10
Egberto Gismonti : Sanfona
Here again, love at first sight! It's a bit unusual sound but it rocks.

SHOW MORE

Track 0 from Blue Note Trip Vol.5
Length: 00:04:01
Year: 2006
Track Description:
Here again, love at first sight! It's a bit unusual sound but it rocks.

SHOW LESS

11
Eddie Harris : Listen here
Giving a bit more tempo again. Really funky track and it has this Latin-American rythm.

SHOW MORE

Track 0 from Listen here!
Length: 00:03:08
Year: 1993
Track Description:
Giving a bit more tempo again. Really funky track and it has this Latin-American rythm.

SHOW LESS

12
Roy Haynes : Quiet Fire
Keeping the rythm, just loving the sound of this song. Great percussion sets.

SHOW MORE

Track 0 from Kings of Jazz
Length: 00:08:16
Year: 2006
Track Description:
Keeping the rythm, just loving the sound of this song. Great percussion sets.

SHOW LESS

13
Soil & Pimp Sessions : Waltz for Goddess
Really dynamic jazz track by this Japanese group. Whenever I hear it, I've to get up and dance like crazy thro [...]

SHOW MORE

Track 0 from Pimp Master
Length: 00:04:28
Year: 2006
Track Description:
Really dynamic jazz track by this Japanese group. Whenever I hear it, I've to get up and dance like crazy through my appartment. I can't help doing it.

SHOW LESS

14
Dizzy Gillespie : Pensativo
Great track from one of the founders of true Afro-Cuban jazz.

SHOW MORE

Track 0 from Afro Cuban Jazz Moods
Length: 00:05:27
Year: 1990
Track Description:
Great track from one of the founders of true Afro-Cuban jazz.

SHOW LESS

15
herbie hancock : Blue Otani
One of the best jazz piano solos I've ever listened too. A more relaxed tune.

SHOW MORE

Track 0 from The Piano
Length: 00:03:26
Year: 1971
Track Description:
One of the best jazz piano solos I've ever listened too. A more relaxed tune.

SHOW LESS

16
herbie hancock : Blue Otani
"I be blowin" was my introduction to jazz, since I used to listen to Hip Hop a lot first. And it's a great nic [...]

SHOW MORE

Track 0 from The Piano
Length: 00:03:26
Year: 1971
Track Description:
"I be blowin" was my introduction to jazz, since I used to listen to Hip Hop a lot first. And it's a great nice last track.

SHOW LESS
Tag Board
You must log in to leave a tag
Stuff
Quick Jump
afreu's other mixes
Related mixes
recent visitors
show all