[?]
Not a member? Sign-up now, it's free!
Login
[?]
These are links to some of the major sections in the mixtape collective.
Lists: Browse various lists that are generated by the loads of data we have collected.
Contests: Check out the latest contests, see previous winners, and find out how you can be a part
Music: Check out our ever-growing database of musical knowledge! Use it to find any artist, album, or track that has been entered since the birth of the site and rate and find detailed usage statistics.
Main
[?]
Tired of looking at the same old pages? Try checking out a random one, you never know what you might find...
Random!
ADIOS, ASS!!!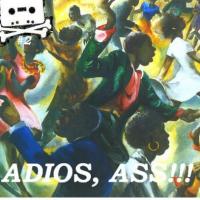 ADIOS, ASS!!!
Created by:
Ed_Finnerty
Tracks:
23
Length:
01:18:06
Keywords
1. MIX CONTEST 11
2. MIX CONTEST 11
3. MIX CONTEST 11
Created on
4/25/07 10:49am
Level
5
Points
2051
Total visitors
51
Unique visitors
32
description:
GET READY TO SAY ADIOS TO YOUR ASS, BECAUSE BY THE END OF THIS MIX YOU WILL HAVE DANCED IT OFF! SAY ADIOS TO YOUR CHANCES OF WINNING THIS CONTEST TOO BECAUSE I JUST HAPPEN TO ME THE BEST DANCE MIXES. IF YOU DOWNLOADED THESE SONGS AND PUT THEM ON A COUPLE TAPES YOU WILL BE HAVE A DANCE PARTY, NO DOUBT!
tracklist
1
Electric Six : Dance Commander
THE FIRST SONG... NO ONE WANTS TO DANCE ON THE FIRST SONG, SO I FIGURE SOMEONE WITH SUCH AN AUTHORITATIVE TITL [...]

SHOW MORE

Track 1 from Fire
Length: 00:02:34
Year: 2003
Track Description:
THE FIRST SONG... NO ONE WANTS TO DANCE ON THE FIRST SONG, SO I FIGURE SOMEONE WITH SUCH AN AUTHORITATIVE TITLE LIKE "DANCE COMMANDER" SHOULD GET A FEW TOES TAPPING.

SHOW LESS

2
Beck : Sexx Laws
THE HORNS AT THE BEGGING MAKE ME WANT TO DANCE. THEY WILL MAKE YOU WANT TO DANCE AS WELL. PLUS, THE WORD SEX I [...]

SHOW MORE

Track 1 from Midnite Vultures
Length: 00:03:39
Year: 1999
Track Description:
THE HORNS AT THE BEGGING MAKE ME WANT TO DANCE. THEY WILL MAKE YOU WANT TO DANCE AS WELL. PLUS, THE WORD SEX IS IN THE TITLE!

SHOW LESS

3
Junior Senior : move your feet
IF YOU'RE NOT DANCING ABOUT 4 BARS INTO THIS SONG, YOU'RE DEAD.

SHOW MORE

Track 13 from D-D-Don't stop the beat
Length: 00:03:07
Year: 2003
Track Description:
IF YOU'RE NOT DANCING ABOUT 4 BARS INTO THIS SONG, YOU'RE DEAD.

SHOW LESS

4
LCD Soundsystem : Movement
I SERIOUSLY DARE YOU NOT TO MOVE.

SHOW MORE

Track 4 from LCD Soundsystem (Disk 1)
Length: 00:03:04
Year: 2005
Track Description:
I SERIOUSLY DARE YOU NOT TO MOVE.

SHOW LESS

5
Best Fwends : Ninja Turdle
THESE GUYS ARE SUPER FUNN. THIS SONG IS REALLY SHORT, BUT GREAT!!

SHOW MORE

Track 3 from Best Fwends EP
Length: 00:00:56
Year: 2006
Track Description:
THESE GUYS ARE SUPER FUNN. THIS SONG IS REALLY SHORT, BUT GREAT!!

SHOW LESS

6
Fergie : London Bridges
YOU CAN HATE FERGIE ALL YOU WANT (I DO TOO) BUT THIS TRACK IS UNDENIABLY FUN & AMAZING FOR ANY DANCE PARTY. PL [...]

SHOW MORE

Track 0 from The Dutchess
Length: 00:03:28
Year: 2006
Track Description:
YOU CAN HATE FERGIE ALL YOU WANT (I DO TOO) BUT THIS TRACK IS UNDENIABLY FUN & AMAZING FOR ANY DANCE PARTY. PLUS, MOST FOLKS NEED A SONG THEY ACTUALLY KNOW BEFORE THEY'LL START SHAKING THE BOOTY. THIS SONG WILL BREAK THE ICE FOR ANY REMAINING WALL PEOPLE.

SHOW LESS

7
bubba sparxxx : Ms. New Booty
I AM NOT ASHAMED TO SAY THAT I FUCKING LOVE THIS TRACK. I LOVE TO DANCE TO IT AND I LOVE TO SING THE CHORUS AT [...]

SHOW MORE

Track 0 from The Charm
Length: 00:04:39
Year: 0000
Track Description:
I AM NOT ASHAMED TO SAY THAT I FUCKING LOVE THIS TRACK. I LOVE TO DANCE TO IT AND I LOVE TO SING THE CHORUS AT THE TOP OF MY LUNGS. I'VE NEVER HEARD ANY OTHER BUBBA SPARXXX SONGS AND I'M OKAY WITH THAT. AND JUST LIKE THE LAST TRACK, PEOPLE NEED STUPID SONGS TO BREAK THE ICE.

SHOW LESS

8
Timbaland : Release
RELEASE! IT'S OUT OF CONTROL!! AND SO SHOULD YOUR DANCE PARTY BE BY NOW. TIMBALAND STILL MAKES THE BEST BEATS [...]

SHOW MORE

Track 3 from Timbaland Presents: Shock Value
Length: 00:03:25
Year: 2007
Track Description:
RELEASE! IT'S OUT OF CONTROL!! AND SO SHOULD YOUR DANCE PARTY BE BY NOW. TIMBALAND STILL MAKES THE BEST BEATS TO BUMP & GRIND TO.

SHOW LESS

9
Justin Timberlake : Damn Girl
THIS TRACK IS A BIT LONG FOR A DANCE MIX, BUT IT WORKS BECAUSE IT'S SO DAMN HOTT. I THINK THE LADIES (AND POSS [...]

SHOW MORE

Track 8 from FutureSex/LoveSounds
Length: 00:05:12
Year: 2006
Track Description:
THIS TRACK IS A BIT LONG FOR A DANCE MIX, BUT IT WORKS BECAUSE IT'S SO DAMN HOTT. I THINK THE LADIES (AND POSSIBLE GENTS) WILL HAVE TO SHAKE THEIR ASSES TO THIS.

SHOW LESS

10
Klaxons : Magick
RAVE! RAVE! RAVE! YOU MIGHT NEED TO TURN THE LIGHTS OUT FOR THIS ONE. OR GET A FRIEND TO AT LEAST MAN THE LIGH [...]

SHOW MORE

Track 9 from Myths Of The Near Future
Length: 00:03:30
Year: 2007
Track Description:
RAVE! RAVE! RAVE! YOU MIGHT NEED TO TURN THE LIGHTS OUT FOR THIS ONE. OR GET A FRIEND TO AT LEAST MAN THE LIGHT SWITCH. BECAUSE REALLY, WHAT'S A DANCE PARTY WITHOUT A LIGHT SWITCH RAVE!??

SHOW LESS

11
Clap Your Hands Say Yeah : Gimmie Some Salt
BY THIS POINT, IN AN IDEAL SITUATION, YOU AND ALL YOUR FRIENDS ARE SUPER SWEATY AND IN NEED OF LIQUIDS. THIS S [...]

SHOW MORE

Track 11 from Clap Your Hands Say Yeah
Length: 00:03:03
Year: 2005
Track Description:
BY THIS POINT, IN AN IDEAL SITUATION, YOU AND ALL YOUR FRIENDS ARE SUPER SWEATY AND IN NEED OF LIQUIDS. THIS SONG IS GROOVY BUT DOESN'T REQUIRE A WHOLE LOT OF MOVEMENT, SO YOU CAN JUST KIND OF NOD ALONG WHILE YOU DRINK YOUR MR. PIB OR ROOT BEER.

SHOW LESS

12
Ratatat : Loud Pipes
PUSH THE BUTTON. PUSH IT SOME MORE. I KNOW, I KNOW, THERE'S NO WAY TO MAKE THIS SONG LOUD ENOUGH. IT'S A TRAGE [...]

SHOW MORE

Track 6 from Classics
Length: 00:03:46
Year: 2006
Track Description:
PUSH THE BUTTON. PUSH IT SOME MORE. I KNOW, I KNOW, THERE'S NO WAY TO MAKE THIS SONG LOUD ENOUGH. IT'S A TRAGEDY. YOU'VE GULPED SOME REFRESHING BEVERAGES AND IT'S TIME TO GET THE PARTY STARTED AGAIN.

SHOW LESS

13
Gnarls Barkley : Go-Go Gadget Gospel
GO-GO YOUR ASSES BACK ON THE DANCE FLOOR! NOW!!!

SHOW MORE

Track 1 from St. Elsewhere
Length: 00:02:19
Year: 2006
Track Description:
GO-GO YOUR ASSES BACK ON THE DANCE FLOOR! NOW!!!

SHOW LESS

14
The Roots : The Seed (2.0)
THIS IS THE POINT WHERE EVERYONE AT YOUR DANCE PARTY DEVELOPS A CRUSH ON MR. ?LOVE. AND THEN ON YOU FOR PLAYIN [...]

SHOW MORE

Track 8 from Phrenology
Length: 00:04:28
Year: 2002
Track Description:
THIS IS THE POINT WHERE EVERYONE AT YOUR DANCE PARTY DEVELOPS A CRUSH ON MR. ?LOVE. AND THEN ON YOU FOR PLAYING THIS JAM.

SHOW LESS

15
Pharrell Williams : Angel
"SHE'S GOT AN ASS LIKE A LOAF OF BREAD, YOU WANT A SLICE" NEED I SAY MORE?

SHOW MORE

Track 8 from In My Mind
Length: 00:02:44
Year: 2006
Track Description:
"SHE'S GOT AN ASS LIKE A LOAF OF BREAD, YOU WANT A SLICE" NEED I SAY MORE?

SHOW LESS

16
Best Fwends : Sk8 Or Live
OH GOD! MORE BEST FWENDS! SO MUCH FUNN, SO LITTLE TIME!!!

SHOW MORE

Track 1 from EP2
Length: 00:02:22
Year: 2006
Track Description:
OH GOD! MORE BEST FWENDS! SO MUCH FUNN, SO LITTLE TIME!!!

SHOW LESS

17
The Fretellis : Creepin Up The Backstairs
THEY'RE KNOWN FOR THE TRACK ON THE iPOD AD, BUT THIS ONE IS JUST AS DANCE-TACULAR!

SHOW MORE

Track 8 from Costello Music
Length: 00:03:07
Year: 2006
Track Description:
THEY'RE KNOWN FOR THE TRACK ON THE iPOD AD, BUT THIS ONE IS JUST AS DANCE-TACULAR!

SHOW LESS

18
Nirvana : Aneurysm (Live)
AS FAR AS I'M CONCERNED THIS IS THE BEST SONG TO DO THE TWIST TO.

SHOW MORE

Track 4 from From the Muddy Banks of the Wishkah
Length: 00:04:31
Year: 1996
Track Description:
AS FAR AS I'M CONCERNED THIS IS THE BEST SONG TO DO THE TWIST TO.

SHOW LESS

19
TV On The Radio : Wolf Like Me
A SCARY DANCE SONG!!!

SHOW MORE

Track 5 from Return to Cookie Mountain
Length: 00:04:37
Year: 0000
Track Description:
A SCARY DANCE SONG!!!

SHOW LESS

20
The Clash : I'm So Bored With the U.S.A.
YOU AND YOUR PALS MIGHT BE BORED WITH THE U.S. BUT YOU WON'T BE BORED AS YOU DANCE TO SOME CLASH!!!

SHOW MORE

Track 3 from The Clash
Length: 00:02:24
Year: 1977
Track Description:
YOU AND YOUR PALS MIGHT BE BORED WITH THE U.S. BUT YOU WON'T BE BORED AS YOU DANCE TO SOME CLASH!!!

SHOW LESS

21
Queen : Staying Power
AT THIS POINT, YOU NEED SOME MOTIVATION FROM ONE OF THE GREATEST ROCKERS OF ALL TIME... MR. MERCURY. THIS TRAC [...]

SHOW MORE

Track 1 from Hot Space
Length: 00:04:10
Year: 1982
Track Description:
AT THIS POINT, YOU NEED SOME MOTIVATION FROM ONE OF THE GREATEST ROCKERS OF ALL TIME... MR. MERCURY. THIS TRACK IS ALSO JUST MELLOW ENOUGH TO LEAVE THE FLOOR TO GET MORE ROOT BEER!

SHOW LESS

22
Michael Jackson : Bad
I'M BAD! I'M BADDD! OH HELL YES, I AM.

SHOW MORE

Track 1 from Bad
Length: 00:04:07
Year: 1987
Track Description:
I'M BAD! I'M BADDD! OH HELL YES, I AM.

SHOW LESS

23
The Hold Steady : Massive Nights
YOU'VE HAD A MASSIVE NIGHT FULL OF DANCING & ROOT BEER. IT'S TIME TO CALL IT. AND WHAT BETTER WAY THEN HAVING [...]

SHOW MORE

Track 8 from Boys and Girls In America
Length: 00:02:54
Year: 2006
Track Description:
YOU'VE HAD A MASSIVE NIGHT FULL OF DANCING & ROOT BEER. IT'S TIME TO CALL IT. AND WHAT BETTER WAY THEN HAVING ALL YOUR FRIENDS SING THE "OH OH OHs" OF THIS TRACK? OKAY, FUCK IT! JUST FLIP THE TAPE AND START OVER. OR YOUR OLD PAL (b) WILL MAKE A VOL. 2 FOR NEXT TIME.

SHOW LESS
Tag Board
You must log in to leave a tag
Stuff
Quick Jump
Ed_Finnerty's other mixes
Related mixes
recent visitors
show all