[?]
Not a member? Sign-up now, it's free!
Login
[?]
These are links to some of the major sections in the mixtape collective.
Lists: Browse various lists that are generated by the loads of data we have collected.
Contests: Check out the latest contests, see previous winners, and find out how you can be a part
Music: Check out our ever-growing database of musical knowledge! Use it to find any artist, album, or track that has been entered since the birth of the site and rate and find detailed usage statistics.
Main
[?]
Tired of looking at the same old pages? Try checking out a random one, you never know what you might find...
Random!
There's no place in this world for a Clown like me.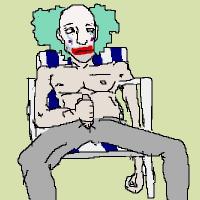 There's no place in this world for a Clown like me.
Created by:
du_lait
Tracks:
16
Length:
01:04:18
Keywords
1. Sad songs for sensitive clowns
2. No one loves me
3. Im an ugly clown
Created on
8/17/07 09:34am
Level
6
Points
2599
Total visitors
50
Unique visitors
34
description:
Im a sad clown. Despite my jobs duty of cheering people up and making them laugh, I cant make myself happy. No girl wants me. What girl would want a clown. I cant help being a clown, i just am one.

tracklist
1
My Bloody Valentine : Forever and Again
They say that no one waits forever. But it feels like i've been waiting for forever. [...]

SHOW MORE

Track 1 from This Is Your Bloody Valentine
Length: 00:03:33
Year: 1985
Track Description:
They say that no one waits forever. But it feels like i've been waiting for forever.

SHOW LESS

2
Spacemen 3 : Lord Can You Hear Me?
I dont think god listens to clowns. Is there a clown heaven?

SHOW MORE

Track 9 from Playing With Fire
Length: 00:04:23
Year: 1989
Track Description:
I dont think god listens to clowns. Is there a clown heaven?

SHOW LESS

3
Smashing Pumpkins : Blue
Shoegazey pumpkins. The smashing pumpkins like clowns and often have them on stage when they play live. [...]

SHOW MORE

Track 11 from Pisces Iscariot
Length: 00:03:19
Year: 1994
Track Description:
Shoegazey pumpkins. The smashing pumpkins like clowns and often have them on stage when they play live.

SHOW LESS

4
Joy Division : Isolation
If you were a clown would you feel isolated. I think so.

SHOW MORE

Track 2 from Closer
Length: 00:02:53
Year: 1980
Track Description:
If you were a clown would you feel isolated. I think so.

SHOW LESS

5
The Jesus and Mary Chain : Some Candy Talking
I think the guitar is crying in this song.

SHOW MORE

Track 8 from Psychocandy
Length: 00:03:19
Year: 1985
Track Description:
I think the guitar is crying in this song.

SHOW LESS

6
PJ Harvey : Missed
Pj Harvey is my ideal woman. If you've seen the 1995 israel show she is wearin make up similiar to that of a c [...]

SHOW MORE

Track 2 from Rid of Me
Length: 00:04:25
Year: 1993
Track Description:
Pj Harvey is my ideal woman. If you've seen the 1995 israel show she is wearin make up similiar to that of a clown.
I really like the album Rid of Me. Its all about pj harveys sexual demons. I have alot of sexual demons.
If god feels kind and i do manage to get into an intimate setting with a girl. Its always ruined. For some reason they think its funny to ask if my willy is bent to the side. They think that its something a clown would have. Like i'll jump out with my bent dick and going boing or someshit.

SHOW LESS

7
PJ Harvey : Legs
Missed and Legs are like one song. You cant have one without the other.

SHOW MORE

Track 3 from Rid of Me
Length: 00:03:40
Year: 1993
Track Description:
Missed and Legs are like one song. You cant have one without the other.

SHOW LESS

8
Leonard Cohen : Waiting for the Miracle
Leonard Cohen talks to my soul.

SHOW MORE

Track 2 from The Future
Length: 00:07:43
Year: 1992
Track Description:
Leonard Cohen talks to my soul.

SHOW LESS

9
Sparklehorse : Eyepennies
You would probably see sparkley horses at the circus.

SHOW MORE

Track 7 from It's A Wonderful Life
Length: 00:05:27
Year: 2001
Track Description:
You would probably see sparkley horses at the circus.

SHOW LESS

10
Nick Cave And The Bad Seeds : I Let Love In
When i get drunk i feel like Nick Cave..like I'm tough or something... "Baby I'm a tough son of a bitch but i [...]

SHOW MORE

Track 6 from Let Love In
Length: 00:04:14
Year: 1994
Track Description:
When i get drunk i feel like Nick Cave..like I'm tough or something... "Baby I'm a tough son of a bitch but i can't help but love you....its my only weakness"

SHOW LESS

11
Tom Waits : Lowside of the Road
The life of a clown could be compared to the lowside of a road. Its a hard life being a clown. [...]

SHOW MORE

Track 2 from Mule Variations
Length: 00:02:57
Year: 1999
Track Description:
The life of a clown could be compared to the lowside of a road. Its a hard life being a clown.
Tom Waits voice reminds me of shady Carny fellow. There is a ghost story feel to it.

SHOW LESS

12
The Magnetic Fields : Love Is Like a Bottle of Gin
I never knew my dad. He kicked me out of home for being a clown. But i remember one thing he told me..that gin [...]

SHOW MORE

Track 13 from 69 Love Songs Vol. 3
Length: 00:01:46
Year: 0000
Track Description:
I never knew my dad. He kicked me out of home for being a clown. But i remember one thing he told me..that gin turns people into alcoholics over any other drink. Thats why i like to drink Gin and drown my sorrows away. It also seems to be related to people who have beards. I would like to have a beard but i cant grow one yet.

SHOW LESS

13
The Smiths : Never Had No One Ever
After drinking some gin...i like to put this song on...I'm a lonely clown. "Im alone, alone, alone. [...]

SHOW MORE

Track 4 from The Queen is Dead
Length: 00:03:37
Year: 1985
Track Description:
After drinking some gin...i like to put this song on...I'm a lonely clown. "Im alone, alone, alone. "

SHOW LESS

14
The Frames : Song For Someone
A song for someone. If i had someone i wouldn't need a song for someone that song would be a song about them n [...]

SHOW MORE

Track 1 from The Cost
Length: 00:05:35
Year: 2006
Track Description:
A song for someone. If i had someone i wouldn't need a song for someone that song would be a song about them not someone.....Im so lonely:(

SHOW LESS

15
Nirvana : Oh Me
Oh Me.....There's no place in this world for a Clown like me.

SHOW MORE

Track 11 from Unplugged in New York
Length: 00:03:26
Year: 1994
Track Description:
Oh Me.....There's no place in this world for a Clown like me.

SHOW LESS

16
Eels : Mental
I think im a bit mental. The other day i saw this cute little girl with her mother and i though it would be n [...]

SHOW MORE

Track 9 from Beautiful Freak
Length: 00:04:01
Year: 1996
Track Description:
I think im a bit mental. The other day i saw this cute little girl with her mother and i though it would be nice to perform a trick for her. So I went over to juggle some balls for her, but i think she was scared of me because she started crying. It made me so sad and all of a sudden I burst into tears.

SHOW LESS
Tag Board
You must log in to leave a tag
Stuff
Quick Jump
du_lait's other mixes
Related mixes
recent visitors
show all