[?]
Not a member? Sign-up now, it's free!
Login
[?]
These are links to some of the major sections in the mixtape collective.
Lists: Browse various lists that are generated by the loads of data we have collected.
Contests: Check out the latest contests, see previous winners, and find out how you can be a part
Music: Check out our ever-growing database of musical knowledge! Use it to find any artist, album, or track that has been entered since the birth of the site and rate and find detailed usage statistics.
Main
[?]
Tired of looking at the same old pages? Try checking out a random one, you never know what you might find...
Random!
I Always Used To Read Before I Went To Sleep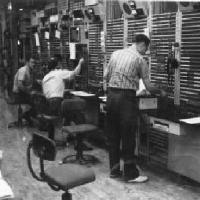 I Always Used To Read Before I Went To Sleep
Created by:
marinegirl
Tracks:
10
Length:
00:13:20
Keywords
1. But Now I Just Pass Out
2. Watching
3. TV
Created on
3/03/08 02:17am
Level
3
Points
1517
Total visitors
23
Unique visitors
17
description:
Being new to the site I intend to make an introductory piece. I hope that it will serve its purpose in as many ways as possible, but more importantly oh grateful(?) listener, I hope that it instills happiness and perhaps a little warmth into all your fingers and toes (assuming its cold there too, of course.) Or mild recognition at the very least. Also, if you have read the so aptly named "liner notes" then this mix conveniently doubles as a truly heartfelt farewell to my miserable old job.
tracklist
1
The Boy Least Likely To : Paper Cuts
Filing is, or rather was, the bane of my life.

SHOW MORE

Track 4 from The Best Party Ever
Length: 00:00:00
Year: 2005
Track Description:
Filing is, or rather was, the bane of my life.

SHOW LESS

2
Sparks : I Want To Be Like Everbody Else
Every morning before I leave to house..

SHOW MORE

Track 2 from Big Beat
Length: 00:00:00
Year: 0000
Track Description:
Every morning before I leave to house..

SHOW LESS

3
David Bowie : John, I'm Only Dancing
I used to sing this every time the people back at the office told me I couldn't dance unless I was on my lunch [...]

SHOW MORE

Track 0 from The Rise and Fall of Ziggy Stardust and the Spiders From Mars
Length: 00:02:46
Year: 1972
Track Description:
I used to sing this every time the people back at the office told me I couldn't dance unless I was on my lunch break. Sometimes it'd be Heaven Knows I'm Miserable Now, depending on the weather.

SHOW LESS

4
Sargasso Trio : My Middle Name Is Joy
"Oh, my middle name is Joy/ But I'm so f**king sad"
I saw this band play a little acoustic set in a recor [...]

SHOW MORE

Track 1 from
Length: 00:00:00
Year:
Track Description:
"Oh, my middle name is Joy/ But I'm so f**king sad"
I saw this band play a little acoustic set in a record shop near me a couple of months ago. They were brilliant. The voice, the rhythm, the lyrics..

SHOW LESS

5
The Wedding Present : Nobody's Twisting Your Arm
I'm not sure whether they released this on an album (not including that mighty, mighty boxset). I have it on a [...]

SHOW MORE

Track 1 from
Length: 00:00:00
Year:
Track Description:
I'm not sure whether they released this on an album (not including that mighty, mighty boxset). I have it on a vinyl indie compilation , it always helps to be reminded that your boss isn't reeeeeally your boss.

SHOW LESS

6
Belle and Sebastian : The State I Am In
"I was surprised, I was happy for a day in 1995"
It's like aural empathy, you know instantly that somewhe [...]

SHOW MORE

Track 1 from Tigermilk
Length: 00:00:00
Year: 0000
Track Description:
"I was surprised, I was happy for a day in 1995"
It's like aural empathy, you know instantly that somewhere out there you have a friend, and he's called Stuart Murdoch.

SHOW LESS

7
The Jesus and Mary Chain : My Little Underground
"So don't you look for me, I'll be where you can't see/ Somewhere I can't be found, my little underground"

SHOW MORE

Track 12 from Psychocandy
Length: 00:02:30
Year: 1985
Track Description:
"So don't you look for me, I'll be where you can't see/ Somewhere I can't be found, my little underground"

SHOW LESS

8
The Fall : 2x4
Again, brings me joy.

SHOW MORE

Track 2 from The Wonderful and Frightening World of..
Length: 00:00:00
Year: 1984
Track Description:
Again, brings me joy.

SHOW LESS

9
Franz Ferdinand : This Fire
This is here because I enjoy it, and for no other reason.

SHOW MORE

Track 7 from Franz Ferdinand
Length: 00:04:14
Year: 2004
Track Description:
This is here because I enjoy it, and for no other reason.

SHOW LESS

10
The Boy Least Likely To : Be Gentle With Me
A cyclical end and a plea to future employers.

SHOW MORE

Track 1 from The Best Party Ever
Length: 00:03:50
Year: 2005
Track Description:
A cyclical end and a plea to future employers.

SHOW LESS
Tag Board
You must log in to leave a tag
Stuff
Quick Jump
marinegirl's other mixes
Related mixes
recent visitors
show all