[?]
Not a member? Sign-up now, it's free!
Login
[?]
These are links to some of the major sections in the mixtape collective.
Lists: Browse various lists that are generated by the loads of data we have collected.
Contests: Check out the latest contests, see previous winners, and find out how you can be a part
Music: Check out our ever-growing database of musical knowledge! Use it to find any artist, album, or track that has been entered since the birth of the site and rate and find detailed usage statistics.
Main
[?]
Tired of looking at the same old pages? Try checking out a random one, you never know what you might find...
Random!
BRAZ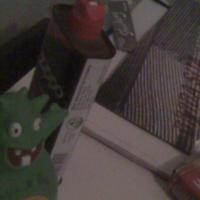 BRAZ
Created by:
camilasalles
Tracks:
14
Length:
00:40:51
Keywords
1. brazilian
2. tropical
3. mpb
Created on
8/18/08 08:30pm
Level
2
Points
1339
Total visitors
19
Unique visitors
10
description:
you guys probably don't know most of the stuff here. it's all good stuff, i swear.
oh, and this is not really a harmonious mixtape. it's just a selection of my favorite brazilian tunes.
(i don't know why, but the end of my mixes is being deleted... =/)
http://www.4shared.co m/file/59570175/50868c1e/BRAZ.html
tracklist
1
Rumo : Ladeira da Memória
pretty little song about downtown são paulo.

SHOW MORE

Track 2 from Diletantismo
Length: 00:03:20
Year: 1983
Track Description:
pretty little song about downtown são paulo.

SHOW LESS

2
Elis Regina : Menino das Laranjas
one of the most powerful brazilian voices. overdosed and died.

SHOW MORE

Track 1 from Fascinação
Length: 00:02:17
Year: 1990
Track Description:
one of the most powerful brazilian voices. overdosed and died.

SHOW LESS

3
Titãs : Polícia
the police for those who need the police.

good rock and roll is a little hard to find here.

SHOW MORE

Track 9 from Go Back
Length: 00:02:17
Year: 1988
Track Description:
the police for those who need the police.

good rock and roll is a little hard to find here.

SHOW LESS

4
Raimundos : Poquito Más (Healthy Food)
raimundos ROCK!

SHOW MORE

Track 4 from Lapadas do Povo
Length: 00:02:46
Year: 1977
Track Description:
raimundos ROCK!

SHOW LESS

5
Nei Lisboa : Hein!?
don't worry, nobody knows nei in brazil either.

SHOW MORE

Track 3 from Hein
Length: 00:03:31
Year: 1988
Track Description:
don't worry, nobody knows nei in brazil either.

SHOW LESS

6
Adoniran Barbosa : As Mariposas
paulista samba.

i was with this guy from rio, and he couldn't stop laughing at adoriran. which wasn [...]

SHOW MORE

Track 9 from Meus Momentos
Length: 00:01:58
Year: 0000
Track Description:
paulista samba.

i was with this guy from rio, and he couldn't stop laughing at adoriran. which wasn't actually funny for me, since we were kind of doing it...

SHOW LESS

7
Os Mutantes : Posso Perder Minha Mulher, Minha Mãe
os mutantes you know, right?

'i can lose my wife, my mother
as long as i have my rock and roll [...]

SHOW MORE

Track 1 from Mutantes E Seus Cometas No País Do Bauretz
Length: 00:03:45
Year: 1972
Track Description:
os mutantes you know, right?

'i can lose my wife, my mother
as long as i have my rock and roll'

SHOW LESS

8
Raul Seixas : É Fim de Mês
this man said that the devil is the father of rok and roll. he is right, of course.

SHOW MORE

Track 10 from Novo Aeon
Length: 00:02:58
Year: 1975
Track Description:
this man said that the devil is the father of rok and roll. he is right, of course.

SHOW LESS

9
Raimundos : Pitando no Kombão
yes, all they talk about is drugs. and sex. and whatever.

SHOW MORE

Track 5 from Lavô Tá Novo
Length: 00:01:44
Year: 1996
Track Description:
yes, all they talk about is drugs. and sex. and whatever.

SHOW LESS

10
Chico Buarque : Deus Lhe Pague
one of the most disturbing albuns i've ever listened to. s2

SHOW MORE

Track 1 from Construção
Length: 00:03:19
Year: 1971
Track Description:
one of the most disturbing albuns i've ever listened to. s2

SHOW LESS

11
Barbatuques : Peixinho do Mar, Marinheiro Só
body sounds.

SHOW MORE

Track 0 from O Corpo do Som
Length: 00:02:51
Year: 0000
Track Description:
body sounds.

SHOW LESS

12
Raimundos : Puteiro em João Pessoa I

SHOW MORE

Track 1 from Raimundos
Length: 00:03:09
Year: 1994
Track Description:


SHOW LESS

13
Gal Costa : A História de Lily Braun
i love her voice.

SHOW MORE

Track 5 from O Grande Circo Místico
Length: 00:03:52
Year: 1983
Track Description:
i love her voice.

SHOW LESS

14
Jorge Ben : O Rei Chegou, Viva o Rei
favorite brazilian singer, i guess. one of them.

SHOW MORE

Track 7 from Solta o Pavão
Length: 00:03:04
Year: 0000
Track Description:
favorite brazilian singer, i guess. one of them.

SHOW LESS
Tag Board
You must log in to leave a tag
Stuff
Quick Jump
camilasalles's other mixes
Related mixes
recent visitors
show all