[?]
Not a member? Sign-up now, it's free!
Login
[?]
These are links to some of the major sections in the mixtape collective.
Lists: Browse various lists that are generated by the loads of data we have collected.
Contests: Check out the latest contests, see previous winners, and find out how you can be a part
Music: Check out our ever-growing database of musical knowledge! Use it to find any artist, album, or track that has been entered since the birth of the site and rate and find detailed usage statistics.
Main
[?]
Tired of looking at the same old pages? Try checking out a random one, you never know what you might find...
Random!
Obama Playlist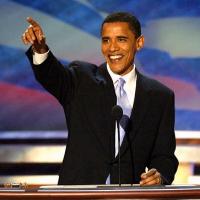 Obama Playlist
Created by:
RetroJoe
Tracks:
16
Length:
01:07:03
Keywords
1. obama
2. barack
3. elect
Created on
9/14/08 12:39pm
Level
3
Points
1707
Total visitors
31
Unique visitors
16
description:
This is a mix I put together last January while Obama was pitted against Hillary Clinton for the Democratic nomination.

Half of these songs were used as background music during Obama's large campaign meetings with his supporters (tracks 1, 2, 4, 5, 8, 10, 11 & 14). The rest are by artists that Obama has said he likes (either in interviews or on his facebook page; Hillary wasn't as open about her musical tastes).

Track 9 has an association with the group Outkast (who Barack has stated that he thinks that they do a lot of interesting work). Some artists/groups not used that he showed an interest in are Bob Dylan, Miles Davis, and the Fugees.

Other songs he's used as background music that I didn't use are Respect by Aretha Franklin, Unwritten by Natasha Bedingfield and City of Blinding Lights by U2.
tracklist
1
Aretha Franklin : Think
Updated version of an Aretha classic puts emphasis on listening to ones conscience to do the right thing and t [...]

SHOW MORE

Track 0 from The Blues Brothers
Length: 00:03:16
Year: 1980
Track Description:
Updated version of an Aretha classic puts emphasis on listening to ones conscience to do the right thing and the importance of freedom. It also kicks butt (1980).

SHOW LESS

2
Stevie Wonder : Signed, Sealed, Delivered (I'm Yours)
A Stevie Wonder classic (originally charting at #3 in 1970), in an updated mix (DJ Smash Essential Funk Mix fr [...]

SHOW MORE

Track 0 from
Length: 00:04:20
Year:
Track Description:
A Stevie Wonder classic (originally charting at #3 in 1970), in an updated mix (DJ Smash Essential Funk Mix from 2005), that has become probably Obama's most used theme song (during the convention at least).

SHOW LESS

3
Earth, Wind, and Fire : Got to Get You Into My Life
Obama has said that this group is one of his favorites. Think the title of this song fits with his mission of [...]

SHOW MORE

Track 0 from
Length: 00:04:02
Year:
Track Description:
Obama has said that this group is one of his favorites. Think the title of this song fits with his mission of inclusion (to make him the leader in the process of bringing people of all stripes together to solve the problems that face us). I know that's a bit of a stretch, but hey, I'm a supporter (1978 #9).

SHOW LESS

4
Beyonce : Crazy in Love (feat. Jay-Z)
This song brings us more up to date with a modern beat (demonstrating that this presidential contender is also [...]

SHOW MORE

Track 3 from Crazy in Love
Length: 00:04:11
Year: 0000
Track Description:
This song brings us more up to date with a modern beat (demonstrating that this presidential contender is also a with it kind of guy) (2003).

SHOW LESS

5
Jackie Wilson : (Your Love Keeps Lifting Me) Higher and Higher
Jackie Wilson, like Obama, expresses the glory of letting our spirits soar to new heights (yeah, I am laying i [...]

SHOW MORE

Track 14 from The Greatest Hits of Jackie Wilson
Length: 00:02:57
Year: 1969
Track Description:
Jackie Wilson, like Obama, expresses the glory of letting our spirits soar to new heights (yeah, I am laying it on a bit thick again) (1967 #6).

SHOW LESS

6
Stevie Wonder : A Place In The Sun
A truly appropriate song. I think Stevie Wonder is Obama's favorite artist (who happens to be one of his most [...]

SHOW MORE

Track 0 from
Length: 00:02:50
Year:
Track Description:
A truly appropriate song. I think Stevie Wonder is Obama's favorite artist (who happens to be one of his most loyal supporters) so he is used the most on this mix (1966 #9).

SHOW LESS

7
Aretha Franklin : Rock Steady
"What it is" is Rock Steady, with the implication that Obama is on the right track and has sound judgement (at [...]

SHOW MORE

Track 0 from
Length: 00:03:09
Year:
Track Description:
"What it is" is Rock Steady, with the implication that Obama is on the right track and has sound judgement (at least in my book) (1971 #9).

SHOW LESS

8
O'Jays : Give The People What They Want
This song fits the campaign theme like a glove (1975 #45).

SHOW MORE

Track 0 from
Length: 00:04:12
Year:
Track Description:
This song fits the campaign theme like a glove (1975 #45).

SHOW LESS

9
Slick Rick (feat. Outkast) : Street Talkin'
Obama has said that he thinks Outkast does some interesting work. Thought I'd keep the mix a bit fresher by i [...]

SHOW MORE

Track 0 from
Length: 00:03:41
Year:
Track Description:
Obama has said that he thinks Outkast does some interesting work. Thought I'd keep the mix a bit fresher by including them here (1999).

SHOW LESS

10
Bill Withers : Lovely Day
An upbeat song who's title fits with Obama's vision for better times (1978 #30).

SHOW MORE

Track 1 from Menagerie
Length: 00:04:16
Year: 1977
Track Description:
An upbeat song who's title fits with Obama's vision for better times (1978 #30).

SHOW LESS

11
Curtis Mayfield : Move On Up (extended vers)
Again, the theme of this song fits well with Obama's campaign (and so they've used the song extensively) (1970 [...]

SHOW MORE

Track 0 from
Length: 00:08:48
Year:
Track Description:
Again, the theme of this song fits well with Obama's campaign (and so they've used the song extensively) (1970).

SHOW LESS

12
Stevie Wonder : Higher Ground
This version is actually 3m44s long. One last song by Stevie Wonder. Again the title fits with the last song [...]

SHOW MORE

Track 10 from The Definitive Collection
Length: 00:03:11
Year: 2002
Track Description:
This version is actually 3m44s long. One last song by Stevie Wonder. Again the title fits with the last song and Obama's theme of change that will direct movement of the middle class from higher rather than lower expectations (1973 #4).

SHOW LESS

13
Earth, Wind, and Fire : That's The Way of The World
Getting real with some more EW&F and Barack Obama approves their message (1975 #12).

SHOW MORE

Track 0 from
Length: 00:05:46
Year:
Track Description:
Getting real with some more EW&F and Barack Obama approves their message (1975 #12).

SHOW LESS

14
Ben Harper : Better Way
Another song used in the campaign for Obama, this one is more current than most (2006), and has a message of c [...]

SHOW MORE

Track 0 from
Length: 00:03:58
Year:
Track Description:
Another song used in the campaign for Obama, this one is more current than most (2006), and has a message of change for America towards better times.

SHOW LESS

15
John Coltrane : I Hear a Rhapsody
Time for a break from the campaigning with an artist that Obama has said is one of his favorites (1957).

SHOW MORE

Track 0 from
Length: 00:05:58
Year:
Track Description:
Time for a break from the campaigning with an artist that Obama has said is one of his favorites (1957).

SHOW LESS

16
Johann Sebastian Bach : Preludium (Cello Ste #1)
Again, another number to unwind to that Barack Obama has expressed a preference for (this performace from 1966 [...]

SHOW MORE

Track 0 from
Length: 00:02:28
Year:
Track Description:
Again, another number to unwind to that Barack Obama has expressed a preference for (this performace from 1966).

SHOW LESS
Tag Board
You must log in to leave a tag
Stuff
Quick Jump
RetroJoe's other mixes
Related mixes
recent visitors
show all