[?]
Not a member? Sign-up now, it's free!
Login
[?]
These are links to some of the major sections in the mixtape collective.
Lists: Browse various lists that are generated by the loads of data we have collected.
Contests: Check out the latest contests, see previous winners, and find out how you can be a part
Music: Check out our ever-growing database of musical knowledge! Use it to find any artist, album, or track that has been entered since the birth of the site and rate and find detailed usage statistics.
Main
[?]
Tired of looking at the same old pages? Try checking out a random one, you never know what you might find...
Random!
I GOT YA KILLA TAPE RIGHT HERE, GOD!!!!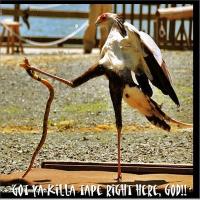 I GOT YA KILLA TAPE RIGHT HERE, GOD!!!!
Created by:
sparkymonroe
Tracks:
19
Length:
01:15:52
Keywords
1. KILLA TAPE
2. KILLA DISK
3. KILLA PLAYLIST
Created on
10/29/11 01:58am
Level
1
Points
1000
Total visitors
4
Unique visitors
3
description:
I GOT YA KILLA TAPE RIGHT HERE, GOD!!!!

This is an attempt to break out of my recent spate of playing torch songs, deep delta blues, classic country, and shoegaze tearjerkers.

A guy at work who has never been to the East Coast reveres the Golden Age of Hip-Hop to the point where after learning that I also have a certain reverence for that era and a dope ass record collection to boot decided that he would talk my ear off every night debating the relative merits of various MC's and producers, etc. I'm not even really into hip-hop right now, but I don't mind chewing the fat every now and again. So after a particularly vexing night - with events unrelated to Hip Hop Guy's monologues - I decided to make a "Killa Tape" for this dude. I asked him to make me one ages ago, but to no avail. I told him that my tape would not be a "best of" but would be fun, with solid choices, some remixes, and all selections would contribute to a a certain soulful vibe, which is what hip hop was all about anyway. I told him, Look if Rakim, who is one of my fave MC's doesn't make the tape for whatever reason, I'm not gonna slice my wrists open over it, OK? He chuckled and put his top 5 MC's of all-time argument to rest for a smooth five minutes.

Am I enabling him? Maybe, but there are much worse things. God bless the lad.

Hopefully he won't be too disappointed that there isn't any PE, BDP, or Jungle Brothers on this mix.

So this is a distraction from my romantic misfortunes and a blast from the past.


----------------------------------------- ---------------------------------------

The last song which fits on a tape, but not on a CD is Eyedea and Abilities', "Exhausted Love".
tracklist
1
A Tribe Called Quest : Oh My God
This mix actually starts with about a minute of Kool and the Gang's "Who's Gonna Take the Weight" - right up t [...]

SHOW MORE

Track 10 from Midnight Marauders
Length: 00:03:30
Year: 1993
Track Description:
This mix actually starts with about a minute of Kool and the Gang's "Who's Gonna Take the Weight" - right up to the point that where the title's question is asked, then I cut in with Tribe. If you're not on board with starting a mix with Q-Tip & Company, then this mix probably won't make your day.

SHOW LESS

2
Busta Rhymes : Abandon Ship (feat. Rampage the Last Boy Scout)
Since Busta is screaming the chorus on the previous track, I had to keep it going with a slept-on track off hi [...]

SHOW MORE

Track 4 from The Coming
Length: 00:06:01
Year: 1996
Track Description:
Since Busta is screaming the chorus on the previous track, I had to keep it going with a slept-on track off his debut album.

SHOW LESS

3
Akinyele : Worldwide
A friend of mine put this song after the previous song on a mix way back in '96, so I had to honor that brilli [...]

SHOW MORE

Track 1 from Vagina Diner
Length: 00:04:02
Year: 1993
Track Description:
A friend of mine put this song after the previous song on a mix way back in '96, so I had to honor that brilliance here years later. Peace to you, Clinton.

Akinyele may be best remembered for his appearance on the Main Source banger, "Live at the BBQ", which introduced the world to Nasty Nas, whose name was soon to be shortened to Nas. I feel kind of stupid for not including that on here now. Oh well.

SHOW LESS

4
DJ Honda : Travelin' Man f Mos Def
It makes me happy that this song was already in the database. One of my fave Mos Def's song. I wore this song [...]

SHOW MORE

Track 19 from HII
Length: 00:05:16
Year: 0000
Track Description:
It makes me happy that this song was already in the database. One of my fave Mos Def's song. I wore this song out on a trip to Vancouver B.C. years ago.

SHOW LESS

5
The Beatnuts : Are You Ready (feat. Grand Puba)
I recently found the record that this song samples for its bass line. So it came to mind of inclusion here.

SHOW MORE

Track 5 from Street Level
Length: 00:03:57
Year: 1994
Track Description:
I recently found the record that this song samples for its bass line. So it came to mind of inclusion here.

SHOW LESS

6
O.C. : Time's Up
It's all about the flow, this goes next. O.C. tears open street facades with this one.

SHOW MORE

Track 5 from Word...Life
Length: 00:03:26
Year: 1994
Track Description:
It's all about the flow, this goes next. O.C. tears open street facades with this one.

SHOW LESS

7
Ghostface Killah : Winter Warz
Love this song, Capadonna's finest shining moment.

SHOW MORE

Track 7 from Ironman
Length: 00:04:40
Year: 1996
Track Description:
Love this song, Capadonna's finest shining moment.

SHOW LESS

8
Organized Konfusion : The Extinction Agenda
Hip hop guy really never listened to this group, which is kind of a sin, for someone who claims to love beats [...]

SHOW MORE

Track 4 from Stress: The Extinction Agenda
Length: 00:03:57
Year: 1994
Track Description:
Hip hop guy really never listened to this group, which is kind of a sin, for someone who claims to love beats and rhymes, etc.

SHOW LESS

9
Company Flow : 8 Steps to Perfection
The next step.

SHOW MORE

Track 2 from Funcrusher Plus
Length: 00:04:43
Year: 1992
Track Description:
The next step.

SHOW LESS

10
Ohio Players : Funky Worm
Like many people who have made hip-hop mixtapes, I, too, for sake of keeping things lively, like to include fu [...]

SHOW MORE

Track 8 from Pleasure
Length: 00:02:43
Year: 1972
Track Description:
Like many people who have made hip-hop mixtapes, I, too, for sake of keeping things lively, like to include funk and soul jams, especially if they have been heavily sampled by a number of hip-hop artists.

This one was abused to death by the West Coast gangster rappers.

SHOW LESS

11
Big Boi : Be Still
I'm not afraid of the new school. The funk vibe continues forty years later. Love Janelle Monae, btw.

SHOW MORE

Track 10 from Sir Lucious Left Foot...The Sun of Chico Dusty
Length: 00:05:10
Year: 2010
Track Description:
I'm not afraid of the new school. The funk vibe continues forty years later. Love Janelle Monae, btw.

SHOW LESS

12
Common Sense : Soul by the Pound (Thump Remix)
I used to love this song so much.

SHOW MORE

Track 1 from Soul by the Pound (12")
Length: 00:04:35
Year: 1992
Track Description:
I used to love this song so much.

SHOW LESS

13
Extra Prolific : Cash Money (feat. Casual)
A long time secret hip hop mixtape weapon. Short and sweet from a forgotten album from the Hieroglyphics crew. [...]

SHOW MORE

Track 6 from Like It Should Be
Length: 00:01:28
Year: 1994
Track Description:
A long time secret hip hop mixtape weapon. Short and sweet from a forgotten album from the Hieroglyphics crew.

SHOW LESS

14
Brand Nubian : Punks Jump Up to Get Beat Down (Diamond D Remix)
One of the most celebrated remixes of the time, hip-hop guy always mentions it, so I know he'll love it's wort [...]

SHOW MORE

Track 4 from Punks Jump Up to Get Beat Down (12")
Length: 00:03:51
Year: 1992
Track Description:
One of the most celebrated remixes of the time, hip-hop guy always mentions it, so I know he'll love it's worthy inclusion on this killer tape.

SHOW LESS

15
Ol' Dirty Bastard : Brooklyn Zoo
Yeah, R.I.P.

SHOW MORE

Track 2 from The Dirty Story: The Best Of
Length: 00:03:35
Year: 0000
Track Description:
Yeah, R.I.P.

SHOW LESS

16
Ultramagnetic MC's : Raise It Up
Kool Keith shows us white boys his black styles. Ill.

SHOW MORE

Track 4 from The Four Horsemen
Length: 00:04:18
Year: 1993
Track Description:
Kool Keith shows us white boys his black styles. Ill.

SHOW LESS

17
Pete Rock : Tru Master (feat. Inspectah Deck & Kurrupt)
I love Pete Rock's intros and outros to his tracks. Makes it so easy to mix with.

SHOW MORE

Track 2 from Soul Survivor
Length: 00:04:01
Year: 1998
Track Description:
I love Pete Rock's intros and outros to his tracks. Makes it so easy to mix with.

SHOW LESS

18
MF Doom and Nas : The Flyest Angels
Nas is just butter on this. One of MF Doom's best remixes.

SHOW MORE

Track 1 from Nastradoomus vol.2
Length: 00:02:54
Year: 2005
Track Description:
Nas is just butter on this. One of MF Doom's best remixes.

SHOW LESS

19
Manzel : Midnight Theme
I guess I'm still enough of a hip-hop head that I always look for this 45 whenever I'm in a record store.

SHOW MORE

Track 1 from Midnight Theme (7")
Length: 00:03:45
Year: 1979
Track Description:
I guess I'm still enough of a hip-hop head that I always look for this 45 whenever I'm in a record store.

SHOW LESS
Tag Board
You must log in to leave a tag
Stuff
Quick Jump
sparkymonroe's other mixes
Related mixes
recent visitors
show all