[?]
Not a member? Sign-up now, it's free!
Login
[?]
These are links to some of the major sections in the mixtape collective.
Lists: Browse various lists that are generated by the loads of data we have collected.
Contests: Check out the latest contests, see previous winners, and find out how you can be a part
Music: Check out our ever-growing database of musical knowledge! Use it to find any artist, album, or track that has been entered since the birth of the site and rate and find detailed usage statistics.
Main
[?]
Tired of looking at the same old pages? Try checking out a random one, you never know what you might find...
Random!
On My ipod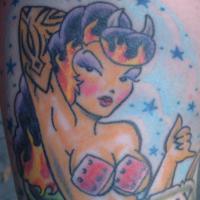 On My ipod
Created by:
thehipster
Tracks:
8
Length:
00:30:41
Keywords
1. Hellbilly
2. Punk
3. Horror
Created on
8/01/06 09:34pm
Level
3
Points
1604
Total visitors
83
Unique visitors
55
description:
This is what I am currently listening to on my ipod.
tracklist
1
Reverend Horton Heat : Galaxy 500
Fast, Loud and psycho!

SHOW MORE

Track 4 from Lucky 7
Length: 00:03:16
Year: 2002
Track Description:
Fast, Loud and psycho!

SHOW LESS

2
Die Hunns : Burn In Hell
Great song when you are pissed, and a nod to the RAMONES in the middle.

SHOW MORE

Track 8 from Long Legs
Length: 00:03:03
Year: 2004
Track Description:
Great song when you are pissed, and a nod to the RAMONES in the middle.

SHOW LESS

3
Hank Williams III : Dick In Dixie
This song tells it like it is "Pop country really sucks"

SHOW MORE

Track 11 from Straight To Hell
Length: 00:02:37
Year: 2006
Track Description:
This song tells it like it is "Pop country really sucks"

SHOW LESS

4
Horrorpops : Freaks In Uniforms
Kick ass song....even more kick ass live!

SHOW MORE

Track 1 from Bring it on!
Length: 00:02:45
Year: 0000
Track Description:
Kick ass song....even more kick ass live!

SHOW LESS

5
Mad Sin : Dead Moon
Title cut with Patricia from the Horrorpops...need I say more?

SHOW MORE

Track 10 from Dead Moon
Length: 00:03:00
Year: 2005
Track Description:
Title cut with Patricia from the Horrorpops...need I say more?

SHOW LESS

6
Ministry : So What
Best version of the best Ministry song!

SHOW MORE

Track 3 from In Case you Didn't Feel Like Showing Up
Length: 00:11:29
Year: 0000
Track Description:
Best version of the best Ministry song!

SHOW LESS

7
misfits : Static Age
Great song...you gotta love the misfits!

SHOW MORE

Track 1 from Legacy of Brutality
Length: 00:01:47
Year: 1985
Track Description:
Great song...you gotta love the misfits!

SHOW LESS

8
Rancid : David Courtney
The perfect end to a short and bad ass mix!

SHOW MORE

Track 4 from Indestructible
Length: 00:02:44
Year: 2003
Track Description:
The perfect end to a short and bad ass mix!

SHOW LESS
Tag Board
You must log in to leave a tag
Stuff
Quick Jump
thehipster's other mixes
Related mixes
recent visitors
show all