[?]
Not a member? Sign-up now, it's free!
Login
[?]
These are links to some of the major sections in the mixtape collective.
Lists: Browse various lists that are generated by the loads of data we have collected.
Contests: Check out the latest contests, see previous winners, and find out how you can be a part
Music: Check out our ever-growing database of musical knowledge! Use it to find any artist, album, or track that has been entered since the birth of the site and rate and find detailed usage statistics.
Main
[?]
Tired of looking at the same old pages? Try checking out a random one, you never know what you might find...
Random!
CRUSHING PHLEGM TO MAKE BANANAS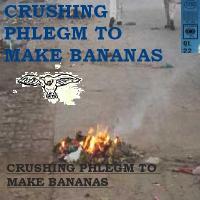 CRUSHING PHLEGM TO MAKE BANANAS
Created by:
Qualca
Tracks:
6
Length:
00:27:05
Keywords
1. PAINTING
2. FOR
3. DARK AND WET DAYS
Created on
9/06/06 07:55pm
Level
6
Points
2944
Total visitors
159
Unique visitors
85
description:
THAT IS THE TITLE OF MY MASTERPIECE. I CHANNELED THE ENERGY OF THE UNIVERSE TO CREATE IT USING PAINT, CHALK AND COLORED PENCIL. THIS MIX IS THE SOUNDTRACK TO MY CREATION, YET IT PLAYS FROM COMPLETION TO MERE BEGINNING--FINISH TO START. MY SOUNDTRACK TO MY ENGERY ART.
tracklist
1
The Microphones : Ice
THE MASTERPIECE IS COMPLETE. STAND 2 YARDS FROM ITS GLORY AND IT SHINES LIKE ICE. DO NOT MELT IN ITS PRESENC [...]

SHOW MORE

Track 2 from It Was Hot, We Stayed In The Water
Length: 00:02:19
Year: 2000
Track Description:
THE MASTERPIECE IS COMPLETE. STAND 2 YARDS FROM ITS GLORY AND IT SHINES LIKE ICE. DO NOT MELT IN ITS PRESENCE.

SHOW LESS

2
Doo : Cloz Your Eyz
THE MASTERPIECE IS CLOSE TO BEING DONE. CLOSE YOUR EYES AND YOU TOO MAY IMAGINE ITS GLORY. PAINT AND CHALK C [...]

SHOW MORE

Track 5 from Cold Shower
Length: 00:04:45
Year: 2005
Track Description:
THE MASTERPIECE IS CLOSE TO BEING DONE. CLOSE YOUR EYES AND YOU TOO MAY IMAGINE ITS GLORY. PAINT AND CHALK COMBINE IN HARMONY.

SHOW LESS

3
The Third Eye Foundation : For All The Brothers And Sisters
FOR WHO SHALL I MAKE THIS MASTERPIECE FOR? FOR ALL THE BROTHERS AND SISTERS ACROSS THE GALAXIES. I HEAR THEI [...]

SHOW MORE

Track 2 from You Guys Kill Me
Length: 00:04:14
Year: 1998
Track Description:
FOR WHO SHALL I MAKE THIS MASTERPIECE FOR? FOR ALL THE BROTHERS AND SISTERS ACROSS THE GALAXIES. I HEAR THEIR VOICES IN MY PAINT.

SHOW LESS

4
Vytear : Clot (Eye Tear)
MY PROGRESS THUS FAR BRINGS WATER TO MY EYES. YOU MUST SEE THIS BEAUTIFUL MASTERPIECE. DO NOT BE MISLED BY T [...]

SHOW MORE

Track 3 from Breaks
Length: 00:07:55
Year: 2004
Track Description:
MY PROGRESS THUS FAR BRINGS WATER TO MY EYES. YOU MUST SEE THIS BEAUTIFUL MASTERPIECE. DO NOT BE MISLED BY THE BEAT.

SHOW LESS

5
Land of the Loops : I Dream of Ghosts
AS THE CHALK FLIES THROUGH THE AIR, I DREAM OF MY COUSINS WHO HAVE WANDERED TO THIS PLANET. SHALL I PAINT FOR [...]

SHOW MORE

Track 6 from Bundle of Joy
Length: 00:03:29
Year: 1997
Track Description:
AS THE CHALK FLIES THROUGH THE AIR, I DREAM OF MY COUSINS WHO HAVE WANDERED TO THIS PLANET. SHALL I PAINT FOR THEM?

SHOW LESS

6
Panda & Angel : Mexico
THE DRAWING BEGINS WITH 2 DOTTED LINES SEPARATED BY RED REDDISH-ORANGE PAINT. THEE LINES, THEE LINES. THEY L [...]

SHOW MORE

Track 1 from Panda & Angel
Length: 00:04:23
Year: 2006
Track Description:
THE DRAWING BEGINS WITH 2 DOTTED LINES SEPARATED BY RED REDDISH-ORANGE PAINT. THEE LINES, THEE LINES. THEY LIVE ON THE LEFT SIDE OF THE HUCKLEBERRY PAPER WITH HOLES.

SHOW LESS
Tag Board
You must log in to leave a tag
Stuff
Quick Jump
Qualca's other mixes
Related mixes
recent visitors
show all