[?]
Not a member? Sign-up now, it's free!
Login
[?]
These are links to some of the major sections in the mixtape collective.
Lists: Browse various lists that are generated by the loads of data we have collected.
Contests: Check out the latest contests, see previous winners, and find out how you can be a part
Music: Check out our ever-growing database of musical knowledge! Use it to find any artist, album, or track that has been entered since the birth of the site and rate and find detailed usage statistics.
Main
[?]
Tired of looking at the same old pages? Try checking out a random one, you never know what you might find...
Random!
Oh Summer, I Miss You Already :(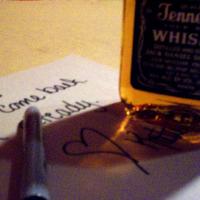 Oh Summer, I Miss You Already :(
Created by:
Katie
Tracks:
11
Length:
00:41:54
Keywords
1. Mix Contest 3
2. Mix Contest 3
3. Mix Contest 3
Created on
9/19/06 01:54am
Level
4
Points
1858
Total visitors
53
Unique visitors
38
This mix was ranked #14 out of 15 entries for this contest
description:
Although school hasn't actually begun for me yet, with each day that passes, I can feel it getting closer and closer. Every year, as summer ends, I get that Sunday feeling. It's like my last bit of freedom before coming back from a really long weekend. In this case, a 3 month long weekend. This particular mix has given me a chance to reflect on the past 17 years of my life, and while not every song is about school, they all, in some way or another, remind me of the time I've spent there.
tracklist
1
The Grates : I Won't Survive
This song pretty much sums up how I feel about college.

SHOW MORE

Track 1 from Gravity Won't Get You High
Length: 00:01:01
Year: 2006
Track Description:
This song pretty much sums up how I feel about college.

SHOW LESS

2
Radish : Failing and Leaving
Though I've never even come close to failing out of school all together, I've been in a class where I struggle [...]

SHOW MORE

Track 3 from Restraining Bolt
Length: 00:03:39
Year: 1997
Track Description:
Though I've never even come close to failing out of school all together, I've been in a class where I struggled so hard that I reached a point where I was ready to just walk out. I spent the whole term completely lost, and had absolutely no idea what I was doing there. I too had to decide which would be worse: Failing or Leaving. I had missed the deadline for dropping, and while i did my final project, I would stop every 3 minutes and say to myself, "why are you doing this? you're going to fail anyway. Just skip the final and save yourself the hassle." Needless to say, after 3 hours of arguing with my conscience, I managed to convince myself that I'm not a quitter, pulled my shit together, and magically pulled off a C.

SHOW LESS

3
Queen : You're My Best Friend
As I was going into third grade, I switched to a new school. It was kind of awkward because I had such awesome [...]

SHOW MORE

Track 6 from Greatest Hits
Length: 00:02:54
Year: 0000
Track Description:
As I was going into third grade, I switched to a new school. It was kind of awkward because I had such awesome friends at my old school, and now I didn't know anybody. I hung out with a new group of friends every year, and didn't finally have a solid group of friends until I was in 8th grade. One girl in particular became my best friend, and when both of us grew out of the group 4 years later, we stayed together, and as a result, our friendship has stayed strong for almost 9 years.

SHOW LESS

4
T. Rex : I Love To Boogie
When my best friend and I left our group in high school, both of us became club officers in the Drama and Thes [...]

SHOW MORE

Track 5 from Dandy In The Underworld
Length: 00:02:15
Year: 0000
Track Description:
When my best friend and I left our group in high school, both of us became club officers in the Drama and Thespian clubs. The drama department was given a chance to host a school dance after a football game, and somehow, the burden of organzing it landed on us. Rather than using the same old songs that were played at every dance, we decided to make our own dance mix and play a bunch of songs from the 70s and 80s. We picked a bunch of songs that we knew everyone would know, and then, because both of us are big T. Rex fans, we threw this one in for our own selfish reasons. We were singing along and having a great time, while everyone else was like, "wtf?"

SHOW LESS

5
Louis XIV : Hey Teacher
While I've never actually had a crush on a teacher, I have had a teacher who had a crush on me. He would alway [...]

SHOW MORE

Track 8 from The Best Little Secrets are Kept
Length: 00:03:42
Year: 2005
Track Description:
While I've never actually had a crush on a teacher, I have had a teacher who had a crush on me. He would always go out of his way to make eye contact with me or lean over me during class, and during midterms, when it came time for the mandatory student teacher conference, I sat down in his office and he had buttoned his shirt down a little farther than normal purposely so that every time he leaned forward, he could show off his chest hair. It was like a big, scary, chest hair octopus, and I was afraid if I got too close, it would attack me. I worked my butt off in the class, and I totally deserved my A, but at the same time, I'm pretty sure if I had slacked off, I still could have gotten the highest grade in the class.

SHOW LESS

6
The Karelia : Garavurghty Butes
This song reminds me so much of my school experiences. Quite possibly because I too enjoy pissing away educati [...]

SHOW MORE

Track 15 from Divorce at High Noon
Length: 00:10:15
Year: 0000
Track Description:
This song reminds me so much of my school experiences. Quite possibly because I too enjoy pissing away educational opportunities and arguing with my friends in the not so effective tones of a retard. "Yes it has!" "No it hasn't!"

SHOW LESS

7
The Ramones : Sheena Is A Punk Rocker
Whatever. I went to school with Sheena. She was not a punk rocker. She was an idiot.

SHOW MORE

Track 10 from Loud, Fast Ramones
Length: 00:02:48
Year: 2002
Track Description:
Whatever. I went to school with Sheena. She was not a punk rocker. She was an idiot.

SHOW LESS

8
John Mayer : 83
Well, I don't really wish my life were more like 1983. I wasn't even born until 1984. but what if my life were [...]

SHOW MORE

Track 7 from Room For Squares
Length: 00:04:50
Year: 2001
Track Description:
Well, I don't really wish my life were more like 1983. I wasn't even born until 1984. but what if my life were more like 1989? now THAT would be something!

SHOW LESS

9
Kaiser Chiefs : Saturday Night
Here's to the one night of the week where I don't have to feel bad about being lazy!

SHOW MORE

Track 8 from Employment
Length: 00:03:27
Year: 2005
Track Description:
Here's to the one night of the week where I don't have to feel bad about being lazy!

SHOW LESS

10
Jimmy Eat World : Just Tonight
For a while during college, I was absolutely in love with Jimmy Eat World. So much, in fact, that I skipped th [...]

SHOW MORE

Track 2 from Futures
Length: 00:03:26
Year: 2004
Track Description:
For a while during college, I was absolutely in love with Jimmy Eat World. So much, in fact, that I skipped the same class twice in one month to see them in concert. The first time I just missed a lecture, but the second time, I walked out during finals. Hmmm, you can see where my priorities lie. I picked this song because, at the time, it was my favorite Jimmy Eat World song.

SHOW LESS

11
Guster : Homecoming King
My school didn't actually have a homecoming king. It was all about the queen. Is that weird?

SHOW MORE

Track 5 from Keep It Together
Length: 00:03:37
Year: 2003
Track Description:
My school didn't actually have a homecoming king. It was all about the queen. Is that weird?

SHOW LESS
Tag Board
You must log in to leave a tag
Stuff
Quick Jump
Katie's other mixes
Related mixes
recent visitors
show all