[?]
Not a member? Sign-up now, it's free!
Login
[?]
These are links to some of the major sections in the mixtape collective.
Lists: Browse various lists that are generated by the loads of data we have collected.
Contests: Check out the latest contests, see previous winners, and find out how you can be a part
Music: Check out our ever-growing database of musical knowledge! Use it to find any artist, album, or track that has been entered since the birth of the site and rate and find detailed usage statistics.
Main
[?]
Tired of looking at the same old pages? Try checking out a random one, you never know what you might find...
Random!
Collaboration Celebration! (Volume 1)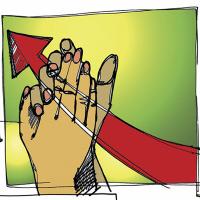 Collaboration Celebration! (Volume 1)
Created by:
Her
Tracks:
20
Length:
01:11:14
Keywords
1. collaborations
2. duets
3. guest vocalists
Created on
1/14/07 01:43pm
Level
5
Points
2484
Total visitors
54
Unique visitors
31
description:
I love a good duet, especially if it's male/female. This is the first in a 3 volume mix I made of collaborative efforts. There isn't one song on the mix I dislike and I've had a good response from family and friends about it so far. It may take me a while to get all three volumes up here, but fear not, they will all be made eventually!
tracklist
1
the blow : Some Chocolates
This is the cutest little acapella duet between Khaela Maricich and Mirah and it's a good attention grabbing t [...]

SHOW MORE

Track 3 from Bonus Album
Length: 00:01:37
Year: 2002
Track Description:
This is the cutest little acapella duet between Khaela Maricich and Mirah and it's a good attention grabbing tune to start us off. Plus - handclaps!

SHOW LESS

2
Lush : Ciao!
A great song featuring the wonderful vocals of Jarvis Cocker and Miki Berenyi. A "good riddance" story, but pe [...]

SHOW MORE

Track 7 from Lovelife
Length: 00:03:31
Year: 1996
Track Description:
A great song featuring the wonderful vocals of Jarvis Cocker and Miki Berenyi. A "good riddance" story, but perhaps the lady doth protest too much...

SHOW LESS

3
The Jesus & Mary Chain : Sometimes Always
A very different end-of-relationship to the one above, sung beautifully by Jim Reid and guest vocalist Hope Sa [...]

SHOW MORE

Track 1 from Sometimes Always
Length: 00:02:35
Year: 1994
Track Description:
A very different end-of-relationship to the one above, sung beautifully by Jim Reid and guest vocalist Hope Sandoval (from Mazzy Star).

SHOW LESS

4
Pink Nasty : Don't Ever Change
A kick-ass duet between Pink Nasty and Will Oldham (AKA Bonnie "Prince" Billy). The lyric "Please baby, won't [...]

SHOW MORE

Track 13 from Mold the Gold
Length: 00:03:25
Year: 2006
Track Description:
A kick-ass duet between Pink Nasty and Will Oldham (AKA Bonnie "Prince" Billy). The lyric "Please baby, won't you shut the fuck up?" is classic.

SHOW LESS

5
Snow Patrol : Set the Fire to the Third Bar
I'll take this time to fess up: I'm not a Snow Patrol fan. At all. But when I heard this duet featuring the un [...]

SHOW MORE

Track 8 from Eyes Open
Length: 00:00:00
Year: 2006
Track Description:
I'll take this time to fess up: I'm not a Snow Patrol fan. At all. But when I heard this duet featuring the unique vocals of Martha Wainwright I fell in love. It's just a really catchy song. And, erm, whoever put this song in the database forgot to add the track length...

SHOW LESS

6
The Stills : Baby Blues
A nice little song from the newest album featuring guest vocals by Emily Haines (Metric, Broken Social Scene). [...]

SHOW MORE

Track 11 from Without Feathers
Length: 00:03:35
Year: 2006
Track Description:
A nice little song from the newest album featuring guest vocals by Emily Haines (Metric, Broken Social Scene).

SHOW LESS

7
The Postal Service : Nothing Better
The Postal Service is one of those bands I like in small doses, but this duet between Ben Gibbard and Jen Wood [...]

SHOW MORE

Track 4 from Give Up
Length: 00:03:46
Year: 2003
Track Description:
The Postal Service is one of those bands I like in small doses, but this duet between Ben Gibbard and Jen Wood is, well, enjoyable. "I feel I must interject here" is a great lyric and "Will someone please call a surgeon who can crack my ribs and repair this broken heart" seems like they're taking the piss, and I like that. At least I hope they're taking the piss. :/

SHOW LESS

8
New Buffalo : Inside (The Corrections)
A bonus track from the European release of her album, this gorgeous duet features Jens Lekman who has the dist [...]

SHOW MORE

Track 0 from Last Beautiful Day
Length: 00:03:30
Year: 2005
Track Description:
A bonus track from the European release of her album, this gorgeous duet features Jens Lekman who has the distinction of being on this mix twice; the other is the first track of volume 2.

SHOW LESS

9
Damien Rice : 9 Crimes
Guh, this song is gorgeous! Damien has found a good partner in Lisa Hannigan; they duet beautifully together. [...]

SHOW MORE

Track 1 from 9
Length: 00:03:39
Year: 2006
Track Description:
Guh, this song is gorgeous! Damien has found a good partner in Lisa Hannigan; they duet beautifully together. I'll admit, a little Damien Rice goes a long way for me, but this song is irresistible.

SHOW LESS

10
Kings of Convenience : The Build-Up
The addition of Feist on this track is marvellous. God, I love her voice so much!

SHOW MORE

Track 12 from Riot on an Empty Street
Length: 00:04:05
Year: 0000
Track Description:
The addition of Feist on this track is marvellous. God, I love her voice so much!

SHOW LESS

11
Isobel Campbell/Mark Lanegan : (Do You Wanna) Come Walk with Me?
One of the best duet albums I've ever heard, and who would have thought it?! I could have chosen any track fro [...]

SHOW MORE

Track 7 from Ballad of the Broken Seas
Length: 00:03:27
Year: 2006
Track Description:
One of the best duet albums I've ever heard, and who would have thought it?! I could have chosen any track from this album to be honest because they're all fantastic.

SHOW LESS

12
Beth Orton : Lean On Me
This song is an original by Terry Callier, and he teams up with Beth for this cover from her 1997 EP "Best Bit [...]

SHOW MORE

Track 4 from Best Bit EP
Length: 00:05:06
Year: 1997
Track Description:
This song is an original by Terry Callier, and he teams up with Beth for this cover from her 1997 EP "Best Bit". Gorgeous.

SHOW LESS

13
The Decemberists : Yankee Bayonet (I Will Be Home Then)
Featuring the wonderful Laura Veirs, this song really gets to me. I'm not a huge Decemberists fan, but lately [...]

SHOW MORE

Track 3 from The Crane Wife
Length: 00:04:18
Year: 2006
Track Description:
Featuring the wonderful Laura Veirs, this song really gets to me. I'm not a huge Decemberists fan, but lately I've been getting into more of their stuff (I blame Stephen Colbert!) and I'm liking what I hear.

SHOW LESS

14
Peter Bjorn and John : Young Folks
I've yet to come across a person who doesn't love this song. It's just so damn catchy! I love Victoria Bergsma [...]

SHOW MORE

Track 3 from Writer's Block
Length: 00:04:36
Year: 2006
Track Description:
I've yet to come across a person who doesn't love this song. It's just so damn catchy! I love Victoria Bergsman's guest vocals on it.

SHOW LESS

15
John Doe : Hwy 5
Featuring one of my favourite female vocalists Neko Case, this is a great, rollicking little duet. Wonderful A [...]

SHOW MORE

Track 5 from Forever Hasn't Happened Yet
Length: 00:02:52
Year: 2005
Track Description:
Featuring one of my favourite female vocalists Neko Case, this is a great, rollicking little duet. Wonderful Alt. Country.

SHOW LESS

16
PJ Harvey : This Mess We're In
A duet between PJ Harvey and Thom Yorke? Yes fucking please. I doubt there's a person alive who hasn't heard t [...]

SHOW MORE

Track 7 from Stories from the City, Stories from the Sea
Length: 00:03:57
Year: 0000
Track Description:
A duet between PJ Harvey and Thom Yorke? Yes fucking please. I doubt there's a person alive who hasn't heard this yet but I love it so it's going on here.

SHOW LESS

17
Kristin Hersh : Your Ghost
Everyone has heard this song too, but it's damn good and I love the way Kristin and Michael Stipe's vocals sou [...]

SHOW MORE

Track 1 from Hips and Makers
Length: 00:03:16
Year: 1994
Track Description:
Everyone has heard this song too, but it's damn good and I love the way Kristin and Michael Stipe's vocals sound together.

SHOW LESS

18
Luna : Bonnie and Clyde
The version of this cover song I'm using is the slow one, dubbed "The Bonnie Parker" version. I prefer it to t [...]

SHOW MORE

Track 11 from Penthouse
Length: 00:05:27
Year: 1995
Track Description:
The version of this cover song I'm using is the slow one, dubbed "The Bonnie Parker" version. I prefer it to the faster-paced one and it fits much better on the mix. This song replaced "Tango Ballad" by Ute Lemper and Neil Hannon at the last minute. I'm still not entirely sure it was the right choice ... oh well. I much prefer the original, but everyone's heard that one.

SHOW LESS

19
Morrissey : Interlude
An exquisite duet between Morrissey and Siouxsie Sioux. Everyone's heard it, but I couldn't omit it!

SHOW MORE

Track 1 from Interlude
Length: 00:03:48
Year: 1994
Track Description:
An exquisite duet between Morrissey and Siouxsie Sioux. Everyone's heard it, but I couldn't omit it!

SHOW LESS

20
Cat Power : Evolution
A lovely duet with Eddie Vedder. Who doesn't like Chan Marshall? She's great! This song puts me to sleep thoug [...]

SHOW MORE

Track 14 from You Are Free
Length: 00:04:44
Year: 2003
Track Description:
A lovely duet with Eddie Vedder. Who doesn't like Chan Marshall? She's great! This song puts me to sleep though, which is why it's at the end.

SHOW LESS
Tag Board
You must log in to leave a tag
Stuff
Quick Jump
Her's other mixes
Related mixes
recent visitors
show all