[?]
Not a member? Sign-up now, it's free!
Login
[?]
These are links to some of the major sections in the mixtape collective.
Lists: Browse various lists that are generated by the loads of data we have collected.
Contests: Check out the latest contests, see previous winners, and find out how you can be a part
Music: Check out our ever-growing database of musical knowledge! Use it to find any artist, album, or track that has been entered since the birth of the site and rate and find detailed usage statistics.
Main
[?]
Tired of looking at the same old pages? Try checking out a random one, you never know what you might find...
Random!
christmas gift for when she returns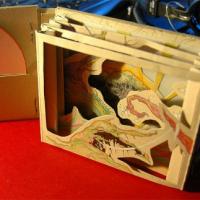 christmas gift for when she returns
Created by:
xra
Tracks:
12
Length:
01:02:36
Keywords
1. gift
2. hope
3. warm
Created on
2/09/07 10:14pm
Level
2
Points
1434
Total visitors
38
Unique visitors
28
description:
I made this mix for a girl I had met, during the time she was away for the holidays, she also got the wonderful tunnel-book packaging bound with thread that I made the night before picking her up from the airport.... Unfortunately currently I have the growing feeling that she is casting me aside... oh well.

There is a missing song at the end because the tracks were beatmatched and mixed into one another seamlessly, so the "real" track times make it too long for 80 minutes. It ends with a long 19 minute Mono & World'
s End Girlfriend track that builds up to a climax...
tracklist
1
Eluvium : Amreik
up until this point, my life fast forwarded in reverse from the time I first met you in the warm coffee shop. [...]

SHOW MORE

Track 1 from Copia
Length: 00:03:18
Year: 2007
Track Description:
up until this point, my life fast forwarded in reverse from the time I first met you in the warm coffee shop.

SHOW LESS

2
Pan American : Skylight
the sleepy ends of the days...

SHOW MORE

Track 5 from Quiet City
Length: 00:05:40
Year: 2004
Track Description:
the sleepy ends of the days...

SHOW LESS

3
Eluvium : Prelude For Time Feelers
this is the conclusion to the first segment, embrace.

SHOW MORE

Track 4 from Copia
Length: 00:05:48
Year: 2007
Track Description:
this is the conclusion to the first segment, embrace.

SHOW LESS

4
Slowdive : When the Sun Hits

SHOW MORE

Track 7 from Souvlaki
Length: 00:04:47
Year: 1994
Track Description:


SHOW LESS

5
Eluvium : Radio Ballet
just a segway, you love piano.

SHOW MORE

Track 6 from Copia
Length: 00:03:12
Year: 2007
Track Description:
just a segway, you love piano.

SHOW LESS

6
Gregor Samsa : Dot
you're beautiful, in ways - you'll never know, and in ways - you'll never show, the likes of me, and i - can't [...]

SHOW MORE

Track 1 from Untitled
Length: 00:04:01
Year: 0000
Track Description:
you're beautiful, in ways - you'll never know, and in ways - you'll never show, the likes of me, and i - can't seem, to get you out - of my desperate - longing mind i'm spending dangerous amounts of time, in pursuit of you.

SHOW LESS

7
Eluvium : Reciting The Airships
another beautiful piano transition

SHOW MORE

Track 9 from Copia
Length: 00:04:35
Year: 2007
Track Description:
another beautiful piano transition

SHOW LESS

8
Del Rey : Lamplighter
wake up wake up whats the plan for today

SHOW MORE

Track 3 from A Pyramid For the Living
Length: 00:11:50
Year: 2006
Track Description:
wake up wake up whats the plan for today

SHOW LESS

9
Gregor Samsa : These Points Balance
how long, til I fall, in love

SHOW MORE

Track 5 from 55:12
Length: 00:07:41
Year: 2006
Track Description:
how long, til I fall, in love

SHOW LESS

10
Eluvium : i will not forget that i have forgotten
shivers trickle down my spine, swelling piano transition...

SHOW MORE

Track 1 from When I Live By The Garden And The Sea
Length: 00:05:20
Year: 2006
Track Description:
shivers trickle down my spine, swelling piano transition...

SHOW LESS

11
Hammock : Shipwrecked (Flat On Your Back)
ideals

SHOW MORE

Track 14 from Raising Your Voice... Trying To Stop An Echo
Length: 00:03:58
Year: 2006
Track Description:
ideals

SHOW LESS

12
Eluvium : Genius and the Thieves
i've woken up in the early morning, suddenly I am reminded that you're still next to me sleeping.

SHOW MORE

Track 2 from An Accidental Memory in the Case of Death
Length: 00:02:26
Year: 2004
Track Description:
i've woken up in the early morning, suddenly I am reminded that you're still next to me sleeping.

SHOW LESS
Tag Board
You must log in to leave a tag
Stuff
Quick Jump
xra's other mixes
Related mixes
recent visitors
show all