[?]
Not a member? Sign-up now, it's free!
Login
[?]
These are links to some of the major sections in the mixtape collective.
Lists: Browse various lists that are generated by the loads of data we have collected.
Contests: Check out the latest contests, see previous winners, and find out how you can be a part
Music: Check out our ever-growing database of musical knowledge! Use it to find any artist, album, or track that has been entered since the birth of the site and rate and find detailed usage statistics.
Main
[?]
Tired of looking at the same old pages? Try checking out a random one, you never know what you might find...
Random!
Hope is the thing with feathers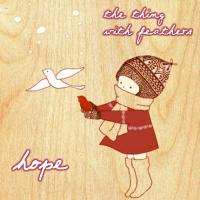 Hope is the thing with feathers
Created by:
bottledmystery
Tracks:
16
Length:
00:52:41
Keywords
1. hope
2. happiness
3. love
Created on
4/06/09 04:49pm
Level
2
Points
1317
Total visitors
16
Unique visitors
10
description:
Emily Dickinson wrote, "Hope is the thing with feathers/That perches in the soul." I felt like I hadn't put any happy mixes up, so here's one for you: hopeful tunes, love songs, music that makes me joyful.
tracklist
1
Susan Sarandon and Barry Bostwick : Over At the Frankenstein Place
Brad and Janet see a light in the distance as they seek sanctuary from a storm.

SHOW MORE

Track 3 from Rocky Horror Picture Show Soundtrack
Length: 00:02:45
Year: 1989
Track Description:
Brad and Janet see a light in the distance as they seek sanctuary from a storm.

SHOW LESS

2
The Noisettes : Sister Rosetta (Capture the Spirit)

SHOW MORE

Track 0 from What's the Time Mr. Wolf?
Length: 00:02:59
Year: 0000
Track Description:


SHOW LESS

3
Andrew Bird : Fake Palindromes
Maybe the lyrics aren't so happy, but just the first few seconds, and whenever that musical theme is repeated, [...]

SHOW MORE

Track 4 from Andrew Bird & The Mysterious Production Of Eggs
Length: 00:02:52
Year: 2005
Track Description:
Maybe the lyrics aren't so happy, but just the first few seconds, and whenever that musical theme is repeated, make me feel like dancing.

SHOW LESS

4
Dolly Parton : Coat Of Many Colors
Sweet folk tune, and Dolly Parton's voice is calm and lovely.

SHOW MORE

Track 4 from The Essential Dolly Parton, Volume 2
Length: 00:03:05
Year: 1997
Track Description:
Sweet folk tune, and Dolly Parton's voice is calm and lovely.

SHOW LESS

5
The Happy Bullets : If You Were Mine
"If you were mine and lived in Wales, I'd set the clocks to Greenwich time."

SHOW MORE

Track 0 from The Vice and Virtue Ministry
Length: 00:03:00
Year: 0000
Track Description:
"If you were mine and lived in Wales, I'd set the clocks to Greenwich time."

SHOW LESS

6
Madeleine Peyroux : Don't Wait Too Long

SHOW MORE

Track 2 from Careless Love
Length: 00:03:11
Year: 2004
Track Description:


SHOW LESS

7
The Lucksmiths : Sunlight in a Jar
An unbearably true love song. "Like a self-help manual that's been written in Braille, it seems the more that [...]

SHOW MORE

Track 6 from Warmer Corners
Length: 00:03:23
Year: 2005
Track Description:
An unbearably true love song. "Like a self-help manual that's been written in Braille, it seems the more that we touch, the more we learn about our failings." But it's happy, I swear.

SHOW LESS

8
Enter the Haggis : One Last Drink
Scottish influenced rock, "the world is mine tonight."

SHOW MORE

Track 2 from Soapbox Heroes
Length: 00:03:28
Year: 2006
Track Description:
Scottish influenced rock, "the world is mine tonight."

SHOW LESS

9
Red Hot Chili Peppers : The Zephyr Song
A more quiet type of happiness, the sort you find in a sunny catnap. "We'll find a place together."

SHOW MORE

Track 6 from By the Way
Length: 00:03:52
Year: 0000
Track Description:
A more quiet type of happiness, the sort you find in a sunny catnap. "We'll find a place together."

SHOW LESS

10
The White Stripes : Prickly Thorn, But Sweetly Worn
A jumping-for-joy happiness.

SHOW MORE

Track 6 from Icky Thump
Length: 00:03:05
Year: 2007
Track Description:
A jumping-for-joy happiness.

SHOW LESS

11
Rocco DeLuca & The Burden : Colorful

SHOW MORE

Track 3 from I Trust You to Kill Me
Length: 00:03:05
Year: 2006
Track Description:


SHOW LESS

12
Keren Ann : Road Bin
Keren Ann's voice is extremely soothing here.

SHOW MORE

Track 3 from Not Going Anywhere
Length: 00:03:22
Year: 2003
Track Description:
Keren Ann's voice is extremely soothing here.

SHOW LESS

13
Simon And Garfunkel : Bridge Over Troubled Water

SHOW MORE

Track 1 from Bridge Over Troubled Water
Length: 00:04:56
Year: 0000
Track Description:


SHOW LESS

14
Pelle Carlberg : I Love You, You Imbecile
"I can live with all your downsides!"

SHOW MORE

Track 2 from In A Nutshell
Length: 00:02:56
Year: 2007
Track Description:
"I can live with all your downsides!"

SHOW LESS

15
Flogging Molly : If I Ever Leave This World Alive

SHOW MORE

Track 4 from Drunken Lullabies
Length: 00:03:21
Year: 2002
Track Description:


SHOW LESS

16
Regina Spektor : Ghost of Corporate Future
Rebellious happiness. Don't conform to sadness. "And if you kiss somebody, then both of you get practice."

SHOW MORE

Track 9 from Soviet Kitsch
Length: 00:03:21
Year: 2003
Track Description:
Rebellious happiness. Don't conform to sadness. "And if you kiss somebody, then both of you get practice."

SHOW LESS
Tag Board
You must log in to leave a tag
Stuff
Quick Jump
bottledmystery's other mixes
Related mixes
recent visitors
show all