[?]
Not a member? Sign-up now, it's free!
Login
[?]
These are links to some of the major sections in the mixtape collective.
Lists: Browse various lists that are generated by the loads of data we have collected.
Contests: Check out the latest contests, see previous winners, and find out how you can be a part
Music: Check out our ever-growing database of musical knowledge! Use it to find any artist, album, or track that has been entered since the birth of the site and rate and find detailed usage statistics.
Main
[?]
Tired of looking at the same old pages? Try checking out a random one, you never know what you might find...
Random!
All-Vinyl Bands-With-Girls Awesome Mixtape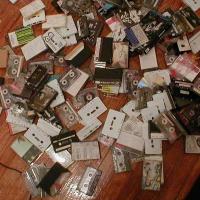 All-Vinyl Bands-With-Girls Awesome Mixtape
Created by:
Alice
Tracks:
21
Length:
00:59:14
Keywords
1. girls
2. vinyl
3. awesome
Created on
6/11/06 05:01pm
Level
7
Points
3250
Total visitors
170
Unique visitors
84
description:
Started as a present for my friend Hilary and woefully neglected, this mixtape took forever to finish. She told me she wanted to hear more bands with girls in them, and I had been reorganizing my vinyl and had an itching to make a new mix.

I started off the mix with some electronic-based songs, dipped into some indie rock, then delved into a metal and hardcore block, then went back to indie, ending with a song featuring plucked harp strings which would, if you decided to flip the tape over and start at side one again, merge perfectly into the electronic blips that start off the first track. I tried hard to cross a wide variety of genres without any jarring transitions.
tracklist
1
Black Cat #13 : I Am A Childish Robot
This song starts out with the best BLEEP BLEEP BLEEP noise. It's the absolute perfect mixtape opening song.

SHOW MORE

Track 1 from The Experiment Vol. 1
Length: 00:00:00
Year: 0000
Track Description:
This song starts out with the best BLEEP BLEEP BLEEP noise. It's the absolute perfect mixtape opening song.

SHOW LESS

2
Melt Banana : Free The Bee
This song flows into the previous one really nicely with more high-pitched girl yapping and bleeps and bips.

SHOW MORE

Track 1 from Teeny Shiny
Length: 00:03:30
Year: 2000
Track Description:
This song flows into the previous one really nicely with more high-pitched girl yapping and bleeps and bips.

SHOW LESS

3
Adult. : Glue Yr Eyelids Together
Adult. can get boring if you play 23042 songs of theirs in a row, but one good track on a good mixtape is EXCE [...]

SHOW MORE

Track 3 from Anxiety Always
Length: 00:04:10
Year: 2003
Track Description:
Adult. can get boring if you play 23042 songs of theirs in a row, but one good track on a good mixtape is EXCELLENT. Especially this song.

SHOW LESS

4
Le Tigre : The The Empty
Another electronic-based song, but starting to tone it down a bit.

SHOW MORE

Track 4 from Le Tigre
Length: 00:02:04
Year: 1999
Track Description:
Another electronic-based song, but starting to tone it down a bit.

SHOW LESS

5
The Red Light Sting : Congratulations Mr. Crocodile, You're Pregnant
The song is killer as well as the title. This song transitions between the uber-electronic and the guitar-driv [...]

SHOW MORE

Track 3 from Rub Em Down, Rub Em Out
Length: 00:00:00
Year: 0000
Track Description:
The song is killer as well as the title. This song transitions between the uber-electronic and the guitar-driven songs.

SHOW LESS

6
Enon : In This City
Dayton! (That's all that I need to say to prove Enon rules)

SHOW MORE

Track 3 from High Society
Length: 00:04:01
Year: 0000
Track Description:
Dayton! (That's all that I need to say to prove Enon rules)

SHOW LESS

7
Tracy + The Plastics : City
This song is pretty awesome to dance around to while wishing your BFF was with you.

SHOW MORE

Track 1 from Muscler's guide to videonics
Length: 00:01:56
Year: 0000
Track Description:
This song is pretty awesome to dance around to while wishing your BFF was with you.

SHOW LESS

8
Yeah Yeah Yeahs : Machine
I get this song stuck in my head for days whenever I listen to it, though I'm not sure why.

SHOW MORE

Track 1 from Machine EP
Length: 00:00:00
Year: 2002
Track Description:
I get this song stuck in my head for days whenever I listen to it, though I'm not sure why.

SHOW LESS

9
Love Life : Hex It Out
The girl from the YYYs probably copied some of her sultry singing and stage ridiculousness from Katrina.

SHOW MORE

Track 1 from Hex It Out/ Be Kind To Me - 10" Heart-Shaped Single
Length: 00:00:00
Year: 0000
Track Description:
The girl from the YYYs probably copied some of her sultry singing and stage ridiculousness from Katrina.

SHOW LESS

10
Get Hustle : Pharaoh's Horses
...And you can't possibly NOT follow up Love Life with Get Hustle. Impossible!

SHOW MORE

Track 1 from Dream Eagle
Length: 00:00:00
Year: 0000
Track Description:
...And you can't possibly NOT follow up Love Life with Get Hustle. Impossible!

SHOW LESS

11
Anti-Product : Warfair?
This has been one of my favorite songs since I was 14. Awesome duel vocal crust punk.

SHOW MORE

Track 0 from Blinded By Patriotism 7"
Length: 00:00:00
Year: 0000
Track Description:
This has been one of my favorite songs since I was 14. Awesome duel vocal crust punk.

SHOW LESS

12
Damad : Addict Arcade
Here we're getting into the metal block. Listening to this song you can't possibly think the singer is female, [...]

SHOW MORE

Track 1 from Rise & Fall
Length: 00:02:17
Year: 1997
Track Description:
Here we're getting into the metal block. Listening to this song you can't possibly think the singer is female, but she totally is!

SHOW LESS

13
Arch Enemy : Heart Of Darkness
Another metal band where you'd never guess the singer is female. This Death Metal song actually has a really c [...]

SHOW MORE

Track 3 from Wages Of Sin
Length: 00:04:52
Year: 2002
Track Description:
Another metal band where you'd never guess the singer is female. This Death Metal song actually has a really catchy chorus!

SHOW LESS

14
The Minus Tide : 100% Fatality
I LOVE THIS SONG. LOVE LOVE LOVE.

SHOW MORE

Track 7 from Minus Tide/ Trun Around Norman- Split
Length: 00:00:00
Year: 2002
Track Description:
I LOVE THIS SONG. LOVE LOVE LOVE.

SHOW LESS

15
Welcome The Plague Year : Behold A Pale Horse
WTPY is one of my favorite "screamo" bands ever. They're so epic and passionate and are super nice too!

SHOW MORE

Track 1 from Behold A Pale Horse
Length: 00:03:36
Year: 0000
Track Description:
WTPY is one of my favorite "screamo" bands ever. They're so epic and passionate and are super nice too!

SHOW LESS

16
Circle Takes the Square : Kill the Switch
Add CTTS to my AWESOME and EPIC and NICE list, please!

SHOW MORE

Track 7 from As the Roots Undo
Length: 00:09:33
Year: 2004
Track Description:
Add CTTS to my AWESOME and EPIC and NICE list, please!

SHOW LESS

17
Scout Niblett : Miss My Lion
Scout Niblett is one of the only people who can bridge the gap between metal and indie. Her songs are weird an [...]

SHOW MORE

Track 2 from Sweet Heart Fever
Length: 00:03:59
Year: 0000
Track Description:
Scout Niblett is one of the only people who can bridge the gap between metal and indie. Her songs are weird and chaotic and gentle all at once. And she's nuts (in a great way).

SHOW LESS

18
Low : (That's How You Sing) Amazing Grace
I have no idea how Low makes Amazing Grace so dark, but I applaud their ability to do so!

SHOW MORE

Track 1 from Trust
Length: 00:07:13
Year: 2002
Track Description:
I have no idea how Low makes Amazing Grace so dark, but I applaud their ability to do so!

SHOW LESS

19
Cat Power : Cross Bones Style
This is the best Cat Power song, hands down (I swear it's not just because of my bias towards thinking skulls [...]

SHOW MORE

Track 10 from Moon Pix
Length: 00:04:32
Year: 1998
Track Description:
This is the best Cat Power song, hands down (I swear it's not just because of my bias towards thinking skulls are cool)

SHOW LESS

20
Blonde Redhead : Magic Mountain
I wish I lived on Magic Mountain!

SHOW MORE

Track 9 from Misery is a Butterfly
Length: 00:03:02
Year: 0000
Track Description:
I wish I lived on Magic Mountain!

SHOW LESS

21
Joanna Newsom : The Book Of Right-On
Joanna Newsom has one of the weirdest and most awesome voices, and The Book Of Right On is one of my favorite [...]

SHOW MORE

Track 3 from The Milk-Eyed Mender
Length: 00:04:29
Year: 2004
Track Description:
Joanna Newsom has one of the weirdest and most awesome voices, and The Book Of Right On is one of my favorite indie tracks of all time. An excellent tape-ender.

SHOW LESS
Tag Board
You must log in to leave a tag
Stuff
Quick Jump
Alice's other mixes
Related mixes
recent visitors
show all