[?]
Not a member? Sign-up now, it's free!
Login
[?]
These are links to some of the major sections in the mixtape collective.
Lists: Browse various lists that are generated by the loads of data we have collected.
Contests: Check out the latest contests, see previous winners, and find out how you can be a part
Music: Check out our ever-growing database of musical knowledge! Use it to find any artist, album, or track that has been entered since the birth of the site and rate and find detailed usage statistics.
Main
[?]
Tired of looking at the same old pages? Try checking out a random one, you never know what you might find...
Random!
i love you, but i won't tell you...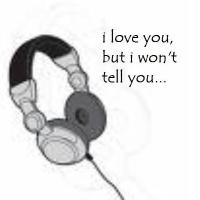 i love you, but i won't tell you...
Created by:
youandme
Tracks:
14
Length:
01:05:39
Keywords
1. solitary
2. safe
3. love
Created on
4/30/07 05:46pm
Level
6
Points
2728
Total visitors
112
Unique visitors
59
description:
i've worked on-and-off with a friend for about a year now. he has amazing taste in music, movies, and liquor, gives me hugs and assurance when i'm feeling down, and always greets me with the largest, warmest smile i've ever seen. i've always had a love for him, but i've decided not to tell him. it's a safe and simple kind of admiration, and i like it that way. i made this for those nights when i'm overcome with the urge to blurt it out, but instead, leave work after my free cocktails and idle chatter with him, saunter down to my local bar where i put on my headphones, order my usual (jameson, neat. beerback. whiskey sour. and keep 'em coming), and sit quietly, smoking my cigarettes and musing over things to come...
tracklist
1
Queens of the Stone Age : If Only
too bad queens of the stone age aren't still this good.

SHOW MORE

Track 3 from Queens of the Stone Age
Length: 00:03:20
Year: 1998
Track Description:
too bad queens of the stone age aren't still this good.

SHOW LESS

2
Red Sparowes : A Brief Moment of Clarity Broke Through the Deafening Hum, but It Was Too Late.
track title says it all. this song is absolutely amazing.

SHOW MORE

Track 5 from At The Soundless Dawn
Length: 00:05:59
Year: 2005
Track Description:
track title says it all. this song is absolutely amazing.

SHOW LESS

3
Neko Case : Star Witness
i bought this cd last year, when i was living on mt. hood and driving into portland every day. it reminds me o [...]

SHOW MORE

Track 2 from Fox Confessor Brings the Flood
Length: 00:05:18
Year: 2006
Track Description:
i bought this cd last year, when i was living on mt. hood and driving into portland every day. it reminds me of being the only car on the road, drinking in the sunshine through my moonroof, and telling myself that life was really going to turn out just fine.

SHOW LESS

4
Ween : The Argus
i love the end of this song. i've been listening to a lot of 3/4 and 6/8 time as of late.

SHOW MORE

Track 14 from Quebec
Length: 00:04:53
Year: 2003
Track Description:
i love the end of this song. i've been listening to a lot of 3/4 and 6/8 time as of late.

SHOW LESS

5
Do Make Say Think : Soul And Onward
i heard about this band several years ago from a person who i really dislike; however, thank you pompous-ass j [...]

SHOW MORE

Track 6 from & Yet & Yet
Length: 00:05:31
Year: 2002
Track Description:
i heard about this band several years ago from a person who i really dislike; however, thank you pompous-ass josh for sharing...

SHOW LESS

6
The Cure : Six Different Ways
never really liked the cure... but the scene from 'the rules of attraction' where this plays makes me love it. [...]

SHOW MORE

Track 4 from Head On The Door
Length: 00:03:18
Year: 0000
Track Description:
never really liked the cure... but the scene from 'the rules of attraction' where this plays makes me love it. it's perfect.

SHOW LESS

7
Shelley Duvall : He Needs Me (Jon Brion & Jonathan Karp Remix)
another movie song... not a fan of it when it's in 'popeye' (ugh), but the eerie feeling behind it in 'punch-d [...]

SHOW MORE

Track 8 from Punch-Drunk Love Soundtrack
Length: 00:03:31
Year: 2002
Track Description:
another movie song... not a fan of it when it's in 'popeye' (ugh), but the eerie feeling behind it in 'punch-drunk love' is really interesting. oh, and i love jon brion.

SHOW LESS

8
American Analog Set : Hard To Find
i am currently obsessed with this song. such an amazing band.

SHOW MORE

Track 2 from Promise of Love
Length: 00:04:17
Year: 2003
Track Description:
i am currently obsessed with this song. such an amazing band.

SHOW LESS

9
Beautiful Noise : I Love You (La, La, La)
if you haven't heard this... find it. it's great. simple, pretty, nod-your-head-and-feel-happy tune.

SHOW MORE

Track 2 from Apocalpse
Length: 00:08:09
Year: 2000
Track Description:
if you haven't heard this... find it. it's great. simple, pretty, nod-your-head-and-feel-happy tune.

SHOW LESS

10
Ratatat : Nostrand
probably my favorite off of 'classics.'

SHOW MORE

Track 9 from Classics
Length: 00:03:34
Year: 2006
Track Description:
probably my favorite off of 'classics.'

SHOW LESS

11
Trans Am : North East Rising Sun
i've been in a trans am funk lately. sex change is freaking sweet!

SHOW MORE

Track 2 from Sex Change
Length: 00:04:44
Year: 2007
Track Description:
i've been in a trans am funk lately. sex change is freaking sweet!

SHOW LESS

12
Pelican : Aurora Borealis
lovely.

SHOW MORE

Track 6 from The Fire in Our Throats Will Beckon the Thaw
Length: 00:04:55
Year: 2005
Track Description:
lovely.

SHOW LESS

13
The Notwist : Pick Up The Phone
favorite vocals on any notwist. i like the minimalist approach here.

SHOW MORE

Track 3 from Neon Golden
Length: 00:03:55
Year: 0000
Track Description:
favorite vocals on any notwist. i like the minimalist approach here.

SHOW LESS

14
Rilo Kiley : The Execution Of All Things
i missed this song. i put it at the end of quite a few mixes back in ashland. i got sick of it, as probably mo [...]

SHOW MORE

Track 3 from The Execution Of All Things
Length: 00:04:15
Year: 2002
Track Description:
i missed this song. i put it at the end of quite a few mixes back in ashland. i got sick of it, as probably most people did... but after leaving it alone for a year, it still has all its charm. the end.

SHOW LESS
Tag Board
You must log in to leave a tag
Stuff
Quick Jump
youandme's other mixes
Related mixes
recent visitors
show all