[?]
Not a member? Sign-up now, it's free!
Login
[?]
These are links to some of the major sections in the mixtape collective.
Lists: Browse various lists that are generated by the loads of data we have collected.
Contests: Check out the latest contests, see previous winners, and find out how you can be a part
Music: Check out our ever-growing database of musical knowledge! Use it to find any artist, album, or track that has been entered since the birth of the site and rate and find detailed usage statistics.
Main
[?]
Tired of looking at the same old pages? Try checking out a random one, you never know what you might find...
Random!
Happy Birthday Mother Fucker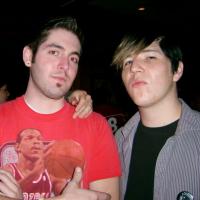 Happy Birthday Mother Fucker
Created by:
T-bag
Tracks:
11
Length:
00:30:54
Keywords
1. Birthday
2. Awesome
3. Bitch
Created on
5/21/07 01:58pm
Level
5
Points
2444
Total visitors
51
Unique visitors
34
description:
I had made this mix before I went out to party with my friends for my birthday. Eric, Zach, and Jon Raby met up with me at the creekside bar and grill, then we left to the Honk Kong bar where I work to play the mix. It's Friday night and the bar is starting to pick up, there are a bunch of drunken girls acting annoying, jock douche bags, and pretentious hipsters hanging in the background talking shit about everybody. I had a Mix that would let all know, that we were the coolest guys there. Good conversations went down, my friends cracked me up, and I was able to play a mix that annoyed everybody but my friends and boss with its absurdity.
The concept is simple, stupid, and irreverent. I downloaded karaoke versions of my favorite TV. shows, and put it in contrast to my favorite songs of all time. What a hit, the mix really shows what kind of thoughtful person I am. I love me.

tracklist
1
Countdown Singers : Theme From "Golden Girls"
A great song to kick off the mix, even if everytime I listen to this jam, my mind is filled with visions of a [...]

SHOW MORE

Track 9 from T.V. Themes
Length: 00:01:49
Year: 2005
Track Description:
A great song to kick off the mix, even if everytime I listen to this jam, my mind is filled with visions of a vicious gang bang with the girls.

SHOW LESS

2
Ying Yang Twins : Jigglin
I love the beatiful melody.

SHOW MORE

Track 5 from Chemically Imbalanced
Length: 00:03:24
Year: 2006
Track Description:
I love the beatiful melody.

SHOW LESS

3
Karaoke : Full House
I went to San Fransico with my friend Jon Raby, when we passed over the Golden Gate bridge and I couldn't help [...]

SHOW MORE

Track 2 from Karaoke-TV Themes, Vol 2.
Length: 00:01:02
Year: 2006
Track Description:
I went to San Fransico with my friend Jon Raby, when we passed over the Golden Gate bridge and I couldn't help but sing this song...I was also dressed like Uncle Jessie.

SHOW LESS

4
David Banner : Play
It takes a real brave man to sing about womens rights in a rap song intended for play in dirty night clubs. Br [...]

SHOW MORE

Track 5 from Certified (Bonus Track Edition)
Length: 00:03:50
Year: 2005
Track Description:
It takes a real brave man to sing about womens rights in a rap song intended for play in dirty night clubs. Bravo David Banner, Bravo.

SHOW LESS

5
Various Artists (B.J. Thomas) : As Long As We Got Each Other
This song is almost as good as the series. Alan, Kirk, Tracey Gold, The little fuck who played Ben, Mom. This [...]

SHOW MORE

Track 7 from Favorite Country Duets
Length: 00:04:24
Year: 1991
Track Description:
This song is almost as good as the series. Alan, Kirk, Tracey Gold, The little fuck who played Ben, Mom. This show had it all until ratings started to slip and they brought two more annoying kids into the series. Little Leo Cap and that little curly headed cunt. Unfortunately nobody else shared the laughter or love when I played this Track.


SHOW LESS

6
Too Short : Shake That Monkey
I know I'm white, but I don't think its right to shake animals, or even babies or Chinese. Don't get me wrong, [...]

SHOW MORE

Track 5 from Married To The Game
Length: 00:04:38
Year: 2003
Track Description:
I know I'm white, but I don't think its right to shake animals, or even babies or Chinese. Don't get me wrong, I eat meat, I'm no vegetarian.

SHOW LESS

7
Karaoke : Saved By The Bell
Oh My God, This show was Laugh Out Loud Gold. I was Laughing My Ass Off when I watched that episode where Jess [...]

SHOW MORE

Track 1 from Karaoke-TV Themes, Vol 2.
Length: 00:01:08
Year: 2006
Track Description:
Oh My God, This show was Laugh Out Loud Gold. I was Laughing My Ass Off when I watched that episode where Jesse devolops an addiction to Pills...I still have a crush on Kelly, and Zach...and AC. I had always wished that somehow, screeched would of died in that episode where they all got drunk (except screech). Or pretty much evrey episode, they could of devolped a story arc where he gets aids and cancer and herpes. Yeah, that would of been cool. Any show is all right with me, when a sexy blond haired boy named Zach can score 1502 on his SATs. Way to go writers of the show.

SHOW LESS

8
bubba sparxxx : Ms. New Booty
I only put this song in the mix because I like the way this rube spelled his name. three xxx's, thats hilariou [...]

SHOW MORE

Track 0 from The Charm
Length: 00:04:39
Year: 0000
Track Description:
I only put this song in the mix because I like the way this rube spelled his name. three xxx's, thats hilarious.

SHOW LESS

9
Karaoke : Fresh Prince Of Bel-Air (In Style Of Various)-Karaoke
Who would of known that TV execs would of even dared to make this a show. I'm sure they didn't try to capitili [...]

SHOW MORE

Track 2 from Mixed Showtunes and TV Themes Vol-2-Karaoke
Length: 00:01:12
Year: 2006
Track Description:
Who would of known that TV execs would of even dared to make this a show. I'm sure they didn't try to capitilize on the growing populairty of young black culture in the form of a fish out of water scenario. The only good thing that came out of this show was the Carliton dance. It was so funny. I entered a talent show in middle school once and did the big C dance for thirty five minutes...and I won.

SHOW LESS

10
The Pack : Dum Ditty Dum
When I feel like going for a brisk Jog in the park, I play this on the 'ol I-Pod and get hypie with it. Great [...]

SHOW MORE

Track 4 from Skateboards To Scrappers
Length: 00:02:41
Year: 2006
Track Description:
When I feel like going for a brisk Jog in the park, I play this on the 'ol I-Pod and get hypie with it. Great for work outs.

SHOW LESS

11
Countdown : Theme From Knight Rider
Don't hassle the Hoff, not even once. Unless you want a roundhouse from the sexiest/strongest man to wear a sp [...]

SHOW MORE

Track 4 from TV Greatest Hits, Vol. 4
Length: 00:02:07
Year: 2007
Track Description:
Don't hassle the Hoff, not even once. Unless you want a roundhouse from the sexiest/strongest man to wear a speedo.

SHOW LESS
Tag Board
You must log in to leave a tag
Stuff
Quick Jump
T-bag's other mixes
Related mixes
recent visitors
show all