[?]
Not a member? Sign-up now, it's free!
Login
[?]
These are links to some of the major sections in the mixtape collective.
Lists: Browse various lists that are generated by the loads of data we have collected.
Contests: Check out the latest contests, see previous winners, and find out how you can be a part
Music: Check out our ever-growing database of musical knowledge! Use it to find any artist, album, or track that has been entered since the birth of the site and rate and find detailed usage statistics.
Main
[?]
Tired of looking at the same old pages? Try checking out a random one, you never know what you might find...
Random!
Bring that BEAT BACK...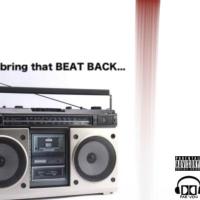 Bring that BEAT BACK...
Created by:
ParYen
Tracks:
18
Length:
01:19:43
Keywords
1. Mix Contest 12 - T97
2. Mix Contest 12 - T97
3. Mix Contest 12 - T97
Created on
6/06/07 09:16am
Level
6
Points
2790
Total visitors
91
Unique visitors
48
This mix was ranked #1 out of 5 entries for this contest
description:
1990 to 97... suckas.

i'm not one to sit around sighing about how 'hip hop isn't what it used to be" but man, these years produced some GEMS; records that could never get made today (sampling laws) and groundbreaking stuff that we really won't see get made in the future.

see also two of my other mixes for more great records during this time period: 'Return of the Yellow Walkman (1992-93)' and 'High School Beatdown (1993-97).'

too many good records for just 3 mixtapes.
tracklist
1
Nas : N.Y. State of Mind
really no need to convince anyone of the 'classic' status of this record. i tend to gravitate toward more som [...]

SHOW MORE

Track 2 from Illmatic
Length: 00:04:52
Year: 1994
Track Description:
really no need to convince anyone of the 'classic' status of this record. i tend to gravitate toward more somber stuff most of the time. this is just classic all around -- some put it in their short list of top hip hop songs of all time.

SHOW LESS

2
Genius/GZA : 4th Chamber
arguably the best emcee of all time. i won't disagree. this is a 'stranded-on-a-deserted-island' album. har [...]

SHOW MORE

Track 7 from Liquid Swords
Length: 00:04:37
Year: 1995
Track Description:
arguably the best emcee of all time. i won't disagree. this is a 'stranded-on-a-deserted-island' album. hard to pick just one track.

SHOW LESS

3
Organized Konfusion : Stress
"Most of you can't even comprehend what I am saying
to you even in my human form the message I'm relaying [...]

SHOW MORE

Track 2 from Stress: The Extinction Agenda
Length: 00:04:00
Year: 1994
Track Description:
"Most of you can't even comprehend what I am saying
to you even in my human form the message I'm relaying..." classic track. great mood.

SHOW LESS

4
Goodie Mob : I Didn't Ask to Come
love this one. everyone seems to know 'cell therapy' but man, this one is fresh.

SHOW MORE

Track 15 from Soul Food
Length: 00:04:08
Year: 1995
Track Description:
love this one. everyone seems to know 'cell therapy' but man, this one is fresh.

SHOW LESS

5
OC : Hypocrite
highly underrated, overlooked emcee. his first album is considered my many as classic, while this album ('jew [...]

SHOW MORE

Track 13 from Jewelz
Length: 00:02:31
Year: 1997
Track Description:
highly underrated, overlooked emcee. his first album is considered my many as classic, while this album ('jewelz') gets good, but not great, ratings. it's solid all the way through though.

SHOW LESS

6
UGK : Front, Back and Side to Side
the version that i heard back in high school was off the 'a low down dirty shame' soundtrack, so that's the on [...]

SHOW MORE

Track 7 from Super Tight
Length: 00:04:34
Year: 1994
Track Description:
the version that i heard back in high school was off the 'a low down dirty shame' soundtrack, so that's the one i'm using here. throwing a little tx in the house.

SHOW LESS

7
Cypress Hill : Hole In The Head
these guys sure are violent on record. so funky, though. you gotta love cypress hill, even if you don't love [...]

SHOW MORE

Track 4 from Cypress Hill
Length: 00:03:33
Year: 1991
Track Description:
these guys sure are violent on record. so funky, though. you gotta love cypress hill, even if you don't love em.

SHOW LESS

8
De La Soul : Fanatic of the B Word
for me, this is another 'stranded-on-a-deserted-island' record. i think i tried to make a music video for thi [...]

SHOW MORE

Track 25 from De La Soul Is Dead
Length: 00:04:09
Year: 1991
Track Description:
for me, this is another 'stranded-on-a-deserted-island' record. i think i tried to make a music video for this song back in middle school. prince paul is a genius.

SHOW LESS

9
Black Moon : How Many MC's
another classic ny hip hop record. black moon's debut. da beatminerz = yes. ask any true hip hop fan and th [...]

SHOW MORE

Track 13 from Enta da Stage
Length: 00:03:40
Year: 1993
Track Description:
another classic ny hip hop record. black moon's debut. da beatminerz = yes. ask any true hip hop fan and they know this.

SHOW LESS

10
Originoo Gunn Clappaz : Hurricane Starang
i didn't hear this record until a year or two after it came out, but butter late than never in this case. mor [...]

SHOW MORE

Track 7 from Da Storm
Length: 00:04:04
Year: 1996
Track Description:
i didn't hear this record until a year or two after it came out, but butter late than never in this case. more beatminerz = more yes. this track is butter.

SHOW LESS

11
Ultramagnetic MC's : We Are The Horsemen
not the heralded album like 'critical beatdown' but still great. i wore this album out in high school. this [...]

SHOW MORE

Track 1 from The Four Horsemen
Length: 00:03:53
Year: 1993
Track Description:
not the heralded album like 'critical beatdown' but still great. i wore this album out in high school. this track is perfect. makes your head nod and makes you smile. kool keith is a nut.

SHOW LESS

12
Grand Puba : Very Special
funny thing about this is that my little sister got this album when it came out -- not exactly sure how/why, b [...]

SHOW MORE

Track 1 from 2000
Length: 00:05:13
Year: 1995
Track Description:
funny thing about this is that my little sister got this album when it came out -- not exactly sure how/why, but i was glad, because grand puba is fresh. all i'm saying is la la la la la la la la la love me... it's grand p....

SHOW LESS

13
Aceyalone : Headaches And Woes
i had this song on constant repeat during high school. classic aceyalone record that was recently re-released [...]

SHOW MORE

Track 11 from All Balls Don't Bounce
Length: 00:03:57
Year: 1995
Track Description:
i had this song on constant repeat during high school. classic aceyalone record that was recently re-released.

SHOW LESS

14
Gang Starr : The Planet
this was actually the song stuck in my head as i rode the train through b-r-o-o-k- lyn the planet out to coney [...]

SHOW MORE

Track 6 from Hard to Earn
Length: 00:05:15
Year: 1994
Track Description:
this was actually the song stuck in my head as i rode the train through b-r-o-o-k- lyn the planet out to coney island over memorial day weekend.

SHOW LESS

15
Digable Planets : Dial 7 (Axioms Of Creamy Spies)
digable spy themes are great. why don't more people listen to digable spy themes?

SHOW MORE

Track 7 from Blowout Comb
Length: 00:05:46
Year: 1994
Track Description:
digable spy themes are great. why don't more people listen to digable spy themes?

SHOW LESS

16
Bone Thugs-N-Harmony : Thuggish Ruggish Bone
first track i ever heard from these fellas (as i'm sure it was for many people seeing as it was their first si [...]

SHOW MORE

Track 3 from Creepin On Ah Come Up
Length: 00:04:41
Year: 1994
Track Description:
first track i ever heard from these fellas (as i'm sure it was for many people seeing as it was their first single). my friend in high school always played this is his little ford hatchback. they're so pretty sounding, but don't let em fool ya. I actually gained more respect for these guys when i found out many years later from one of krayzie bone's recording engineers that they performed all their own delay and other audio effects manually/verbally (as opposed to using studio gear) because that's all they knew to do growing up. they didn't have all the equipment. so once they got into million dollar studios, they continued doing it the same way, not relying on effects processors. bottom line, they're talented dudes.

SHOW LESS

17
Raekwon : Wu-Gambinos
it's hard to include just one song off this record because it means having to exclude the rest of them. highl [...]

SHOW MORE

Track 16 from Only Built 4 Cuban Linx...
Length: 00:05:39
Year: 1995
Track Description:
it's hard to include just one song off this record because it means having to exclude the rest of them. highly cinematic album. rza is a genius at making the simple have such a huge impact. the lyrics are sharp, the beat is extremely raw. i read a review describing rza's verse as "dizzying" which i thought was a good assessment. plus this one features masta killa.

SHOW LESS

18
Pete Rock & C.L. Smooth : It's On You
quality, quality, quality. you already know that pete rock is the man. c.l. is fresh and doesn't get a lot o [...]

SHOW MORE

Track 15 from The Main Ingredient
Length: 00:05:11
Year: 1994
Track Description:
quality, quality, quality. you already know that pete rock is the man. c.l. is fresh and doesn't get a lot of credit. so soulful. good way to end the mix... it's on you.

SHOW LESS
Tag Board
You must log in to leave a tag
Stuff
Quick Jump
ParYen's other mixes
Related mixes
recent visitors
show all