[?]
Not a member? Sign-up now, it's free!
Login
[?]
These are links to some of the major sections in the mixtape collective.
Lists: Browse various lists that are generated by the loads of data we have collected.
Contests: Check out the latest contests, see previous winners, and find out how you can be a part
Music: Check out our ever-growing database of musical knowledge! Use it to find any artist, album, or track that has been entered since the birth of the site and rate and find detailed usage statistics.
Main
[?]
Tired of looking at the same old pages? Try checking out a random one, you never know what you might find...
Random!
We're All In The Same Gang!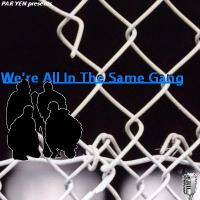 We're All In The Same Gang!
Created by:
ParYen
Tracks:
21
Length:
01:19:59
Keywords
1. hip hop
2. rap
3. do i know you?
Created on
9/21/06 02:14am
Level
6
Points
2501
Total visitors
92
Unique visitors
51
description:
My idea for this hip hop mix was to start with 2Pac, end with Biggie, have J Dilla in the middle (and as many Dilla produced tracks as I could-- somewhat of a tribute) and to fill the in-between with artists/tracks that all link together and connect to form like one big gold chain. Or chain link fence. It's not rocket science. Nor an original idea. It could have taken many, many different directions. But the point is that one track/artist relates to the next track/artist, which relates to the next.... etc. Like that ol' degrees of separation type mix.

In some cases the next song in the mix is one that the previous artist DIRECTLY worked on in some fashion; or vice versa. In other cases, I didn't present it so literally. Instead, I linked to the artist, but maybe included an older or newer song from that artist. Get it? It's pretty basic. And fun to listen to.

And when you listen to it on repeat, it still links together... for endless fun.
tracklist
1
2Pac : Old School
2Pac's best album in my opinion. He touches on different topics with so much heart. This song is fun to sit [...]

SHOW MORE

Track 12 from Me Against The World
Length: 00:04:40
Year: 1995
Track Description:
2Pac's best album in my opinion. He touches on different topics with so much heart. This song is fun to sit back and listen to, and I felt it somewhat fitting. Not in that I include all of these artists in my mix, but the idea is there. Kind of.

If you have this on repeat (cassette or CD), this one lands after the Biggie track for a reason.

SHOW LESS

2
Digital Underground : Food Fight
2Pac used to be a member of Digital Underground way back in the day. Did you all know that? Digital Undergro [...]

SHOW MORE

Track 6 from Future Rhythm
Length: 00:04:00
Year: 1996
Track Description:
2Pac used to be a member of Digital Underground way back in the day. Did you all know that? Digital Underground is crazy... you gotta love Humpty. Del Tha Funkee Homosapien pops up on this wacky track. Del is the cousin of Ice Cube. Did you know that?...

SHOW LESS

3
Ice Cube : Turn Off the Radio
Del's cousin steps out from the N.W.A. circle to do things his own way. And boy oh boy did he do it. Unbelie [...]

SHOW MORE

Track 7 from Amerikkka's Most Wanted
Length: 00:02:37
Year: 1990
Track Description:
Del's cousin steps out from the N.W.A. circle to do things his own way. And boy oh boy did he do it. Unbelievable album from start to finish.

SHOW LESS

4
Dr. Dre : The Next Episode
While not as classic as the tracks off the original "The Chrnonic" album, this track will get people moving. [...]

SHOW MORE

Track 11 from Chronic 2001
Length: 00:02:41
Year: 1999
Track Description:
While not as classic as the tracks off the original "The Chrnonic" album, this track will get people moving. Remember back in the day Ice Cube and Dre used to be pals with N.W.A.?

Now Dre runs his own label and has artists like 50 cent, who does songs with...

SHOW LESS

5
Lil' Kim : Magic Stick
The beat is fire! Like hot lava! It was produced by Fantom of the Beat, one half of which is Haas G, one of [...]

SHOW MORE

Track 12 from La Bella Mafia
Length: 00:05:59
Year: 2005
Track Description:
The beat is fire! Like hot lava! It was produced by Fantom of the Beat, one half of which is Haas G, one of the two U.M.C.'s ...

SHOW LESS

6
The UMC's : Any Way the Wind Blows
UMC'n is a new way of bein' (they coined that, not me). The UMC's = Kool Kim and Haas G. This song is nice. [...]

SHOW MORE

Track 10 from Fruits of Nature
Length: 00:03:22
Year: 1991
Track Description:
UMC'n is a new way of bein' (they coined that, not me). The UMC's = Kool Kim and Haas G. This song is nice. Straight rhyming. The previous Lil' Kim beat was produced by Fantom of the Beat.

Fantom of the Beat = Boo Who? and Haas G. They've produced for Busta Rhymes and Ghostface...

SHOW LESS

7
Ghostface Killah : Apollo Kids
Energy on this one. I can listen to Ghostface's stories all day. Fantom of the Beat on the... beat.

SHOW MORE

Track 6 from Supreme Clientele
Length: 00:03:54
Year: 2000
Track Description:
Energy on this one. I can listen to Ghostface's stories all day. Fantom of the Beat on the... beat.

SHOW LESS

8
MF Doom : Dead Bent
Ghostface used a few MF DOOM beats for his newest album, but I wanted to go back a little ways on this one. D [...]

SHOW MORE

Track 16 from Operation: Doomsday
Length: 00:02:22
Year: 1999
Track Description:
Ghostface used a few MF DOOM beats for his newest album, but I wanted to go back a little ways on this one. Dead Bent is super tight. MF DOOM likes to use long loops in his beats. So does Madlib.

SHOW LESS

9
Jaylib : The Heist
I COULD have chosen a Madvillain track, but it's already been done a bunch on this piece/site. I wanted a tra [...]

SHOW MORE

Track 9 from Champion Sound
Length: 00:03:05
Year: 2003
Track Description:
I COULD have chosen a Madvillain track, but it's already been done a bunch on this piece/site. I wanted a track with Madlib rapping, and I like the concrete scraping on concrete feel of this J Dilla beat. Madlib isn't considered a top mc, but his raw delivery does this trick and is unique.

SHOW LESS

10
Prince Po : Too Much
Prince Po is back! And Madlib steps off the mic and gets back behind the boards... and does great work with t [...]

SHOW MORE

Track 2 from The Slickness
Length: 00:02:55
Year: 2004
Track Description:
Prince Po is back! And Madlib steps off the mic and gets back behind the boards... and does great work with this one. Prince Po is one half of the legendary Organized Konfusion group...

SHOW LESS

11
Organized Konfusion : Questions
Classic Prince Po and Pharoahe Monch. Dense lyrics. Jazzy beat, provided by the legendary Diamond D... still [...]

SHOW MORE

Track 5 from The Equinox
Length: 00:04:40
Year: 1997
Track Description:
Classic Prince Po and Pharoahe Monch. Dense lyrics. Jazzy beat, provided by the legendary Diamond D... still diggin.

SHOW LESS

12
Diamond & the Psychotic Neurotics : Red Light, Green Light
Freshness. Head nodding jazzy beats. Diamond D's lyrics were never earth shattering. But got the job done. [...]

SHOW MORE

Track 10 from Stunts, Blunts & Hip-Hop
Length: 00:05:02
Year: 1992
Track Description:
Freshness. Head nodding jazzy beats. Diamond D's lyrics were never earth shattering. But got the job done. Plus his whole album is just fun to listen to.

SHOW LESS

13
Tha Alkaholiks : The Next Level
Atmospheric, boom bap beat by Mr. Diamond D again. Welcome to the next level. Tha Liks are funny dudes. [...]

SHOW MORE

Track 11 from Coast II Coast
Length: 00:04:44
Year: 1995
Track Description:
Atmospheric, boom bap beat by Mr. Diamond D again. Welcome to the next level. Tha Liks are funny dudes.

SHOW LESS

14
Wildchild : The Come Off
Jack Brown aka Wildchild kicks crazy freestyle flows. This track features The Liks and Phil da Agony, and is [...]

SHOW MORE

Track 4 from Secondary Protocol
Length: 00:03:45
Year: 2003
Track Description:
Jack Brown aka Wildchild kicks crazy freestyle flows. This track features The Liks and Phil da Agony, and is produced by Madlib's lil' bro Oh No.
Liquid.

Sorry for all the haters who don't like tracks with artists back to back.

SHOW LESS

15
Oh No : Move
Oh No was on the beat in the previous song, now he's on the mic. With Oxnard partner Roc C. The beat on this [...]

SHOW MORE

Track 3 from The Disrupt
Length: 00:02:37
Year: 2005
Track Description:
Oh No was on the beat in the previous song, now he's on the mic. With Oxnard partner Roc C. The beat on this banger is courtesy of the late J DILLA. Bump this in your ride.

SHOW LESS

16
Common : Soul Power
Grand like auto theft three. More Dilla soundbeds. It's beautiful and I love this Common album. It's out th [...]

SHOW MORE

Track 2 from Electric Circus
Length: 00:04:13
Year: 2002
Track Description:
Grand like auto theft three. More Dilla soundbeds. It's beautiful and I love this Common album. It's out there and it's great. RIP J DILLA.

There's a reason I'm including so many Dilla beats. Recognize.

SHOW LESS

17
De La Soul : Verbal Clap
Common has worked with De La on a number of occassions, and appeard on their "Grind Date" album... just not th [...]

SHOW MORE

Track 2 from The Grind Date
Length: 00:03:16
Year: 2004
Track Description:
Common has worked with De La on a number of occassions, and appeard on their "Grind Date" album... just not this song. I wanted another Dilla beat as part of my subtle tribute. I also didn't want a "classic" De La song-- I wanted to pick something newer. Something I wasn't as used to. More fire!

SHOW LESS

18
Gravediggaz : Diary of a Madman
We know that Prince Paul was behind the wheel of all the older De La Soul albums... he was also the mastermind [...]

SHOW MORE

Track 9 from 6 Feet Deep
Length: 00:04:33
Year: 1994
Track Description:
We know that Prince Paul was behind the wheel of all the older De La Soul albums... he was also the mastermind of another little project, the Gravediggaz, which the RZA was a part of. This is a mad nice wicked dope fresh track. On "Diary..." Paul took co-production credits behind RZA and RNS...

SHOW LESS

19
GZA/Genius : Beneath the Surface
When RZA launched the Wu-Tang assault on the world, The Genius/GZA was the "head" of the whole crew. Still is [...]

SHOW MORE

Track 3 from Beneath the Surface
Length: 00:04:29
Year: 1999
Track Description:
When RZA launched the Wu-Tang assault on the world, The Genius/GZA was the "head" of the whole crew. Still is. He's amazing. Inspectah Deck was the first crew member the public heard on "protect ya neck." This time around, the Inspectah is behind the boards providing the beat. CLEAN!

SHOW LESS

20
Gang Starr : Above the Clouds
Inspectah Deck hops over onto a Premo beat, alongside Guru. This was always a favorite on the album. Straigh [...]

SHOW MORE

Track 5 from Moment of Truth
Length: 00:03:41
Year: 1998
Track Description:
Inspectah Deck hops over onto a Premo beat, alongside Guru. This was always a favorite on the album. Straight forward hip hop from some masters.

SHOW LESS

21
The Notorious B.I.G. : Ten Crack Commandments
Great, basic DJ Premier beat. Seriously, how GOOD does Biggie sound over Premo's beats?

SHOW MORE

Track 5 from Life After Death (Disc 2)
Length: 00:03:24
Year: 1997
Track Description:
Great, basic DJ Premier beat. Seriously, how GOOD does Biggie sound over Premo's beats?

SHOW LESS
Tag Board
You must log in to leave a tag
Stuff
Quick Jump
ParYen's other mixes
Related mixes
recent visitors
show all