[?]
Not a member? Sign-up now, it's free!
Login
[?]
These are links to some of the major sections in the mixtape collective.
Lists: Browse various lists that are generated by the loads of data we have collected.
Contests: Check out the latest contests, see previous winners, and find out how you can be a part
Music: Check out our ever-growing database of musical knowledge! Use it to find any artist, album, or track that has been entered since the birth of the site and rate and find detailed usage statistics.
Main
[?]
Tired of looking at the same old pages? Try checking out a random one, you never know what you might find...
Random!
Metromantic: A Love Letter to New York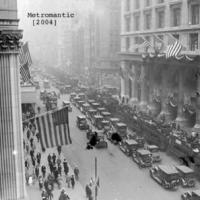 Metromantic: A Love Letter to New York
Created by:
fearlessweaver
Tracks:
18
Length:
01:05:48
Keywords
1. gotham
2. distance
3. urban
Created on
7/16/06 12:39am
Level
6
Points
2762
Total visitors
87
Unique visitors
56
description:
When my special ladyfriend was leaving for NY, I made her this mix to captured the city in a way that we could share, despite the distance. It is silly and lonesome and covers numerous styles, which sounds like the city to me.
tracklist
1
Mono Puff : Extra Krispy
When this They Might Be Giants side project got funky, they created gems like this one, which compares NY to . [...]

SHOW MORE

Track 7 from It's Fun to Steal
Length: 00:03:58
Year: 1998
Track Description:
When this They Might Be Giants side project got funky, they created gems like this one, which compares NY to ... fried chicken.

SHOW LESS

2
Leadbelly : New York City
If this mix has a quintessential track, this is it. Bluesy, dark, and addictive.

SHOW MORE

Track 23 from When the Sun Goes Down, Vol. 5
Length: 00:03:01
Year: 2003
Track Description:
If this mix has a quintessential track, this is it. Bluesy, dark, and addictive.

SHOW LESS

3
The Ad Libs : The Boy from New York City
This is a simple, cute doo-wap style track that brings in a necessary pop element early.

SHOW MORE

Track 7 from Original Rock & Roll Classics
Length: 00:03:05
Year: 1996
Track Description:
This is a simple, cute doo-wap style track that brings in a necessary pop element early.

SHOW LESS

4
Duke Ellington : Take the 'A' Train
Though mostly instrumental, this track has an excellent "on the rails" vibe and helps vary the mix's pacing. [...]

SHOW MORE

Track 4 from Duke Ellington's Greatest Hits
Length: 00:08:03
Year: 1968
Track Description:
Though mostly instrumental, this track has an excellent "on the rails" vibe and helps vary the mix's pacing.

SHOW LESS

5
Mos Def : Brooklyn
Overall, I'm sadly illerate in hip hop, but its as important a genre to the city as any on here.

SHOW MORE

Track 13 from Black On Both Sides
Length: 00:05:10
Year: 1999
Track Description:
Overall, I'm sadly illerate in hip hop, but its as important a genre to the city as any on here.

SHOW LESS

6
Ramones : Sheena is a Punk Rocker
New York IS punk; this song is sort of about NY, kinda.

SHOW MORE

Track 6 from All the Stuff (And More), Vol. 2
Length: 00:02:46
Year: 0000
Track Description:
New York IS punk; this song is sort of about NY, kinda.

SHOW LESS

7
Cub : New York City
This song was made famous by TMBG, but I think this original version better fits the mix's vibe.

SHOW MORE

Track 0 from Come Out Come Out
Length: 00:03:02
Year: 0000
Track Description:
This song was made famous by TMBG, but I think this original version better fits the mix's vibe.

SHOW LESS

8
Ella Fitzgerald : Manhattan
A very rich, endearing track: the centerpiece.

SHOW MORE

Track 8 from Ella Fitzgerald Sings the Rodgers and Hart Songbook
Length: 00:02:52
Year: 1997
Track Description:
A very rich, endearing track: the centerpiece.

SHOW LESS

9
Interpol : NYC
Probably my favorite NY inspired lyric: "New York cares."

SHOW MORE

Track 3 from Turn on the Bright Lights
Length: 00:04:19
Year: 2002
Track Description:
Probably my favorite NY inspired lyric: "New York cares."

SHOW LESS

10
The Decemberists : Song for Myla Goldberg
My second favorite NY lyric: "I know New York / I need New York / I know I need unique New York."

SHOW MORE

Track 6 from Her Majesty the Decemberists
Length: 00:03:33
Year: 0000
Track Description:
My second favorite NY lyric: "I know New York / I need New York / I know I need unique New York."

SHOW LESS

11
Simon & Garfunkel : The 59th Street Bridge Song (Feelin' Groovy)
As this was a mix for my g-friend, cuteness was a priority.

SHOW MORE

Track 4 from Simon & Garfunkel Greatest Hits
Length: 00:01:50
Year: 0000
Track Description:
As this was a mix for my g-friend, cuteness was a priority.

SHOW LESS

12
The Kingston Trio : New York Girls
Not my favorite track in the mix, but I like introducing the folk element.

SHOW MORE

Track 6 from The Capitol Years
Length: 00:02:33
Year: 1995
Track Description:
Not my favorite track in the mix, but I like introducing the folk element.

SHOW LESS

13
Bob Dylan : Just Like Tom Thumb's Blues
There are about 1,000 Dylan songs I could have used, and this seemed like the right one.

SHOW MORE

Track 8 from Highway 61 Revisited
Length: 00:05:32
Year: 1965
Track Description:
There are about 1,000 Dylan songs I could have used, and this seemed like the right one.

SHOW LESS

14
Serge Gainsbourg : New York USA
NY from the outsider perspective; another great genre shift.

SHOW MORE

Track 14 from Couleur Cafe
Length: 00:02:17
Year: 1997
Track Description:
NY from the outsider perspective; another great genre shift.

SHOW LESS

15
Lou Reed : Walk on the Wild Side
I feel if NY suddenly came to life and began to sing, it would sound a lot like Lou Reed.

SHOW MORE

Track 5 from Transformer
Length: 00:04:07
Year: 1972
Track Description:
I feel if NY suddenly came to life and began to sing, it would sound a lot like Lou Reed.

SHOW LESS

16
The Magnetic Fields : The Luckiest Guy on the Lower East Side
Another "cute" track; I never miss a chance to plug the Magnetic Fields.

SHOW MORE

Track 8 from 69 Love Songs Vol. 1
Length: 00:03:43
Year: 1999
Track Description:
Another "cute" track; I never miss a chance to plug the Magnetic Fields.

SHOW LESS

17
Death Cab for Cutie : Coney Island
Death Cab is a favorite of my girlfriend, and I think this spacey track finds the band doing what they do best [...]

SHOW MORE

Track 9 from The Photo Album
Length: 00:02:40
Year: 2001
Track Description:
Death Cab is a favorite of my girlfriend, and I think this spacey track finds the band doing what they do best.

SHOW LESS

18
Frank Sinatra : Autumn in New York
If I'm in the right mood, this song is the track on the mix I enjoy the most. It seems very earnest and reall [...]

SHOW MORE

Track 18 from The Best of the Columbia Years 1943-1945
Length: 00:03:17
Year: 1995
Track Description:
If I'm in the right mood, this song is the track on the mix I enjoy the most. It seems very earnest and really transports me. It is about as close as lyrics, delivery, and music can be to absolute unity as possible.

SHOW LESS
Tag Board
You must log in to leave a tag
Stuff
Quick Jump
fearlessweaver's other mixes
Related mixes
recent visitors
show all