[?]
Not a member? Sign-up now, it's free!
Login
[?]
These are links to some of the major sections in the mixtape collective.
Lists: Browse various lists that are generated by the loads of data we have collected.
Contests: Check out the latest contests, see previous winners, and find out how you can be a part
Music: Check out our ever-growing database of musical knowledge! Use it to find any artist, album, or track that has been entered since the birth of the site and rate and find detailed usage statistics.
Main
[?]
Tired of looking at the same old pages? Try checking out a random one, you never know what you might find...
Random!
sad.bastard.bunny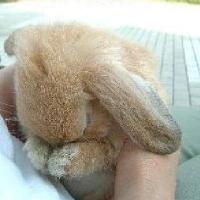 sad.bastard.bunny
Created by:
fearlessweaver
Tracks:
15
Length:
01:09:34
Keywords
1. Mix Contest 2
2. Mix Contest 2
3. Mix Contest 2
Created on
8/23/06 09:01am
Level
6
Points
2641
Total visitors
147
Unique visitors
76
This mix was ranked #7 out of 30 entries for this contest
description:
You made bunny cry. Aren't you ashamed?
Most of the sadness captured here is relationship-inspired. Each track features an especially tear duct-draining quote. I tried to mix well-known sad bastards with a few surprises, and to play with tempo and tone a bit. Enjoy, you sad, hopeless cases.
tracklist
1
The Mountain Goats : No Children
One-mood mixes tend to have pacing problems. I start with an aggressive, but still very sad, track: "In my li [...]

SHOW MORE

Track 7 from Tallahassee
Length: 00:02:46
Year: 2002
Track Description:
One-mood mixes tend to have pacing problems. I start with an aggressive, but still very sad, track: "In my life, I hope I lie / and tell everyone you were a good wife /
And I hope you die /
I hope we both die"

SHOW LESS

2
Leonard Cohen : Famous Blue Raincoat
LC has a vast catalog of wrist-slitting favorites! "And what can I tell you my brother, my killer / What can [...]

SHOW MORE

Track 6 from Songs of Love and Hate
Length: 00:05:10
Year: 1970
Track Description:
LC has a vast catalog of wrist-slitting favorites! "And what can I tell you my brother, my killer / What can I possibly say? / I guess that I miss you, I guess I forgive you / I'm glad you stood in my way."

SHOW LESS

3
They Might Be Giants : They'll Need a Crane
As Jamie Kitman said, TMBG are "funny and sad": "There's a restaurant we should check out / Where the other ni [...]

SHOW MORE

Track 14 from Lincoln
Length: 00:02:35
Year: 1988
Track Description:
As Jamie Kitman said, TMBG are "funny and sad": "There's a restaurant we should check out / Where the other nightmare people like to go / I mean nice people, baby wait / I didn't mean to say nightmare."

SHOW LESS

4
Bonnie "Prince" Billy : I See a Darkness
Both this and the Cash cover are devastating: "But sometimes this opposition, comes rising up in me / This ter [...]

SHOW MORE

Track 3 from I See a Darkness
Length: 00:04:49
Year: 1999
Track Description:
Both this and the Cash cover are devastating: "But sometimes this opposition, comes rising up in me / This terrible imposition, comes blacking through my mind."

SHOW LESS

5
Neutral Milk Hotel : Oh Comely
I didn't think much of this song until I read the lyrics. Ouch: "Your father made fetuses / with flesh lickin [...]

SHOW MORE

Track 8 from In The Aeroplane Over The Sea
Length: 00:08:18
Year: 1998
Track Description:
I didn't think much of this song until I read the lyrics. Ouch: "Your father made fetuses / with flesh licking ladies / while you and your mother / were asleep in the trailer park."

SHOW LESS

6
The Smiths : I Know It's Over
There are going to be a lot of Morrissey songs on these lists, because he is very good at being sad: "I know i [...]

SHOW MORE

Track 3 from The Queen is Dead
Length: 00:05:49
Year: 1985
Track Description:
There are going to be a lot of Morrissey songs on these lists, because he is very good at being sad: "I know it's over / And it never really began / But in my heart it was so real."

SHOW LESS

7
Mazzy Star : Fade Into You
This song makes me lonely: "You live your life / You go in shadows / You'll come apart and you'll go black."SHOW MORE
Track 1 from So Tonight That I Might See
Length: 00:04:55
Year: 1993
Track Description:
This song makes me lonely: "You live your life / You go in shadows / You'll come apart and you'll go black."
Some kind of night into your darkness


SHOW LESS

8
Aimee Mann : Wise Up
You can't get the full effect unless you watch "Magnolia": "No, it's not going to stop / So just ... give up" [...]

SHOW MORE

Track 8 from Magnolia
Length: 00:03:31
Year: 1999
Track Description:
You can't get the full effect unless you watch "Magnolia": "No, it's not going to stop / So just ... give up"

SHOW LESS

9
Cat Power : Colors and the Kids
Cat Power is another sad-bastard standard, for good reasons: "Must just be the colors and the kids that keep m [...]

SHOW MORE

Track 9 from Moon Pix
Length: 00:06:35
Year: 1998
Track Description:
Cat Power is another sad-bastard standard, for good reasons: "Must just be the colors and the kids that keep me alive / 'cause I want to go right away to January night"

SHOW LESS

10
Hem : Leave Me Here
HEM is sweetly sad, which is genre all its own: "I could tell by his face—those two tired eyes / it's been [...]

SHOW MORE

Track 6 from Rabbit Songs
Length: 00:03:50
Year: 2000
Track Description:
HEM is sweetly sad, which is genre all its own: "I could tell by his face—those two tired eyes / it's been a long night searching for grace, and the sun won't rise."

SHOW LESS

11
Beulah : Gene Autry
The happiest-sounding sad song ever: "Everybody drowns sad and lonely"

SHOW MORE

Track 4 from The Coast Is Never Clear
Length: 00:03:35
Year: 2001
Track Description:
The happiest-sounding sad song ever: "Everybody drowns sad and lonely"

SHOW LESS

12
loudon wainwright : One Man Guy
The cover version by his son Rufus might be sadder yet: "Being your own one and only / is a dirty, selfish tri [...]

SHOW MORE

Track 1 from I'm Alright
Length: 00:04:16
Year: 1985
Track Description:
The cover version by his son Rufus might be sadder yet: "Being your own one and only / is a dirty, selfish trick."

SHOW LESS

13
Sufjan Stevens : Romulus
Sufjan has many sad songs, but this one goes straight for the jugular. If any song would make me cry, this wo [...]

SHOW MORE

Track 9 from Greetings from Michigan, The Great Lake State
Length: 00:04:41
Year: 2003
Track Description:
Sufjan has many sad songs, but this one goes straight for the jugular. If any song would make me cry, this would be the one. It's a four-minute short story. "We saw her once last fall / Our grandpa died in a hospital gown / She didn't seem to care / She smoked in her room and colored her hair / And I was ashamed, I was ashamed of her."

SHOW LESS

14
Elliot Smith : 2:45 AM
Elliott is another classic sad bastard artist, and, well, we all know, don't we? "I'm going out now like a ba [...]

SHOW MORE

Track 11 from Either / Or
Length: 00:03:18
Year: 1998
Track Description:
Elliott is another classic sad bastard artist, and, well, we all know, don't we? "I'm going out now like a baby / a naive unsatisfiable baby."

SHOW LESS

15
Nina Simone : Don't Smoke in Bed
I was surprised at how slight and simple the lyrics are, because this song hits me with the force of a novel: [...]

SHOW MORE

Track 10 from Ultimate Nina Simone
Length: 00:05:26
Year: 2006
Track Description:
I was surprised at how slight and simple the lyrics are, because this song hits me with the force of a novel: "With these few goodbye words / how can I sing / Goodbye old sleepy head / I'm packing you in like I said."

SHOW LESS
Tag Board
You must log in to leave a tag
Stuff
Quick Jump
fearlessweaver's other mixes
Related mixes
recent visitors
show all