[?]
Not a member? Sign-up now, it's free!
Login
[?]
These are links to some of the major sections in the mixtape collective.
Lists: Browse various lists that are generated by the loads of data we have collected.
Contests: Check out the latest contests, see previous winners, and find out how you can be a part
Music: Check out our ever-growing database of musical knowledge! Use it to find any artist, album, or track that has been entered since the birth of the site and rate and find detailed usage statistics.
Main
[?]
Tired of looking at the same old pages? Try checking out a random one, you never know what you might find...
Random!
a clean house is a happy house!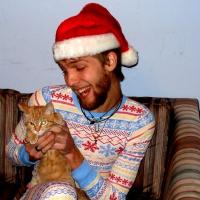 a clean house is a happy house!
Created by:
JShay
Tracks:
18
Length:
01:06:06
Keywords
1. roomie
2. love
3. drunken memories
Created on
9/04/08 10:45pm
Level
2
Points
1433
Total visitors
28
Unique visitors
11
description:
My old roommate made me a CD with some fun songs but mainly composed of depressing folkie tunes.
I did the same for him.
Here is my product.

PS that's him with his cat.
tracklist
1
The Tiny : Closer
There is nothing better than starting out a mix with the lyrics "Now, I'm thinking maybe I was stoned." Espec [...]

SHOW MORE

Track 1 from Close Enough
Length: 00:04:37
Year: 2004
Track Description:
There is nothing better than starting out a mix with the lyrics "Now, I'm thinking maybe I was stoned." Especially when the song is a love song that's not about marijuana. Especially when it's sung so beautifully.

SHOW LESS

2
Enon : Daughter in the House of Fools
This song is fun. That's pretty much it.

SHOW MORE

Track 5 from Hocus-Pocus
Length: 00:02:52
Year: 2003
Track Description:
This song is fun. That's pretty much it.

SHOW LESS

3
Cat Power : I Don't Blame You
Tyler, my old roommate, is a musician and he doesn't listen to a lot of music that he hasn't seen live.
[...]

SHOW MORE

Track 1 from You Are Free
Length: 00:03:07
Year: 2003
Track Description:
Tyler, my old roommate, is a musician and he doesn't listen to a lot of music that he hasn't seen live.
Because of this, I want him to listen to Cat Power, so that he might get excited next time she has a concert in our area.
That way, we can go together.

SHOW LESS

4
Alela Diane : The Rifle
I put this on here because it's just the kind of music that Tyler's into.
I also really like that most o [...]

SHOW MORE

Track 2 from The Pirate's Gospel
Length: 00:02:43
Year: 2004
Track Description:
I put this on here because it's just the kind of music that Tyler's into.
I also really like that most of this mix is female driven (as most of my mixes are,) because he listens to way too many boys.

SHOW LESS

5
Chris Garneau : So Far
I'm going to break one of those "rules" of mixes, and use Chris Garneau and Basia Bulat more than once.
[...]

SHOW MORE

Track 5 from Music For Tourists
Length: 00:04:23
Year: 2007
Track Description:
I'm going to break one of those "rules" of mixes, and use Chris Garneau and Basia Bulat more than once.
This mix is basically just me sharing some music that I think Tyler would appreciate, so I think it's fair. Plus he put like four Emma Pollock songs on my CD.

SHOW LESS

6
Basia Bulat : Little Waltz
This song is heartwrenching, and just the kinda song and dance I'd like for Tyler to get along with.

SHOW MORE

Track 3 from Oh, My Darling
Length: 00:02:53
Year: 2007
Track Description:
This song is heartwrenching, and just the kinda song and dance I'd like for Tyler to get along with.

SHOW LESS

7
The Kooks : She Moves in her Own Way
I'd like to think that the girl in this song is kind of like Tyler's and my friend Chelsea.

SHOW MORE

Track 7 from Inside In/Inside Out
Length: 00:02:49
Year: 2006
Track Description:
I'd like to think that the girl in this song is kind of like Tyler's and my friend Chelsea.

SHOW LESS

8
The Ting Tings : Shut Up and Let Me Go
DANCE BREAK
because we are that kinda people.

SHOW MORE

Track 5 from We Started Nothing
Length: 00:02:52
Year: 2008
Track Description:
DANCE BREAK
because we are that kinda people.

SHOW LESS

9
Joshua Radin : Sundrenched World
Then you gotta cool off.
Sad and sappy, that's the way we like 'em in my entourage.

SHOW MORE

Track 1 from We Were Here
Length: 00:04:30
Year: 2006
Track Description:
Then you gotta cool off.
Sad and sappy, that's the way we like 'em in my entourage.

SHOW LESS

10
Antony and the Johnsons : Bird Gerhl
I actually just think everyone should know this song.

SHOW MORE

Track 10 from I Am A Bird Now
Length: 00:03:14
Year: 2005
Track Description:
I actually just think everyone should know this song.

SHOW LESS

11
Final Fantasy : An Arrow in the Side of Final Fantasy
Owen is too cute not to put on here.

SHOW MORE

Track 13 from Has a Good Home
Length: 00:02:45
Year: 2005
Track Description:
Owen is too cute not to put on here.

SHOW LESS

12
Bjork : Unravel
Yeah, yeah I put this song on a bunch of mixes.
I just find it really endearing and it's the kind of thi [...]

SHOW MORE

Track 3 from Homogenic
Length: 00:03:17
Year: 1997
Track Description:
Yeah, yeah I put this song on a bunch of mixes.
I just find it really endearing and it's the kind of thing that everyone can relate to, ya dig?

SHOW LESS

13
Basia Bulat : Before I Knew
More songs that are simply cute.

SHOW MORE

Track 1 from Oh, My Darling
Length: 00:01:13
Year: 2007
Track Description:
More songs that are simply cute.

SHOW LESS

14
Beirut : Cherbourg
This song is insanely powerful to me. I hope Tyler likes it, too.

SHOW MORE

Track 11 from The Flying Club Cup
Length: 00:03:33
Year: 2007
Track Description:
This song is insanely powerful to me. I hope Tyler likes it, too.

SHOW LESS

15
Chris Garneau : Black & Blue
I guess it's just really important to have a lot of sad music on here.

SHOW MORE

Track 3 from Music For Tourists
Length: 00:05:32
Year: 2007
Track Description:
I guess it's just really important to have a lot of sad music on here.

SHOW LESS

16
Final Fantasy : That's When the Audience Died
Owen is too cute not to put on here twice.

SHOW MORE

Track 11 from Has a Good Home
Length: 00:04:37
Year: 2005
Track Description:
Owen is too cute not to put on here twice.

SHOW LESS

17
Joanna Newsom : Cosmia
I wanted the second to last song to be really emotional. Not sure why.
This song fit perfect.

SHOW MORE

Track 5 from YS
Length: 00:07:17
Year: 2006
Track Description:
I wanted the second to last song to be really emotional. Not sure why.
This song fit perfect.

SHOW LESS

18
Yoko Ono : Revelations (with Cat Power)
Yes, Yoko broke up the band.
Yes, I love her anyway.
This song is uplifting, and a great end to an [...]

SHOW MORE

Track 10 from Yes, I'm a Witch
Length: 00:03:52
Year: 2007
Track Description:
Yes, Yoko broke up the band.
Yes, I love her anyway.
This song is uplifting, and a great end to any mix.

SHOW LESS
Tag Board
You must log in to leave a tag
Stuff
Quick Jump
JShay's other mixes
Related mixes
recent visitors
show all