[?]
Not a member? Sign-up now, it's free!
Login
[?]
These are links to some of the major sections in the mixtape collective.
Lists: Browse various lists that are generated by the loads of data we have collected.
Contests: Check out the latest contests, see previous winners, and find out how you can be a part
Music: Check out our ever-growing database of musical knowledge! Use it to find any artist, album, or track that has been entered since the birth of the site and rate and find detailed usage statistics.
Main
[?]
Tired of looking at the same old pages? Try checking out a random one, you never know what you might find...
Random!
45 to 92 in 88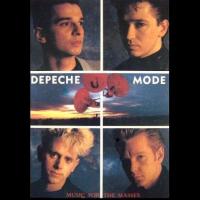 45 to 92 in 88
Created by:
RetroJoe
Tracks:
19
Length:
01:15:42
Keywords
1. 1988
2. lesser known
3. non hits
Created on
9/28/08 04:22pm
Level
2
Points
1415
Total visitors
17
Unique visitors
13
description:
One of my mixes of lesser known tunes. At least these never made it into the top 40 in the U.S. and thus the title (these did no better than 45 and no worse than 92 on the Pop charts in the year of 1988). Prominently dispayed in this compilation is the group Depeche Mode; all three tracks from their Music for the Masses album (and thus the promo pic of them used here).
tracklist
1
The Alarm : Rain In The Summertime
A group formed in Wales in 1981. They charted four times on the U.S. Pop charts (but never broke into the top [...]

SHOW MORE

Track 3 from Eye Of The Hurricane
Length: 00:05:14
Year: 1987
Track Description:
A group formed in Wales in 1981. They charted four times on the U.S. Pop charts (but never broke into the top 40). They did much better in the U.K. with 16 hits (7 of them in the top 40) (#71).

SHOW LESS

2
The Smithereens : Only a Memory
This was the first song by this power-pop quartet to make the U.S. Pop charts. They were formed in New Jersey [...]

SHOW MORE

Track 0 from
Length: 00:03:41
Year:
Track Description:
This was the first song by this power-pop quartet to make the U.S. Pop charts. They were formed in New Jersey in 1980 (#92).

SHOW LESS

3
Depeche Mode : Never Let Me Down Again
This synth rock group was formed in England in 1980. This was the first track and first song to chart in the [...]

SHOW MORE

Track 1 from Music for the Masses
Length: 00:04:48
Year: 0000
Track Description:
This synth rock group was formed in England in 1980. This was the first track and first song to chart in the U.S. from their Music for the Masses album (#63).

SHOW LESS

4
Robert Plant : Ship of Fools
Much more mellow tune than most of what he did when lead singer of the group Led Zeppelin (#84).

SHOW MORE

Track 0 from
Length: 00:04:57
Year:
Track Description:
Much more mellow tune than most of what he did when lead singer of the group Led Zeppelin (#84).

SHOW LESS

5
Tracy Chapman : Baby Can I Hold You
Originally from Ohio, became a singer based in Boston but, as I understand it, she moved to Oakland, Californi [...]

SHOW MORE

Track 0 from
Length: 00:03:10
Year:
Track Description:
Originally from Ohio, became a singer based in Boston but, as I understand it, she moved to Oakland, California, shortly after her musical success in 1988 (#48).

SHOW LESS

6
John Lennon : Jealous Guy
One of my favorite songs, although I like the Bryan Ferry cover a bit better. This was the last of six songs [...]

SHOW MORE

Track 3 from Imagine
Length: 00:04:14
Year: 1971
Track Description:
One of my favorite songs, although I like the Bryan Ferry cover a bit better. This was the last of six songs to chart following Lennon's death in late 1980 (#80).

SHOW LESS

7
Sting : Englishman in New York
This was sung a few years into his solo career after leaving The Police. Born in Wallsend, England, his nickn [...]

SHOW MORE

Track 0 from
Length: 00:04:20
Year:
Track Description:
This was sung a few years into his solo career after leaving The Police. Born in Wallsend, England, his nickname comes from a yellow and black jersey he used to like wearing (#84).

SHOW LESS

8
Depeche Mode : Strange love
Second of three tunes by this group used here; this one is kind of jazzy (#50).

SHOW MORE

Track 3 from Music for the Masses
Length: 00:04:47
Year: 0000
Track Description:
Second of three tunes by this group used here; this one is kind of jazzy (#50).

SHOW LESS

9
Tracy Chapman : Talkin' Bout a Revolution
This song may be more appropriate now than 20 years ago (#75).

SHOW MORE

Track 0 from
Length: 00:02:38
Year:
Track Description:
This song may be more appropriate now than 20 years ago (#75).

SHOW LESS

10
Traveling Wilbury's : Handle With Care
Super group with many noteworthy names, but the most noteworthy to me was Roy Orbison who died when this song [...]

SHOW MORE

Track 0 from
Length: 00:03:16
Year:
Track Description:
Super group with many noteworthy names, but the most noteworthy to me was Roy Orbison who died when this song was peaking in the charts (#45).

SHOW LESS

11
Randy Newman : It's Money That Matters
A song by one of the finest lyricists in the music world (#60).

SHOW MORE

Track 0 from
Length: 00:04:03
Year:
Track Description:
A song by one of the finest lyricists in the music world (#60).

SHOW LESS

12
New Order : Blue Monday 1988
I like the longer original 1983 version better (when it was #5 on the disco charts) but this one is good too ( [...]

SHOW MORE

Track 0 from
Length: 00:04:04
Year:
Track Description:
I like the longer original 1983 version better (when it was #5 on the disco charts) but this one is good too (#68).

SHOW LESS

13
Buster Poindexter : Hot Hot Hot
This is the only song by this artist that charted, kind of catchy though (#45).

SHOW MORE

Track 0 from
Length: 00:04:07
Year:
Track Description:
This is the only song by this artist that charted, kind of catchy though (#45).

SHOW LESS

14
R.E.M. : It's the End of the World As We Know It (And I Feel Fine)
This famous group from Athens, Georgia, surprisingly didn't do better with this song that sounds like a hit to [...]

SHOW MORE

Track 6 from Document
Length: 00:04:05
Year: 1987
Track Description:
This famous group from Athens, Georgia, surprisingly didn't do better with this song that sounds like a hit to me (#69).

SHOW LESS

15
Georgia Satellites : Hippy Hippy Shake
This song was originally done by The Swinging Blue Jeans from England in 1964. This group from Atlanta Georgi [...]

SHOW MORE

Track 0 from
Length: 00:02:06
Year:
Track Description:
This song was originally done by The Swinging Blue Jeans from England in 1964. This group from Atlanta Georgia did a good job covering it. This version of the song was used in the Tom Cruise movie Cocktail (#45).

SHOW LESS

16
Depeche Mode : Route 66/Behind the Wheel
"Route 66" was a #11 hit for Nat "King" Cole in 1946. This may not have done nearly as well, but it rocks any [...]

SHOW MORE

Track 0 from
Length: 00:04:15
Year:
Track Description:
"Route 66" was a #11 hit for Nat "King" Cole in 1946. This may not have done nearly as well, but it rocks anyway (#61).

SHOW LESS

17
The Cure : Hot Hot Hot!!!
And this one rocks even more; hot song (#65).

SHOW MORE

Track 10 from Kiss Me Kiss Me Kiss Me
Length: 00:03:35
Year: 1987
Track Description:
And this one rocks even more; hot song (#65).

SHOW LESS

18
Communards : Never Can Say Goodbye
The second of two songs by them that made the U.S. Pop charts. Same vocalist as in Bronski Beat. This song wa [...]

SHOW MORE

Track 0 from
Length: 00:04:26
Year:
Track Description:
The second of two songs by them that made the U.S. Pop charts. Same vocalist as in Bronski Beat. This song was originally a big hit by the Jackson 5 in 1971 and again by Gloria Gaynor in 1975 (#51).

SHOW LESS

19
10,000 Maniacs : Like the Weather
The first song to chart by this group formed in Jamestown, New York in 1981. I like the lead vocalist's voice [...]

SHOW MORE

Track 0 from
Length: 00:03:56
Year:
Track Description:
The first song to chart by this group formed in Jamestown, New York in 1981. I like the lead vocalist's voice (Natalie Merchant), very distinctive. Don't know why this song didn't do better (was a hit where I live) (#68).

SHOW LESS
Tag Board
You must log in to leave a tag
Stuff
Quick Jump
RetroJoe's other mixes
Related mixes
recent visitors
show all