[?]
Not a member? Sign-up now, it's free!
Login
[?]
These are links to some of the major sections in the mixtape collective.
Lists: Browse various lists that are generated by the loads of data we have collected.
Contests: Check out the latest contests, see previous winners, and find out how you can be a part
Music: Check out our ever-growing database of musical knowledge! Use it to find any artist, album, or track that has been entered since the birth of the site and rate and find detailed usage statistics.
Main
[?]
Tired of looking at the same old pages? Try checking out a random one, you never know what you might find...
Random!
Bubba Nosferatu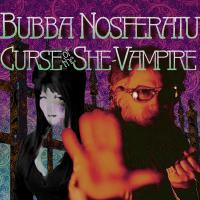 Bubba Nosferatu
Created by:
derhay
Tracks:
21
Length:
01:19:30
Keywords
1. Elvis
2. Marc Bolan
3. bad juju
Created on
10/31/08 08:36am
Level
3
Points
1556
Total visitors
17
Unique visitors
14
description:
Happy Halloween. I recently watched Bubba Ho-Tep again and enjoyed it immensely. No one asked for it, but here is my version of the sequel mentioned at the end of the credits...

Elvis crosses paths with Marc Bolan and discovers that, he too, isn't as dead as the world believes. This is a road trip mix for their journey to visit Presley's baby girl, complete with oddball distractions and harrowing moments.
tracklist
1
Murder by Death : Steal Away
I love the cello opening to this track. Some thing, somewhere is doing something. Vague, I know. My intentions [...]

SHOW MORE

Track 7 from Red of Tooth and Claw
Length: 00:02:05
Year: 2008
Track Description:
I love the cello opening to this track. Some thing, somewhere is doing something. Vague, I know. My intentions are for this to be a good mix first, and the catalyst for a better story idea.

SHOW LESS

2
Tom Waits : Eyeball Kid
(no need for a description, right?)
I imagined the mundane, day-to-day activities of the home getting to [...]

SHOW MORE

Track 10 from Mule Variations
Length: 00:04:24
Year: 1999
Track Description:
(no need for a description, right?)
I imagined the mundane, day-to-day activities of the home getting to our hero.

SHOW LESS

3
Roy Orbison : It's Over
Elvis receives a mysterious scented candle, which he lights before going to sleep. DREAM SEQUENCE! He sees his [...]

SHOW MORE

Track 1 from It's Over
Length: 00:02:47
Year: 1964
Track Description:
Elvis receives a mysterious scented candle, which he lights before going to sleep. DREAM SEQUENCE! He sees his long, lost wife and baby girl. Something has to be done!

SHOW LESS

4
Bob Dylan : Cold Irons Bound
Leaving Mud Creek, TX. Stellar track.

SHOW MORE

Track 8 from Time Out of Mind
Length: 00:07:15
Year: 1997
Track Description:
Leaving Mud Creek, TX. Stellar track.

SHOW LESS

5
T. Rex : One Inch Rock
We see a new character driving desert roads, outisde of Mud Creek. The driver (Mark Ruffalo ?) is singing alon [...]

SHOW MORE

Track 10 from T. Rex
Length: 00:02:25
Year: 1970
Track Description:
We see a new character driving desert roads, outisde of Mud Creek. The driver (Mark Ruffalo ?) is singing along to this song and appears to be enjoying life to the fullest. As the song finishes, his car brakes abruptly in front of E.A.P.

This track had to grow on me. It wasn't Electric Warrior, a bit a.d.d., but I love it now and on this mix.

SHOW LESS

6
The Grateful Dead : Truckin'
The King accepts the ride with this...? What in the hell is this guy? Inner dialogue runs amuck.

SHOW MORE

Track 10 from American Beauty
Length: 00:05:03
Year: 0000
Track Description:
The King accepts the ride with this...? What in the hell is this guy? Inner dialogue runs amuck.

SHOW LESS

7
Casual Elvis : The Dateline Shuffle
Sitting under a starry sky and thinking of "home".

I added the last.fm link to the download on th [...]

SHOW MORE

Track 0 from Casual Elvis
Length: 00:03:26
Year: 0000
Track Description:
Sitting under a starry sky and thinking of "home".

I added the last.fm link to the download on the track's page.

SHOW LESS

8
Delta Spirit : People C'Mon
"If you're feelin' what I'm feelin', c'mon
All you soul searchin' people, c'mon!"

Very fun [...]

SHOW MORE

Track 3 from Ode to Sunshine
Length: 00:03:26
Year: 2008
Track Description:
"If you're feelin' what I'm feelin', c'mon
All you soul searchin' people, c'mon!"

Very fun song. Sometimes, with this song on the mix, I sing "All you soul suckin' people, c'mon!" If you get a chance, check out the picture on the back of Ode to Sunshine. As if the cover wasn't bitchin enough...

SHOW LESS

9
The Pretenders : Bold as Love
Maybe things will work out.

Maybe things are better left unsaid.

This is a favorite [...]

SHOW MORE

Track 8 from Stone Free: A Tribure to Jimi Hendrix
Length: 00:03:25
Year: 1993
Track Description:
Maybe things will work out.

Maybe things are better left unsaid.

This is a favorite cover song.

SHOW LESS

10
Elvis Presley : (You're the) Devil in Disguise
Too good not to add. The King needs one of his, since Bolan had "One Inch Rock". Now Nosferatu and Lilo & Stit [...]

SHOW MORE

Track 24 from Elv1s: 30 #1 Hits
Length: 00:02:24
Year: 2002
Track Description:
Too good not to add. The King needs one of his, since Bolan had "One Inch Rock". Now Nosferatu and Lilo & Stitch have something in common, unless Tia Carrere is cast, then there would be to somethings.

SHOW LESS

11
Neil Young : Cinnamon Girl
Street-side diner. Elvis "You're not all together here, are you?"

SHOW MORE

Track 3 from Greatest Hits
Length: 00:03:00
Year: 2004
Track Description:
Street-side diner. Elvis "You're not all together here, are you?"

SHOW LESS

12
The Yardbirds : Over, Under, Sideways, Down
Yes! Visions of Shaun, Liz and Ed beating the bar zombie to the rhythm of Queen's "Don't Stop Me Now". Maybe a [...]

SHOW MORE

Track 2 from Roger the Engineer
Length: 00:02:21
Year: 1966
Track Description:
Yes! Visions of Shaun, Liz and Ed beating the bar zombie to the rhythm of Queen's "Don't Stop Me Now". Maybe a Scooby Doo chase scene.

SHOW LESS

13
Murder by Death : A Second Opinion
MBD fits very much with the mood of the music from Ho-Tep. Time-out in a bar. There is an air of From Dawn to [...]

SHOW MORE

Track 6 from Red of Tooth and Claw
Length: 00:03:19
Year: 2008
Track Description:
MBD fits very much with the mood of the music from Ho-Tep. Time-out in a bar. There is an air of From Dawn to Dusk about this place... There's a showdown.

SHOW LESS

14
Morphine : You Speak My Language
This is my dedication to Bruce Campbell as Sebastian Haff as Mr. Presley. Morphine nails a great track here. I [...]

SHOW MORE

Track 5 from Good
Length: 00:03:26
Year: 1993
Track Description:
This is my dedication to Bruce Campbell as Sebastian Haff as Mr. Presley. Morphine nails a great track here. I especially love the lyrics, "Even in my home town
My friends make me write it down
They look at me when I talk to them
And they shrug their shoulders
They go what's he talking about"

SHOW LESS

15
Neko Case and Her Boyfriends : Twist the Knife
Regrets. "Leave me the check
I'll pay with the rest of my life."

What a heartbreaking lyric [...]

SHOW MORE

Track 6 from Furnace Room Lullaby
Length: 00:02:34
Year: 2000
Track Description:
Regrets. "Leave me the check
I'll pay with the rest of my life."

What a heartbreaking lyric and delivery.

SHOW LESS

16
Mercury Rev : Vampire Blues (live)
Neil Young cover by one of my favorite bands. There is something in Donahue's (?) voice that borders on earnes [...]

SHOW MORE

Track 0 from Delta Sun Bottleneck Stomp
Length: 00:02:47
Year: 1998
Track Description:
Neil Young cover by one of my favorite bands. There is something in Donahue's (?) voice that borders on earnestness and parody in this KRCW recording. This plays up the dynamic between Elvis and Bolan.

SHOW LESS

17
Black Mountain : Queens Will Play
End of Act II - dramatic climax
I've recently picked up In The Future on vinyl. This is one of my favori [...]

SHOW MORE

Track 6 from In the Future
Length: 00:05:16
Year: 2008
Track Description:
End of Act II - dramatic climax
I've recently picked up In The Future on vinyl. This is one of my favorite tracks from it. Slow building creeper. Excellent. (Amber sounds like a great She-Vampire here)

SHOW LESS

18
Juana Molina : Dar (Qué Difícil)
Scary Chase!

If I had to triangulate why I love this song, I'd say it falls somewhere between Jos [...]

SHOW MORE

Track 8 from Un Día
Length: 00:06:42
Year: 2008
Track Description:
Scary Chase!

If I had to triangulate why I love this song, I'd say it falls somewhere between Josh Davis/James Lavelle atmosphere, Elvira's panties and Luaka Bop truffles. The album cover looks like a Brian Froud illustration - so you know that caught my attention! I love Juana's voice, where you find it in this song.

SHOW LESS

19
Hawkwind : Gimme Shelter
Rumble in the cemetery. A very good, bare, driven cover.

SHOW MORE

Track 11 from It Is the Business of the Future to Be Dangerous
Length: 00:05:34
Year: 1994
Track Description:
Rumble in the cemetery. A very good, bare, driven cover.

SHOW LESS

20
Slim Cessna' Auto Club : Magalina Hagalina Boom Boom
Big showdown. Final round.

SHOW MORE

Track 9 from Cipher
Length: 00:03:52
Year: 2008
Track Description:
Big showdown. Final round.

SHOW LESS

21
The Black Angels : Bloodhounds on My Trail
LOVE The Black Angels. Saw them last Friday night. Fucking brilliant show! And how often do I type that? This [...]

SHOW MORE

Track 9 from Passover
Length: 00:03:59
Year: 2006
Track Description:
LOVE The Black Angels. Saw them last Friday night. Fucking brilliant show! And how often do I type that? This song is a pedal steel guitar or cheesy keyboard away from being the house band, at the Double Deuce, in Roadhouse. Great energy - it gets me mooving.

SHOW LESS
Tag Board
You must log in to leave a tag
Stuff
Quick Jump
derhay's other mixes
Related mixes
recent visitors
show all