[?]
Not a member? Sign-up now, it's free!
Login
[?]
These are links to some of the major sections in the mixtape collective.
Lists: Browse various lists that are generated by the loads of data we have collected.
Contests: Check out the latest contests, see previous winners, and find out how you can be a part
Music: Check out our ever-growing database of musical knowledge! Use it to find any artist, album, or track that has been entered since the birth of the site and rate and find detailed usage statistics.
Main
[?]
Tired of looking at the same old pages? Try checking out a random one, you never know what you might find...
Random!
BCB Mix Club 2007 08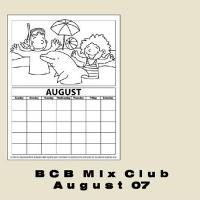 BCB Mix Club 2007 08
Created by:
John_K
Tracks:
14
Length:
00:58:27
Keywords
1. BCB
2. Mix Club
3. Favourites
Created on
3/18/09 01:56pm
Level
1
Points
1095
Total visitors
5
Unique visitors
5
description:
The BCB Mix Club started in August of 2008, this was the first disc I made...
tracklist
1
Super Furry Animals : Hello Sunshine
Given the miserable Summer we were enduring here in Dublin, this was one of the most appropriate ways to kick- [...]

SHOW MORE

Track 1 from Phantom Power
Length: 00:03:35
Year: 2003
Track Description:
Given the miserable Summer we were enduring here in Dublin, this was one of the most appropriate ways to kick-off the mix...

SHOW LESS

2
Archie Bronson Outfit : Cherry Lips
A colleague had given me a copy of the Archie Bronson Outfit album the previous year, it's opening track was a [...]

SHOW MORE

Track 1 from Derdang Derdang
Length: 00:04:18
Year: 2006
Track Description:
A colleague had given me a copy of the Archie Bronson Outfit album the previous year, it's opening track was a good strong upbeat track to continue the mix.

SHOW LESS

3
The Apples in Stereo : Can You Feel It?
Another new discovery for me at the time (indeed the idea of the Elephant 6 collective), and another upbeat tr [...]

SHOW MORE

Track 1 from New Magnetic Wonder
Length: 00:04:10
Year: 2007
Track Description:
Another new discovery for me at the time (indeed the idea of the Elephant 6 collective), and another upbeat track.

SHOW LESS

4
Midlake : Roscoe
An album that had been highly recommended by other BCB members, and soon a firm favourite of mine too!

SHOW MORE

Track 1 from The Trails of Van Occupanther
Length: 00:04:49
Year: 2006
Track Description:
An album that had been highly recommended by other BCB members, and soon a firm favourite of mine too!

SHOW LESS

5
Spoon : You Got Yr. Cherry Bomb
Almost Power Pop, another great uplifting track.

SHOW MORE

Track 3 from Ga Ga Ga Ga Ga
Length: 00:03:08
Year: 2007
Track Description:
Almost Power Pop, another great uplifting track.

SHOW LESS

6
Neutral Milk Hotel : Holland, 1945
Tiring of reading rave reviews of ItAotS, I finally bought and fell in love with this record, this centrepiece [...]

SHOW MORE

Track 6 from In The Aeroplane Over The Sea
Length: 00:03:12
Year: 1998
Track Description:
Tiring of reading rave reviews of ItAotS, I finally bought and fell in love with this record, this centrepiece is for me one of the standout tracks.

SHOW LESS

7
Smog : Cold Blooded Old Times
A track I was introduced to on the High Fidelity soundtrack. Friends have dismissed it, but I think it's a wo [...]

SHOW MORE

Track 6 from Knock Knock
Length: 00:04:14
Year: 1999
Track Description:
A track I was introduced to on the High Fidelity soundtrack. Friends have dismissed it, but I think it's a wonderful track.

SHOW LESS

8
Malcolm Middleton : Devastation
Ex. Arab Strap, a friend sent me a copy of this album and the opening line to this track 'You're the only per [...]

SHOW MORE

Track 2 from Into the Woods
Length: 00:03:23
Year: 2005
Track Description:
Ex. Arab Strap, a friend sent me a copy of this album and the opening line to this track 'You're the only person that can make me feel alone' blew me away...

SHOW LESS

9
Dean & Britta : Words You Used to Say
Ex. Galaxie 500, a great track from a 'solo' record.

SHOW MORE

Track 2 from Back Numbers
Length: 00:04:21
Year: 2007
Track Description:
Ex. Galaxie 500, a great track from a 'solo' record.

SHOW LESS

10
Willard Grant Conspiracy : River in the Pines
Such a wonderful voice, delivering Gothic Americana.

SHOW MORE

Track 1 from Regard the End
Length: 00:04:45
Year: 2003
Track Description:
Such a wonderful voice, delivering Gothic Americana.

SHOW LESS

11
Bonnie "Prince" Billy : Gulf Shores
Will Oldham (BPB) accompanied by some seasoned Nashville musicians revisiting the Palace catalogue with some b [...]

SHOW MORE

Track 3 from Greatest Palace Music
Length: 00:03:54
Year: 0000
Track Description:
Will Oldham (BPB) accompanied by some seasoned Nashville musicians revisiting the Palace catalogue with some beautiful results.

SHOW LESS

12
Damien Jurado : Parking Lot
Hauntingly beautiful track that more people should get to hear.

SHOW MORE

Track 7 from The Ghost of David
Length: 00:04:40
Year: 2000
Track Description:
Hauntingly beautiful track that more people should get to hear.

SHOW LESS

13
Glen Hansard & Marketa Irglova : Falling Slowly
One of three versions of this track the Glen has recorded, beginning to bring the mix to a close.

SHOW MORE

Track 3 from The Swell Season
Length: 00:04:50
Year: 2006
Track Description:
One of three versions of this track the Glen has recorded, beginning to bring the mix to a close.

SHOW LESS

14
Israel Kamakawiwoʻole : Somewhere Over the Rainbow / What a Wonderful World
The final track, a simply outstanding version...

SHOW MORE

Track 14 from Facing Future
Length: 00:05:08
Year: 1993
Track Description:
The final track, a simply outstanding version...

SHOW LESS
Tag Board
You must log in to leave a tag
Stuff
Quick Jump
John_K's other mixes
Related mixes
recent visitors
show all