[?]
Not a member? Sign-up now, it's free!
Login
[?]
These are links to some of the major sections in the mixtape collective.
Lists: Browse various lists that are generated by the loads of data we have collected.
Contests: Check out the latest contests, see previous winners, and find out how you can be a part
Music: Check out our ever-growing database of musical knowledge! Use it to find any artist, album, or track that has been entered since the birth of the site and rate and find detailed usage statistics.
Main
[?]
Tired of looking at the same old pages? Try checking out a random one, you never know what you might find...
Random!
BCB Mix Club 2008 09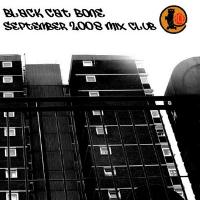 BCB Mix Club 2008 09
Created by:
John_K
Tracks:
15
Length:
01:03:09
Keywords
1. BCB
2. Mix Club
3. Dubstep / Grime
Created on
3/19/09 03:42am
Level
1
Points
1087
Total visitors
4
Unique visitors
3
description:
In September 09 I was paired with a long time BCBer who had just joined the mix club the previous month. He practically shat on his first mix, stating disappointment and expecting a greater listening challenge from his fellow BCBers.
I'd been listening to some Dubstep / Grime around the time, so he got a challenge this month, and he was reasonably pleased!
tracklist
1
Boxcutter : Rusty Break
no description

SHOW MORE

Track 4 from Glyphic
Length: 00:05:15
Year: 2007
Track Description:
no description

SHOW LESS

2
Burial : Archangel
From one of my favourite albums of 2007, and perfectly trying to convey that claustrophobic urban feel I was g [...]

SHOW MORE

Track 2 from Untrue
Length: 00:03:58
Year: 2007
Track Description:
From one of my favourite albums of 2007, and perfectly trying to convey that claustrophobic urban feel I was going for on this mix.

SHOW LESS

3
Massive Attack : Karmacoma
no description

SHOW MORE

Track 2 from Protection
Length: 00:05:18
Year: 1994
Track Description:
no description

SHOW LESS

4
Benga : Night
Benga, along with Burial and Skream were really exciting me last year, new ideas for an older head...

SHOW MORE

Track 2 from Diary of an Afro Warrior
Length: 00:05:57
Year: 2008
Track Description:
Benga, along with Burial and Skream were really exciting me last year, new ideas for an older head...

SHOW LESS

5
The Bug : Killer
The recipient said this track frightened his wife and kids, I can understand that sentiment.

SHOW MORE

Track 11 from Pressure
Length: 00:03:37
Year: 2003
Track Description:
The recipient said this track frightened his wife and kids, I can understand that sentiment.

SHOW LESS

6
Martyn : Suburbia
no description

SHOW MORE

Track 5 from Dubstep Allstars Vol. 6 [Mixed by Applebim]
Length: 00:04:06
Year: 2008
Track Description:
no description

SHOW LESS

7
Tricky : Council Estate
Saw Tricky perform this live on Later with Jools Holland and was blown away by it! Knew I'd use it on a mix s [...]

SHOW MORE

Track 6 from Knowle West Boy
Length: 00:02:39
Year: 2008
Track Description:
Saw Tricky perform this live on Later with Jools Holland and was blown away by it! Knew I'd use it on a mix sometime soon, and it was a perfect centrepiece for this mix.

SHOW LESS

8
Dizzee Rascal : Sirens
Continuing the urban soundtrack of the council estate.

SHOW MORE

Track 3 from Maths And English
Length: 00:03:30
Year: 2007
Track Description:
Continuing the urban soundtrack of the council estate.

SHOW LESS

9
Kode 9 + The Spaceape : Addiction
no description

SHOW MORE

Track 7 from Memories of the Future
Length: 00:03:41
Year: 2006
Track Description:
no description

SHOW LESS

10
Skream : Tapped
no description

SHOW MORE

Track 9 from Skream!
Length: 00:03:38
Year: 2006
Track Description:
no description

SHOW LESS

11
Roots Manuva : Witness (One Hope)
no description

SHOW MORE

Track 2 from Back To Mine: Guillemots
Length: 00:04:27
Year: 2007
Track Description:
no description

SHOW LESS

12
Roots Manuva : Witness (One Hope)
no description

SHOW MORE

Track 2 from Back To Mine: Guillemots
Length: 00:04:27
Year: 2007
Track Description:
no description

SHOW LESS

13
Joker : Gullybrook Lane [Instrumental]
no description

SHOW MORE

Track 2 from Steppas' Delight
Length: 00:04:14
Year: 2008
Track Description:
no description

SHOW LESS

14
Goldie : Angel
no description

SHOW MORE

Track 5 from Timeless
Length: 00:04:58
Year: 1995
Track Description:
no description

SHOW LESS

15
M.I.A. : Paper Planes
Love the gunshots and cash register on this track, nice closing track for this one...

SHOW MORE

Track 11 from Kala
Length: 00:03:24
Year: 2007
Track Description:
Love the gunshots and cash register on this track, nice closing track for this one...

SHOW LESS
Tag Board
You must log in to leave a tag
Stuff
Quick Jump
John_K's other mixes
Related mixes
recent visitors
show all