[?]
Not a member? Sign-up now, it's free!
Login
[?]
These are links to some of the major sections in the mixtape collective.
Lists: Browse various lists that are generated by the loads of data we have collected.
Contests: Check out the latest contests, see previous winners, and find out how you can be a part
Music: Check out our ever-growing database of musical knowledge! Use it to find any artist, album, or track that has been entered since the birth of the site and rate and find detailed usage statistics.
Main
[?]
Tired of looking at the same old pages? Try checking out a random one, you never know what you might find...
Random!
Juke III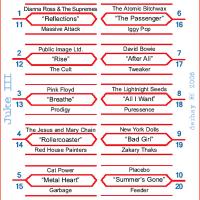 Juke III
Created by:
derhay
Tracks:
20
Length:
01:16:33
Keywords
1. Similar
2. Titles
3. Jukebox
Created on
7/05/06 01:59pm
Level
7
Points
3054
Total visitors
121
Unique visitors
63
description:
This is a series of 20 songs with ten song titles. Similar titles, but ARE NOT COVER SONGS. As I go through my music library and find like titled songs I put them in a folder and then make a mix of them after a while.
tracklist
1
Dianna Ross & The Supremes : Reflections
Great album opener. Not very original, I know, but a great song.

SHOW MORE

Track 1 from China Beach / Music and Memories
Length: 00:02:15
Year: 1990
Track Description:
Great album opener. Not very original, I know, but a great song.

SHOW LESS

2
Public Image Ltd. : Rise
Lydon in action.

SHOW MORE

Track 7 from The Greatest Hits, So Far
Length: 00:06:18
Year: 1990
Track Description:
Lydon in action.

SHOW LESS

3
Pink Floyd : Breathe
Floating, but abreviated.

SHOW MORE

Track 2 from Pulse (Disc 2)
Length: 00:02:35
Year: 1995
Track Description:
Floating, but abreviated.

SHOW LESS

4
The Jesus and Mary Chain : Rollercoaster
Picks up well after the live Floyd cuts off abruptly. Smiley face song.

SHOW MORE

Track 12 from 21 Singles
Length: 00:03:52
Year: 2002
Track Description:
Picks up well after the live Floyd cuts off abruptly. Smiley face song.

SHOW LESS

5
Cat Power : Metal Heart
One of the first Cat Power songs I fell in love with. I first heard it on Desert Blue soundtrack.

SHOW MORE

Track 5 from Moon Pix
Length: 00:04:02
Year: 1998
Track Description:
One of the first Cat Power songs I fell in love with. I first heard it on Desert Blue soundtrack.

SHOW LESS

6
The Atomic Bitchwax : The Passenger
Okay, I've used this on my first mix, but it's infectious.

SHOW MORE

Track 8 from 3
Length: 00:04:09
Year: 2005
Track Description:
Okay, I've used this on my first mix, but it's infectious.

SHOW LESS

7
David Bowie : After All
I prefer the Mission UK cover more, but an eighty minute disc would run over with it. Oh, Bowie. "Please trip [...]

SHOW MORE

Track 4 from The Man Who Sold the World
Length: 00:03:55
Year: 1970
Track Description:
I prefer the Mission UK cover more, but an eighty minute disc would run over with it. Oh, Bowie. "Please trip them gently", indeed.

SHOW LESS

8
The Lightning Seeds : All I Want
Heard a lot in 1990, but not so much any more. Great song.

SHOW MORE

Track 1 from Cloudcuckooland
Length: 00:02:54
Year: 1990
Track Description:
Heard a lot in 1990, but not so much any more. Great song.

SHOW LESS

9
New York Dolls : Bad Girl
Perfect, not "Trash" but great.

SHOW MORE

Track 7 from The New York Dolls
Length: 00:03:04
Year: 1973
Track Description:
Perfect, not "Trash" but great.

SHOW LESS

10
Placebo : Summer's Gone
I haven't heard this in a while too. This one puts me in the "what if" mood/mode. Reflective and graceful.

SHOW MORE

Track 10 from Cloudcuckooland
Length: 00:03:05
Year: 1998
Track Description:
I haven't heard this in a while too. This one puts me in the "what if" mood/mode. Reflective and graceful.

SHOW LESS

11
Massive Attack : Reflection
Self-face chewing off paranoia. Classic.

SHOW MORE

Track 7 from Singles 90-98 (Disc 11)
Length: 00:04:51
Year: 1998
Track Description:
Self-face chewing off paranoia. Classic.

SHOW LESS

12
The Cult : Rise
True to form return, but the rest of the album fell flat for me. Much love for Billy and Ian, though.

SHOW MORE

Track 3 from Beyond Good and Evil
Length: 00:03:39
Year: 2001
Track Description:
True to form return, but the rest of the album fell flat for me. Much love for Billy and Ian, though.

SHOW LESS

13
Prodigy : Breathe
Shivers. Stellar.

SHOW MORE

Track 2 from The Fat of the Land
Length: 00:05:35
Year: 1997
Track Description:
Shivers. Stellar.

SHOW LESS

14
Red House Painters : Rollercoaster
Part of my first year of college. Amore.

SHOW MORE

Track 8 from Red House Painters
Length: 00:04:17
Year: 1993
Track Description:
Part of my first year of college. Amore.

SHOW LESS

15
Garbage : Metal Heart
Haven't heard this one much. S'growin' on me.

SHOW MORE

Track 6 from Bleed Like Me
Length: 00:03:59
Year: 2005
Track Description:
Haven't heard this one much. S'growin' on me.

SHOW LESS

16
Iggy Pop : The Passenger
S'hard to pick this one over Siouxsie and the Banshees great cover, but I've been in an Iggy mood for a few mo [...]

SHOW MORE

Track 4 from Lust for Life
Length: 00:04:44
Year: 1977
Track Description:
S'hard to pick this one over Siouxsie and the Banshees great cover, but I've been in an Iggy mood for a few months. buadafixe

SHOW LESS

17
Tweaker : After All
Yay, Vrenna and Craig Wedren. Niceness.

SHOW MORE

Track 12 from The Attraction to All Things Uncertain
Length: 00:05:48
Year: 2001
Track Description:
Yay, Vrenna and Craig Wedren. Niceness.

SHOW LESS

18
Puressence : All I Want
Fave from these guys.

SHOW MORE

Track 6 from Only Forever
Length: 00:03:11
Year: 1998
Track Description:
Fave from these guys.

SHOW LESS

19
The Zakary Thaks : Bad Girl
I really dig on this one. Great garage energy.

SHOW MORE

Track 27 from Nuggets: Original Artyfacts From the First Psychedelic Era, 1965-1968 (Disc 4)
Length: 00:02:10
Year: 1998
Track Description:
I really dig on this one. Great garage energy.

SHOW LESS

20
The Zakary Thaks : Bad Girl
Good closer. July 5th and I'm adding "Summer's Gone" to a mix. Sad, but a good song.

SHOW MORE

Track 27 from Nuggets: Original Artyfacts From the First Psychedelic Era, 1965-1968 (Disc 4)
Length: 00:02:10
Year: 1998
Track Description:
Good closer. July 5th and I'm adding "Summer's Gone" to a mix. Sad, but a good song.

SHOW LESS
Tag Board
You must log in to leave a tag
Stuff
Quick Jump
derhay's other mixes
Related mixes
recent visitors
show all