[?]
Not a member? Sign-up now, it's free!
Login
[?]
These are links to some of the major sections in the mixtape collective.
Lists: Browse various lists that are generated by the loads of data we have collected.
Contests: Check out the latest contests, see previous winners, and find out how you can be a part
Music: Check out our ever-growing database of musical knowledge! Use it to find any artist, album, or track that has been entered since the birth of the site and rate and find detailed usage statistics.
Main
[?]
Tired of looking at the same old pages? Try checking out a random one, you never know what you might find...
Random!
eating people is wrong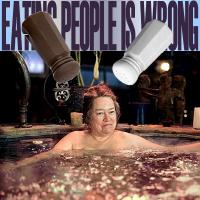 eating people is wrong
Created by:
derhay
Tracks:
14
Length:
01:05:58
Keywords
1. Mix Contest 24 - Hell
2. Mix Contest 24 - Hell
3. Mix Contest 24 - Hell
Created on
10/01/08 01:35pm
Level
2
Points
1420
Total visitors
54
Unique visitors
24
This mix was ranked #7 out of 8 entries for this contest
description:
Knowing what is right and what is wrong is, and should be, a weighty thing. Of course, I'm having a hard time giving a shit at this particular point. Thank you, Kathy Bates, for long walks on the beach and for loaning me money.
tracklist
1
The Dandy Warhols : Get Off
ditto

SHOW MORE

Track 7 from Thirteen Tales From Urban Bohemia
Length: 00:03:11
Year: 2000
Track Description:
ditto

SHOW LESS

2
Iggy Pop : Some Weird Sin
Clap along. Iggy see-saws on the subject, but this is a great song.

SHOW MORE

Track 3 from Lust for Life
Length: 00:03:44
Year: 1977
Track Description:
Clap along. Iggy see-saws on the subject, but this is a great song.

SHOW LESS

3
Primal Scream : Blood Money
Banda sonora de caindo.

SHOW MORE

Track 6 from XTRMNTR
Length: 00:07:03
Year: 2000
Track Description:
Banda sonora de caindo.

SHOW LESS

4
Primus : Spegetti Western
My favorite "Sloth" song. Thanks, bisounours.

SHOW MORE

Track 11 from Frizzle Fry
Length: 00:05:42
Year: 1989
Track Description:
My favorite "Sloth" song. Thanks, bisounours.

SHOW LESS

5
Morphine : Thursday
I'll take this over "Me and Mrs. Jones" any day.

SHOW MORE

Track 8 from Cure for Pain
Length: 00:03:26
Year: 1993
Track Description:
I'll take this over "Me and Mrs. Jones" any day.

SHOW LESS

6
Michael Liggins : Standing on the Corner
Damn fine funk.
"Ohhhh, I'm Standing on the corner Downtown in L.A.
Lookin' at the foxes Go by ev [...]

SHOW MORE

Track 2 from Eccentric Soul 11: Mighty Mike Lenaburg
Length: 00:02:18
Year: 2006
Track Description:
Damn fine funk.
"Ohhhh, I'm Standing on the corner Downtown in L.A.
Lookin' at the foxes Go by every day
If they knew what I was thinkin'
They'd put me in jail
Throw away the key and let me have no bail"

SHOW LESS

7
The Dirtbombs : Got to Give It Up
Excellent M.G. cover.

SHOW MORE

Track 10 from Ultraglide in Black
Length: 00:04:04
Year: 2001
Track Description:
Excellent M.G. cover.

SHOW LESS

8
16 Horsepower : Black Soul Choir
Chorus
Every man is evil Yes, an' every man is a liar
Unashamed with the wicked tongue sing
[...]

SHOW MORE

Track 2 from Sackcloth 'n' Ashes
Length: 00:03:51
Year: 1996
Track Description:
Chorus
Every man is evil Yes, an' every man is a liar
Unashamed with the wicked tongue sing
in the black soul choir

Absolutely enthralling.

SHOW LESS

9
Belle & Sebastian : If You're Feeling Sinister
"Go off and see a minister
He'll try in vain
To take away
The pain of being a hopeless unbel [...]

SHOW MORE

Track 7 from If You're Feeling Sinister
Length: 00:05:21
Year: 1996
Track Description:
"Go off and see a minister
He'll try in vain
To take away
The pain of being a hopeless unbeliever"

SHOW LESS

10
Depeche Mode : Sea of Sin (Tonal mix)
"It gets better and better... As it gets wetter and wetter..."

SHOW MORE

Track 4 from World in My Eyes
Length: 00:04:44
Year: 1990
Track Description:
"It gets better and better... As it gets wetter and wetter..."

SHOW LESS

11
AC/DC : Sink the Pink
"It's all the fashion"

SHOW MORE

Track 4 from Who Made Who
Length: 00:04:15
Year: 1986
Track Description:
"It's all the fashion"

SHOW LESS

12
Murder by Death : Rum Brave
Anthem for shitty choices. How I love it so.

SHOW MORE

Track 3 from Red of Tooth and Claw
Length: 00:03:06
Year: 2008
Track Description:
Anthem for shitty choices. How I love it so.

SHOW LESS

13
The Black Angels : Black Angel Exit / Shine
One of my very favorite songs of 2008.

SHOW MORE

Track 12 from Directions To See A Ghost
Length: 00:09:28
Year: 2008
Track Description:
One of my very favorite songs of 2008.

SHOW LESS

14
Violent Femmes : Gimme the Car
smirk

SHOW MORE

Track 5 from Viva Wisconsin
Length: 00:05:45
Year: 1999
Track Description:
smirk

SHOW LESS
Tag Board
You must log in to leave a tag
Stuff
Quick Jump
derhay's other mixes
Related mixes
recent visitors
show all