[?]
Not a member? Sign-up now, it's free!
Login
[?]
These are links to some of the major sections in the mixtape collective.
Lists: Browse various lists that are generated by the loads of data we have collected.
Contests: Check out the latest contests, see previous winners, and find out how you can be a part
Music: Check out our ever-growing database of musical knowledge! Use it to find any artist, album, or track that has been entered since the birth of the site and rate and find detailed usage statistics.
Main
[?]
Tired of looking at the same old pages? Try checking out a random one, you never know what you might find...
Random!
Soft Rock Suicide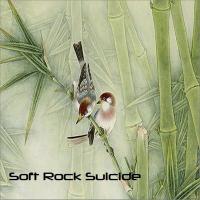 Soft Rock Suicide
Created by:
sparkymonroe
Tracks:
21
Length:
01:19:31
Keywords
1. Soft
2. Rock
3. Suicide
Created on
6/06/10 05:50am
Level
2
Points
1410
Total visitors
9
Unique visitors
6
description:
If you've ever had occasion to listen to the soft rock, whether it was during a road-trip hostage crisis, or while hunting and gathering at the grocer's, or while waiting to have a tooth pulled, then you know how depressing it can be and how appropriate many of genre's songs would be for inclusion on a suicide mixtape. Drifting away to the sounds of that ever-so-lilting AM flotsam and jetsam might just be the ticket for softly going into the night. And if that's a dreadful thought for you to think, then think of this tape as a sad bastard mix tucked away for a rainy day*.


Post Script- (I'd rather listen to this tape than R.E.M.'s "Automatic For the People" like a certain famous someone did before finishing himself off with a bang. But whatevers.)

*Disclaimer: This is a hypothetical suicide mixtape. It's not the first or the last to be made in the wide world of mixtapes. Life is great, more or less. This isn't meant to be all scary. Thanks.

tracklist
1
Tommy James and the Shondelles : Draggin' the Line
Meditation on the workaday world, smiling, knowing it will all be over soon. No more punching the clock! (po [...]

SHOW MORE

Track 12 from Very Best of
Length: 00:04:31
Year: 1993
Track Description:
Meditation on the workaday world, smiling, knowing it will all be over soon. No more punching the clock! (possible reference to drugs is optional).

SHOW LESS

2
Chicago : 25 or 6 to 4
This song works for obvious reasons.

Staring blindly into space
Getting up to splash my faceSHOW MORE
Track 14 from Chicago II
Length: 00:05:00
Year: 1970
Track Description:
This song works for obvious reasons.

Staring blindly into space
Getting up to splash my face
Wanting just to stay awake
Wondering how much I can take
Should I try to do some more
25 or 6 to 4

SHOW LESS

3
Band of Horses : No One's Gonna Love you
Contemporary soft rock. A band of neutered horses. I could shed a horse tear over this though.

SHOW MORE

Track 7 from Cease to Begin
Length: 00:03:39
Year: 2007
Track Description:
Contemporary soft rock. A band of neutered horses. I could shed a horse tear over this though.

SHOW LESS

4
Bread : If
What a dreary, but beautiful, beautiful song. This could be the part of the mix where you think about the one [...]

SHOW MORE

Track 6 from The Best of Bread
Length: 00:02:36
Year: 1973
Track Description:
What a dreary, but beautiful, beautiful song. This could be the part of the mix where you think about the one that got away.

SHOW LESS

5
King Harvest : Dancing in the Moonlight
This song makes me reflexively pensive. So cheery, like driving off a bridge.

SHOW MORE

Track 0 from Have a Nice Day- Volume 17
Length: 00:02:53
Year: 0000
Track Description:
This song makes me reflexively pensive. So cheery, like driving off a bridge.

SHOW LESS

6
10cc : I'm Not In Love
Whenever I run across a 10cc record at a thrift shop, I wonder about what the original owner might have been l [...]

SHOW MORE

Track 3 from The Best of 10cc
Length: 00:06:08
Year: 2002
Track Description:
Whenever I run across a 10cc record at a thrift shop, I wonder about what the original owner might have been like. This is also another song to think about that certain unforgettable someone.

SHOW LESS

7
The Carpenters : Rainy Days and Mondays
How long does it take to die from carbon monoxide poisoning? If that's how you're going out, it would be abou [...]

SHOW MORE

Track 1 from Carpenters
Length: 00:03:39
Year: 1971
Track Description:
How long does it take to die from carbon monoxide poisoning? If that's how you're going out, it would be about time to start your engine.

SHOW LESS

8
Carole King : So Far Away
Most of these songs are very peaceful, like a morphine drip.

SHOW MORE

Track 2 from Tapestry
Length: 00:03:55
Year: 1971
Track Description:
Most of these songs are very peaceful, like a morphine drip.

SHOW LESS

9
England Dan & John Ford Coley : I'd Really Love to See You Tonight
This is an upbeat song, which is not really depressing, but it makes me sad for some reason. Maybe it's becau [...]

SHOW MORE

Track 0 from Super Hits of the 70s
Length: 00:00:00
Year: 0000
Track Description:
This is an upbeat song, which is not really depressing, but it makes me sad for some reason. Maybe it's because it's such a sweet way of saying, "Hey, I ain't gonna tie you down, let's just get together tonight, sweet stuff." This song also sort of works on a "Ain't No Permanent Thing" mix.

I find most of these songs hypnotizing in their mellow melodious sways.

SHOW LESS

10
Genesis : Throwing It All Away
I think this album is under-appreciated.

I was sitting alone at a bar in a foreign land and this s [...]

SHOW MORE

Track 7 from Invisible Touch
Length: 00:03:51
Year: 1986
Track Description:
I think this album is under-appreciated.

I was sitting alone at a bar in a foreign land and this song came on. Along with the self service beer taps, playing songs like that one had to increase the night's take for the bar.

SHOW LESS

11
Seals & Crofts : Diamond Girl
A loverly doverly song for that last half hour before the bell tolls for that last call for alcohol.

SHOW MORE

Track 1 from Diamond Girl
Length: 00:04:14
Year: 1973
Track Description:
A loverly doverly song for that last half hour before the bell tolls for that last call for alcohol.

SHOW LESS

12
Air Supply : All Out of Love
Another love song. I guess that unrequited love or bungled love really makes us do some crazy stuff. Oh, by [...]

SHOW MORE

Track 2 from Love in Love
Length: 00:04:03
Year: 1980
Track Description:
Another love song. I guess that unrequited love or bungled love really makes us do some crazy stuff. Oh, by the way, if you're doing the pill thing, make sure to take some anti-nausea medicine before you wake up all embarrassed.

SHOW LESS

13
Walter Egan : Magnet and Steel
A classic for a dimly lit situation.

SHOW MORE

Track 41 from Eazy Rock Ultimate Collection
Length: 00:03:20
Year: 2006
Track Description:
A classic for a dimly lit situation.

SHOW LESS

14
Atlanta Rhythm Section : So In To You
Keeping the mix alive.

SHOW MORE

Track 18 from Sounds of the Seventies: 1977
Length: 00:03:17
Year: 1990
Track Description:
Keeping the mix alive.

SHOW LESS

15
Elvin Bishop : Fooled Around and Fell in Love
This section flows so well that you can't really turn back.

SHOW MORE

Track 5 from Struttin' my Stuff
Length: 00:04:36
Year: 1975
Track Description:
This section flows so well that you can't really turn back.

SHOW LESS

16
The Cars : Drive
This song reeks of mental breakage.

SHOW MORE

Track 4 from Heartbeat City
Length: 00:03:54
Year: 1984
Track Description:
This song reeks of mental breakage.

SHOW LESS

17
The Floaters : Float On (Short Version)
A song where each member of this RnB vocal group introduce themselves by their name and Zodiac sign belongs he [...]

SHOW MORE

Track 10 from Sounds of the 70's: 1977 Take Two
Length: 00:04:13
Year: 1991
Track Description:
A song where each member of this RnB vocal group introduce themselves by their name and Zodiac sign belongs here. The easy breeziness of the music itself is a great way to start the afterlife.

SHOW LESS

18
Goldfrapp : Horse Tears
Impotent eyes that cannot come crying anymore.

SHOW MORE

Track 9 from Felt Mountain
Length: 00:05:10
Year: 2000
Track Description:
Impotent eyes that cannot come crying anymore.

SHOW LESS

19
Young Marble Giants : Wind in the Rigging
Whoops, mispelled the album name from whence this track came. Should be Colossal Youth. No way to do it over [...]

SHOW MORE

Track 15 from Colassal Youth
Length: 00:02:25
Year: 1980
Track Description:
Whoops, mispelled the album name from whence this track came. Should be Colossal Youth. No way to do it over, either. How fitting.

SHOW LESS

20
My Bloody Valentine : Incidental Peace
This is an instrumental ambient track MBV made with Skylab for a charity album. It's rather vague like a fugu [...]

SHOW MORE

Track 24 from Offbeat: A Red Hot Sound Trip
Length: 00:05:36
Year: 1996
Track Description:
This is an instrumental ambient track MBV made with Skylab for a charity album. It's rather vague like a fugue state so I mixed the the following track inside the song's gently rumbling haze for a final send off. This kind of breaks the soft rock theme, but the song entwined within hopefully keeps the theme alive to the bitter end.

SHOW LESS

21
reggie milner : I Can't Live Without You
Just sounds so hazy and forlorn, a rather timeless quality to it. Perfect. Goodbye.

SHOW MORE

Track 8 from The Lost Soul of Detroit
Length: 00:02:31
Year: 0000
Track Description:
Just sounds so hazy and forlorn, a rather timeless quality to it. Perfect. Goodbye.

SHOW LESS
Tag Board
You must log in to leave a tag
Stuff
Quick Jump
sparkymonroe's other mixes
Related mixes
recent visitors
show all