[?]
Not a member? Sign-up now, it's free!
Login
[?]
These are links to some of the major sections in the mixtape collective.
Lists: Browse various lists that are generated by the loads of data we have collected.
Contests: Check out the latest contests, see previous winners, and find out how you can be a part
Music: Check out our ever-growing database of musical knowledge! Use it to find any artist, album, or track that has been entered since the birth of the site and rate and find detailed usage statistics.
Main
[?]
Tired of looking at the same old pages? Try checking out a random one, you never know what you might find...
Random!
BRAND NEW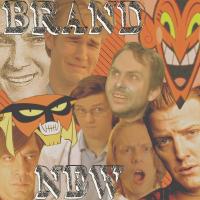 BRAND NEW
Created by:
childstar
Tracks:
17
Length:
01:03:10
Keywords
1. confident
2. feelgood
3. new haircut
Created on
8/07/10 07:32pm
Level
1
Points
1226
Total visitors
39
Unique visitors
7
description:
These are all songs that make me feel good. The album art consists of pictures that make me feel good. I like to think those dudes are thinking some variation of, "Whoa, who's this classy lady?" or, "SOMETHING'S BRAND NEW? HOLY SHIT!" This mix is about feeling confident, ready. Its title comes from the way I feel right now.

I feel good lately. Partially because I got a haircut. It's parted on the opposite side now. It hasn't been this way since high school. It was an accident, but now I really like it. Ever have a haircut that just makes you feel different? Aside from that, I'm looking forward to new opportunities, like getting a house with friends, and turning 21 in two weeks, and going to the gym regularly. I'm even kinda excited for school to begin.
tracklist
1
The Prodigy : Stand Up
Badass. Makes me wanna drive to the moon.

SHOW MORE

Track 11 from Invaders Must Die
Length: 00:05:30
Year: 2009
Track Description:
Badass. Makes me wanna drive to the moon.

SHOW LESS

2
Fang Island : Life Coach
Sounds like Ozma and Animal Collective had a the coolest baby ever. It's inspirational, vibrant, like running [...]

SHOW MORE

Track 0 from Fang Island
Length: 00:02:57
Year: 0000
Track Description:
Sounds like Ozma and Animal Collective had a the coolest baby ever. It's inspirational, vibrant, like running over a grassy hill with all your friends

SHOW LESS

3
Bright Eyes : Pull My Hair
"Is the passion all gone, or is it sill newlywed?...If the hunger's still there, buried somewhere inside...the [...]

SHOW MORE

Track 8 from Letting Off the Happiness
Length: 00:04:10
Year: 0000
Track Description:
"Is the passion all gone, or is it sill newlywed?...If the hunger's still there, buried somewhere inside...then dig it up and devour....The truth is that I can hardly wait, I don't care if we stay up too late. Don't answer the phone!...The truth is that I can hardly wait, it itches so bad that I can't concentrate..."

I've shortened the lyrics to ones that apply to my situation. See, I haven't had a boring sex life these past few years. It was actually pretty adventurous! But now I'm kinda celibate, which is boring. Not because I dislike sex, but because I've gotta be fond of a guy beforehand...and I just seem to attract creeps. I miss a certain someone. Booooo. But this doesn't mean I'm not horny.

SHOW LESS

4
Lady Gaga : Telephone (feat. Beyonce)
"Just a second, it's my favorite song they're gonna play, and I cannot text you with a drink in my hand, eh? Y [...]

SHOW MORE

Track 6 from The Fame Monster
Length: 00:03:40
Year: 2009
Track Description:
"Just a second, it's my favorite song they're gonna play, and I cannot text you with a drink in my hand, eh? You should'a made some plans with me, you knew that I was free, and now you won't stop calling me--I'm kinda busy...sometimes I feel like I live in Grand Central Station, tonite I'm not takin' no call 'cause I'll be dancin'"

When I'm having a bad day, this song cheers me up. It makes me sing and dance, and for about four minutes I'm without a care in the world.

SHOW LESS

5
Super Furry Animals : Ice Hockey Hair
"Maybe you think I'm shady, but I sing your language, baby. What did I do to you to make you feel so blue? I g [...]

SHOW MORE

Track 1 from Ice Hockey Hair [Single]
Length: 00:06:39
Year: 1998
Track Description:
"Maybe you think I'm shady, but I sing your language, baby. What did I do to you to make you feel so blue? I get the impression that we're overdue. What did I do to you? Now that you're here, tell me you're a non-believer..."

^ That last line is one of my favorite lines of any song, ever. This track features a totally sweet drum solo and opening riff. I don't know what it is, but something about this one makes me want to resolve issues and think positive.

SHOW LESS

6
Anthony Green : Ripped Apart
"Tonite my body, impulses..tonite my impulses, keep them inside...Nobody notices, nobody wonders, nobody knows [...]

SHOW MORE

Track 0 from Avalon (Remix by Colin Frangicetto)
Length: 00:04:39
Year: 2008
Track Description:
"Tonite my body, impulses..tonite my impulses, keep them inside...Nobody notices, nobody wonders, nobody knows where it came from."

I've had a recurring problem controlling my impulses. The music that goes with the chorus has a dance-y feel, a completely different tone than the rest of the song, which is pretty somber.

SHOW LESS

7
La Roux : Tigerlily
"You, I know you better than this. I could be here when you call, I'll make you top of the list. And in the cr [...]

SHOW MORE

Track 0 from La Roux
Length: 00:03:25
Year: 2009
Track Description:
"You, I know you better than this. I could be here when you call, I'll make you top of the list. And in the crush of the dark I'll be your light in the mist. I can see you burning with desire for a kiss, psychobabble all upon your lips."

The music is reminiscent of my Sonic the Hedgehog playing days. The lyrics are damn sexy. This girl is fierce.

SHOW LESS

8
Beck : Strange Apparition
"Lord, please don't forsake me in my Mercedes Benz...we'll be on the shoreline when that heavy ship goes down. [...]

SHOW MORE

Track 4 from The Information
Length: 00:03:48
Year: 2006
Track Description:
"Lord, please don't forsake me in my Mercedes Benz...we'll be on the shoreline when that heavy ship goes down. Did you think that you were lucky? You should see yourself now."

SHOW LESS

9
Deerhoof : Milk Man
"Be mine, I'll take you to my dream land. Now you're mine, I'll take you to our dream land."

Reall [...]

SHOW MORE

Track 1 from Milk Man
Length: 00:04:23
Year: 2004
Track Description:
"Be mine, I'll take you to my dream land. Now you're mine, I'll take you to our dream land."

Really, this song is crazy. But I can't help but giggle about.

SHOW LESS

10
The Boy Least Likely To : Hugging My Grudge
"I've always been chasing rainbows, staring out of classroom windows, I don't think I'll ever be happy unless [...]

SHOW MORE

Track 10 from The Best Party Ever
Length: 00:04:04
Year: 2005
Track Description:
"I've always been chasing rainbows, staring out of classroom windows, I don't think I'll ever be happy unless I'm unhappy and hugging my grudge...I've always been quietly dreaming, I don't know when I've been beaten.."

This band is so darling. I used to hold a lot of grudges. I'm trying not to anymore, because it just makes me miserable.

SHOW LESS

11
Eisley : I Wasn't Prepared
"..And that's when I spoke the word to have them trace your face for me in pollen. But, I wasn't prepared for [...]

SHOW MORE

Track 3 from Room Noises
Length: 00:03:22
Year: 2005
Track Description:
"..And that's when I spoke the word to have them trace your face for me in pollen. But, I wasn't prepared for this, oh, I wasn't prepared for this... Come back, come back to me my, my darling...when the day is blue, I'll sit here wondering about you."

So pretty, dreamy. I just lie there in a daze.

SHOW LESS

12
France Gall : On se ressemble toi et moi
France Gall has a very sweet voice. I've read the translated lyrics, but they were a bit broken. So I'll just [...]

SHOW MORE

Track 10 from Baby Pop
Length: 00:02:47
Year: 1966
Track Description:
France Gall has a very sweet voice. I've read the translated lyrics, but they were a bit broken. So I'll just say, this is a love song and it's cute as a button.

SHOW LESS

13
The New Pornographers : From Blown Speakers
"So can you tell me why in every version of the events shown here,
there's another season that crawls by [...]

SHOW MORE

Track 2 from Electric Version
Length: 00:02:49
Year: 2003
Track Description:
"So can you tell me why in every version of the events shown here,
there's another season that crawls by like years, from blown speakers clear? Just a contact high, one in every mood I've ever declined to fight...from blown speakers, time came out magical."

Reminds me of junior year. I was the A&E editor for newspaper. Life was really different five years ago. I spent most days driving around with a girl named Krysta and this song playing.

SHOW LESS

14
Mew : Wheels Over Me
"I would like to be a child, drown with me until you die. I thought I, I heard you cry, but it's just the whee [...]

SHOW MORE

Track 1 from A Triumph for Man
Length: 00:02:33
Year: 1997
Track Description:
"I would like to be a child, drown with me until you die. I thought I, I heard you cry, but it's just the wheels that fly over me...You're my dancin' girl, I never thought you'd mean the world. It's why I'm here, and why it seems reliable. So much time for us, there's nowhere here but there it was, the tale I had, and you became a friend again."

This is a wonderful album opener. Always makes me smile. I'd like to see good things happen. I feel sort of hopeful hearing this.

SHOW LESS

15
Roisin Murphy : Dear Miami
"We got it all, the empire never falls. We got all control, untold power to do what we wanna do. We got the mo [...]

SHOW MORE

Track 0 from Overpowered
Length: 00:03:41
Year: 0000
Track Description:
"We got it all, the empire never falls. We got all control, untold power to do what we wanna do. We got the moves, but there's nothing left to prove...strictly rolling V.I.P."

My car has a sticker that reads, "V.I.P." It's from the car dealership, so fuck you. Anyway, this beat's phat. Sounds like partying.

SHOW LESS

16
Nick Perito : The Green Leaves of Summer
Beautiful. The summer is coming to a close. The first time I heard this I was seeing Inglorious BasterdsSHOW MORE
Track 1 from Inglourious Basterds
Length: 00:01:55
Year: 2009
Track Description:
Beautiful. The summer is coming to a close. The first time I heard this I was seeing Inglorious Basterds with a group of good friends, around this time last year.

SHOW LESS

17
Elliott Smith : Ballad of Big Nothing
"You can do what you want to whenever you want to. You can do what you want to, there's no one to stop you...d [...]

SHOW MORE

Track 0 from Either/Or
Length: 00:02:48
Year: 1997
Track Description:
"You can do what you want to whenever you want to. You can do what you want to, there's no one to stop you...do what you want to whenever you want to, though it doesn't mean a thing, big nothing."

Hey you, over there. You can do whatever you feel like doing. I can't do anything about it. Just make it worthwhile.

SHOW LESS
Tag Board
You must log in to leave a tag
Stuff
Quick Jump
childstar's other mixes
Related mixes
recent visitors
show all