[?]
Not a member? Sign-up now, it's free!
Login
[?]
These are links to some of the major sections in the mixtape collective.
Lists: Browse various lists that are generated by the loads of data we have collected.
Contests: Check out the latest contests, see previous winners, and find out how you can be a part
Music: Check out our ever-growing database of musical knowledge! Use it to find any artist, album, or track that has been entered since the birth of the site and rate and find detailed usage statistics.
Main
[?]
Tired of looking at the same old pages? Try checking out a random one, you never know what you might find...
Random!
The Crosby Show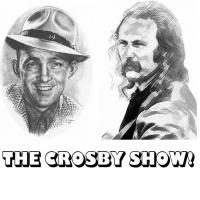 The Crosby Show
Created by:
johnny_luddite
Tracks:
16
Length:
01:10:51
Keywords
1. Mix Contest 5
2. Mix Contest 5
3. Mix Contest 5
Created on
10/28/06 11:08pm
Level
7
Points
3427
Total visitors
221
Unique visitors
84
This mix was ranked #2 out of 18 entries for this contest
description:
I thought that perhaps one way of approaching this was by trying to think of two people who at first thought shouldn't have any kind of link at all except for a last name, and then plotting a route between them. If you are reading this, it means it might have worked. Ok, lets see how we can link those Crosby boys, David and Bing! Each link will feature someone who has recorded with the act before. A warning: We are travelling a scenic and sometimes even bluesey route on this one.
tracklist
1
David Crosby : Thousand Roads
So here we go with David Crosby, singer, songwriter, guitarist and sperm donor. This solo outing from the 90's [...]

SHOW MORE

Track 6 from Thousand Roads
Length: 00:04:32
Year: 1993
Track Description:
So here we go with David Crosby, singer, songwriter, guitarist and sperm donor. This solo outing from the 90's is actually much better than I thought it would be. Our Dave first came to prominence as a member of...

SHOW LESS

2
The Byrds : Mr. Tambourine Man
...The Byrds. The writer of this song pops up soon, but first we have to visit the expanded version of the gro [...]

SHOW MORE

Track 0 from The Byrds: Super Hits
Length: 00:02:29
Year: 0000
Track Description:
...The Byrds. The writer of this song pops up soon, but first we have to visit the expanded version of the group Mr Crosby joined next...

SHOW LESS

3
Crosby, Stills, Nash & Young : Teach Your Children
...CSN&Y, formerly CSN before Neil Young added the 'Y'.This is from their debut album and the song featured on [...]

SHOW MORE

Track 2 from Deja Vu
Length: 00:02:57
Year: 1970
Track Description:
...CSN&Y, formerly CSN before Neil Young added the 'Y'.This is from their debut album and the song featured one Jerry Garcia on pedal steel of all things. Now...

SHOW LESS

4
Bob Dylan & The Grateful Dead : All Along The Watchtower
...as part of The Grateful Dead, Jerry recorded a live album with ol' Bobby Zimmerman himself. I didn't like t [...]

SHOW MORE

Track 6 from Dylan & The Dead
Length: 00:06:23
Year: 1987
Track Description:
...as part of The Grateful Dead, Jerry recorded a live album with ol' Bobby Zimmerman himself. I didn't like the whole album, but this version of 'Watchtower' was pretty good. Earlier on, Dylan had decided to appear with his old friends and collaborators...

SHOW LESS

5
The Band (feat. Bob Dylan) : Baby Let Me Follow You Down
...The Band, when they decided to bow out. They did it in style, with an all-star farewell concert, which also [...]

SHOW MORE

Track 7 from The Last Waltz (Disc 2)
Length: 00:02:55
Year: 0000
Track Description:
...The Band, when they decided to bow out. They did it in style, with an all-star farewell concert, which also became a movie by Scorsese and a triple album. Of all the people they played with, they are probably most well known for playing with Dylan. He did several songs with them on this show. I picked this because It is a solid rocky number, different in feel to what comes next, when...

SHOW LESS

6
The Band (Feat: Muddy Waters) : Mannish Boy
...from the same show, The Band play behind the great Muddy Waters. Also featured here are Paul Butterfield on [...]

SHOW MORE

Track 12 from The Last Waltz (Disc 1)
Length: 00:06:59
Year: 0000
Track Description:
...from the same show, The Band play behind the great Muddy Waters. Also featured here are Paul Butterfield on mouth harp and Pinetop Perkins on piano. As of a year or so ago, Pinetop was still gigging and playing, well into his 90's. Before Pinetop played with Muddy, he worked with other piano players...

SHOW LESS

7
Muddy Waters & Otis Spann : Walking Through the Park
...such as the great Chicago singer and piano player Otis Spann. In 1969...

SHOW MORE

Track 9 from Collaboration
Length: 00:03:09
Year: 0000
Track Description:
...such as the great Chicago singer and piano player Otis Spann. In 1969...

SHOW LESS

8
Otis Spann : Ain't Nobody's Business
...the Brit Blues version of Fleetwood Mac went to Chicago to record with some of the blues greats such as Wal [...]

SHOW MORE

Track 7 from The Biggest Thing Since Colossus
Length: 00:05:15
Year: 0000
Track Description:
...the Brit Blues version of Fleetwood Mac went to Chicago to record with some of the blues greats such as Walter Horton, Willie Dixon, Memphis Slim and Otis Spann. After the sessions Fleetwood Mac stayed on and backed Otis Spann on his 'The Biggest Thing Since Colossus' album. Peter Green and Danny Kirwan played some of the best lead guitar of their studio careers on this album. (My opinion anyway.) Founder...

SHOW LESS

9
Peter Green & Paul Rodgers : Sweet Home Chicago
...Peter Green left Fleetwood Mac in 1970, and the music world in general soon after. He had a partial comebac [...]

SHOW MORE

Track 4 from Spirit Of Blues
Length: 00:02:48
Year: 0000
Track Description:
...Peter Green left Fleetwood Mac in 1970, and the music world in general soon after. He had a partial comeback in the late 70's, early 80's, but didn't return to fulltime music making and recording till the mid to late 90's. This comes from that latter period, and features ex Bad Company and Free singer Paul Rogers, lately working as an unlikely replacement for Freddie Mercury in Queen. Rodgers second successful band...

SHOW LESS

10
Bad Company : Bad Company
...after Free fell apart was Bad Company. Guitar player with Bad Company, Mick Ralphs, had previously been a m [...]

SHOW MORE

Track 5 from Bad Company
Length: 00:04:50
Year: 1974
Track Description:
...after Free fell apart was Bad Company. Guitar player with Bad Company, Mick Ralphs, had previously been a member of...

SHOW LESS

11
Mott the Hoople : All The Young Dudes
Mott The Hoople. This was their breakthrough single in the UK, written by, oh, we will get to him in a short w [...]

SHOW MORE

Track 3 from All The Young Dudes
Length: 00:03:32
Year: 1972
Track Description:
Mott The Hoople. This was their breakthrough single in the UK, written by, oh, we will get to him in a short while. Meanwhile, the one to watch here is the singer, Ian Hunter...

SHOW LESS

12
Ian Hunter And Mick Ronson : Beg A Little Love
...Ian Hunter had a successful solo career after Mott, and also recorded and toured with guitarist Mick Ronson [...]

SHOW MORE

Track 8 from Yui Orta
Length: 00:06:26
Year: 1990
Track Description:
...Ian Hunter had a successful solo career after Mott, and also recorded and toured with guitarist Mick Ronson...

SHOW LESS

13
Lou Reed : Vicious
...who co-produced and played on 'Transformer' for Lou Reed, alongside the man he is best known for working wi [...]

SHOW MORE

Track 1 from Transformer
Length: 00:02:58
Year: 1972
Track Description:
...who co-produced and played on 'Transformer' for Lou Reed, alongside the man he is best known for working with, also the guy who wrote 'All The Young Dudes.' He is of course...

SHOW LESS

14
David Bowie : The Width of a Circle
David Bowie. the first Bowie album Ronson worked on was 'The Man Who Sold The Earth.' I like the raw sound of [...]

SHOW MORE

Track 1 from The Man Who Sold the World
Length: 00:08:08
Year: 1970
Track Description:
David Bowie. the first Bowie album Ronson worked on was 'The Man Who Sold The Earth.' I like the raw sound of this. Mr Bowie is something of a duet whore, and one of the most unlikely ones he did had to be...

SHOW LESS

15
Bing Crosby & David Bowie : Peace On Earth/The Little Drummer Boy
...this one with Bing Crosby, recorded for Bing's Christmas Special, but released as a single. DB sings the 'P [...]

SHOW MORE

Track 0 from
Length: 00:04:23
Year:
Track Description:
...this one with Bing Crosby, recorded for Bing's Christmas Special, but released as a single. DB sings the 'Peace On Earth' part while Bing croons about the little drummer boy. I own this single and I am not ashamed to admit it. Soon after this was recorded, Mr Crosby died, prompting jokes such as these. Q: Who's dead and sounds like a bell. A: Bing!!!!!! I thank yew!

SHOW LESS

16
Bing Crosby : Don't Fence Me In
After that awful joke, the least I can do is to end with Bing making his personal statement concerning his rig [...]

SHOW MORE

Track 8 from Greatest Hits
Length: 00:03:07
Year: 0000
Track Description:
After that awful joke, the least I can do is to end with Bing making his personal statement concerning his right to his own space, long before such demands became fashionable. The Crosby boys have left the building!

SHOW LESS
Tag Board
You must log in to leave a tag
Stuff
Quick Jump
johnny_luddite's other mixes
Related mixes
recent visitors
show all