[?]
Not a member? Sign-up now, it's free!
Login
[?]
These are links to some of the major sections in the mixtape collective.
Lists: Browse various lists that are generated by the loads of data we have collected.
Contests: Check out the latest contests, see previous winners, and find out how you can be a part
Music: Check out our ever-growing database of musical knowledge! Use it to find any artist, album, or track that has been entered since the birth of the site and rate and find detailed usage statistics.
Main
[?]
Tired of looking at the same old pages? Try checking out a random one, you never know what you might find...
Random!
Modeling Just Sucks: An Inbred Mixtape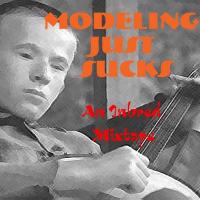 Modeling Just Sucks: An Inbred Mixtape
Created by:
d-loot
Tracks:
16
Length:
01:02:06
Keywords
1. Mix Contest 5
2. Mix Contest 5
3. Mix Contest 5
Created on
10/28/06 04:31pm
Level
8
Points
3704
Total visitors
317
Unique visitors
120
This mix was ranked #1 out of 18 entries for this contest
description:
I reckon you'd like a great tale 'bout this mixtape.

Well the first thing to note is that there is no banjo. Sorry, but banjo players don't seem to reproduce in the music world.

They say you should write what you know. I know most of you won't read this. I know the earth isn't perfectly round because it bulges at the equator. And I also know that today is Saturday. Though that might not be true on the day when you don't read this. I know johnny_luddite is going to crush us in mixtape contest v. This is as good as my tiny little mind could do. Vote as you must.
tracklist
1
The Clash : The Guns of Brixton
This song was written by Paul Simonon, who joined forces with Simon Tong for...

SHOW MORE

Track 10 from London Calling
Length: 00:03:09
Year: 1979
Track Description:
This song was written by Paul Simonon, who joined forces with Simon Tong for...

SHOW LESS

2
The Good, The Bad and The Queen : Herculean
Simon Tong was once in a band called the Verve

SHOW MORE

Track 5 from The Good, The Bad and The Queen
Length: 00:03:59
Year: 2007
Track Description:
Simon Tong was once in a band called the Verve

SHOW LESS

3
The Verve : Sonnet
The Verve was fronted by a guy called Richard Ashcroft

SHOW MORE

Track 2 from Urban Hymns
Length: 00:04:21
Year: 1997
Track Description:
The Verve was fronted by a guy called Richard Ashcroft

SHOW LESS

4
Richard Ashcroft : Nature is Law
Richard Ashcroft was given his backup vocals on this track by Brian Wilson...

SHOW MORE

Track 10 from Human Conditions
Length: 00:04:55
Year: 2002
Track Description:
Richard Ashcroft was given his backup vocals on this track by Brian Wilson...

SHOW LESS

5
The Beach Boys : Pet Sounds
Brian Wilson was the force behind the Beach Boys, and later went solo...

SHOW MORE

Track 12 from Pet Sounds
Length: 00:02:23
Year: 1966
Track Description:
Brian Wilson was the force behind the Beach Boys, and later went solo...

SHOW LESS

6
Brian Wilson : Let It Shine
Brian Wilson had help writing and producing this track by Jeff Lynne...

SHOW MORE

Track 9 from Brian Wilson
Length: 00:03:59
Year: 2000
Track Description:
Brian Wilson had help writing and producing this track by Jeff Lynne...

SHOW LESS

7
Electric Light Orchestra : Sweet Talkin' Woman
Jeff Lynne fronted a band called Electric Light Orchestra...

SHOW MORE

Track 3 from Out of the Blue
Length: 00:03:50
Year: 1977
Track Description:
Jeff Lynne fronted a band called Electric Light Orchestra...

SHOW LESS

8
The Beatles : Free as a Bird
Jeff Lynne realized his life-long dream when he played on this Beatles track...

SHOW MORE

Track 1 from Anthology 1 (Disk 1)
Length: 00:04:26
Year: 1995
Track Description:
Jeff Lynne realized his life-long dream when he played on this Beatles track...

SHOW LESS

9
Danger Mouse : What More Can I Say
The Beatles "collaborated" with Jay-Z on this Danger Mouse creation...

SHOW MORE

Track 2 from The Grey Album
Length: 00:04:27
Year: 2004
Track Description:
The Beatles "collaborated" with Jay-Z on this Danger Mouse creation...

SHOW LESS

10
Gorillaz : Dare
Danger Mouse joined Gorillaz, which also included Miho Hatari...

SHOW MORE

Track 12 from Demon Days
Length: 00:04:04
Year: 2005
Track Description:
Danger Mouse joined Gorillaz, which also included Miho Hatari...

SHOW LESS

11
Cibo Matto : Sugar Water
Miho Hatori had this band, Cibo Matto, that includen Sean Lennon...

SHOW MORE

Track 3 from Viva! La Woman
Length: 00:04:27
Year: 1996
Track Description:
Miho Hatori had this band, Cibo Matto, that includen Sean Lennon...

SHOW LESS

12
Sean Lennon : Wait For Me
Sean Lennon is a fellow who lent his voice to the lads behind Deltron 3030

SHOW MORE

Track 2 from Friendly Fire
Length: 00:02:39
Year: 2006
Track Description:
Sean Lennon is a fellow who lent his voice to the lads behind Deltron 3030

SHOW LESS

13
Deltron 3030 : Memory Loss (feat. Sean Lennon)
Deltron 3030 pushed things into the future and they invited Damon Albarn along for the ride...

SHOW MORE

Track 20 from Deltron 3030
Length: 00:04:39
Year: 2001
Track Description:
Deltron 3030 pushed things into the future and they invited Damon Albarn along for the ride...

SHOW LESS

14
Blur : Music is My Radar
Damon Albarn fronts the band blur, who were influenced by his hero Ray Davies...

SHOW MORE

Track 1 from Music is My Radar
Length: 00:04:21
Year: 2000
Track Description:
Damon Albarn fronts the band blur, who were influenced by his hero Ray Davies...

SHOW LESS

15
Ray Davies & Damon Albarn : Waterloo Sunset
Damon Albarn sung his favorite song, evuh, with the man what wrote it, and that man was Ray Davies...

SHOW MORE

Track 16 from This is Where I Belong: the Songs of Ray Davies and The Kinks
Length: 00:02:40
Year: 2002
Track Description:
Damon Albarn sung his favorite song, evuh, with the man what wrote it, and that man was Ray Davies...

SHOW LESS

16
The Kinks : The Destroyer
Ray Davies is the genius behind the Kinks. And that is how the Clash is like the Kinks

SHOW MORE

Track 6 from Give the People What They Want
Length: 00:03:47
Year: 1981
Track Description:
Ray Davies is the genius behind the Kinks. And that is how the Clash is like the Kinks

SHOW LESS
Tag Board
You must log in to leave a tag
Stuff
Quick Jump
d-loot's other mixes
Related mixes
recent visitors
show all