[?]
Not a member? Sign-up now, it's free!
Login
[?]
These are links to some of the major sections in the mixtape collective.
Lists: Browse various lists that are generated by the loads of data we have collected.
Contests: Check out the latest contests, see previous winners, and find out how you can be a part
Music: Check out our ever-growing database of musical knowledge! Use it to find any artist, album, or track that has been entered since the birth of the site and rate and find detailed usage statistics.
Main
[?]
Tired of looking at the same old pages? Try checking out a random one, you never know what you might find...
Random!
Insomnia Sucks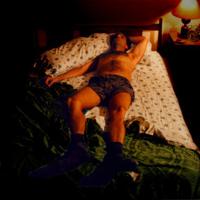 Insomnia Sucks
Created by:
immers
Tracks:
13
Length:
01:03:39
Keywords
1. Insomnia
2. Like a Zombie in the Morning
3. *Yawn*
Created on
10/30/06 10:30pm
Level
6
Points
2899
Total visitors
96
Unique visitors
53
description:
For the last six weeks I have suffered from pretty serious insomnia, I can never get to sleep before 3.30 or 4. Its starting to drive me nuts. I have tried alcohol, herbal tea, valerian root and medicinal "smoking mixtures" but nothing has worked for me. So I thought I would kill two birds with one stone make a mixtape and try to listen to some tunes that would help me drift off. Fingers Crossed!
tracklist
1
Dusty Springfield : Breakfast in Bed
Bit of Dusty to start things off. Talking about bed too. That where I really should be.

SHOW MORE

Track 5 from Dusty in Memphis
Length: 00:02:58
Year: 1969
Track Description:
Bit of Dusty to start things off. Talking about bed too. That where I really should be.

SHOW LESS

2
Nancy Sinatra and Lee Hazelwood : Some Velvet Morning
I love this track. Slowing the mind down ready to relax

SHOW MORE

Track 8 from Fairytale and Fantasies
Length: 00:03:41
Year: 1989
Track Description:
I love this track. Slowing the mind down ready to relax

SHOW LESS

3
Jim White : Still Waters
Slightly twisted lyrics but nice gentle music

SHOW MORE

Track 3 from Wrong Eyed Jesus
Length: 00:06:35
Year: 1997
Track Description:
Slightly twisted lyrics but nice gentle music

SHOW LESS

4
Iron and Wine : Upward Over the Mountain
Nice minimalist production. Relaxing and what I need right now

SHOW MORE

Track 6 from The Creek That Drank The Cradle
Length: 00:05:56
Year: 2002
Track Description:
Nice minimalist production. Relaxing and what I need right now

SHOW LESS

5
Magnetic Fields : Papa was a Rodeo
I find this song soothing, more twisted lyrics, but listing to the music more than the words

SHOW MORE

Track 17 from 69 Love Songs, Vol 2
Length: 00:05:01
Year: 1999
Track Description:
I find this song soothing, more twisted lyrics, but listing to the music more than the words

SHOW LESS

6
Delfonics : Didnt I Blow your Mind This Time
Always considered this baby making music, not tonight though. I need to sleep

SHOW MORE

Track 12 from Jackie Brown OST
Length: 00:03:21
Year: 1997
Track Description:
Always considered this baby making music, not tonight though. I need to sleep

SHOW LESS

7
Goldfrapp : Black Cherry
I have no idea what this song is about, but it sounds great and fits the vibe

SHOW MORE

Track 3 from Black Cherry
Length: 00:04:56
Year: 2003
Track Description:
I have no idea what this song is about, but it sounds great and fits the vibe

SHOW LESS

8
Sneaker Pimps : 6 Underground
I remember the first time I heard this. Blew my mind. I was wasted at the time though.

SHOW MORE

Track 3 from Becoming X
Length: 00:04:06
Year: 1997
Track Description:
I remember the first time I heard this. Blew my mind. I was wasted at the time though.

SHOW LESS

9
Thievery Corporation : Lebanese Blonde
My wife is Lebanese, not blonde though

SHOW MORE

Track 4 from The Mirror Conspiracy
Length: 00:04:49
Year: 2000
Track Description:
My wife is Lebanese, not blonde though

SHOW LESS

10
Air : Playground Love
Favourite Air track and hopefully by now starting to drift off

SHOW MORE

Track 1 from The Virgin Suicides: Original Motion Picture Score
Length: 00:03:32
Year: 2000
Track Description:
Favourite Air track and hopefully by now starting to drift off

SHOW LESS

11
Four Tet : My Angel Rocks Back and Forth
Keeping the pace slowing down.

SHOW MORE

Track 4 from Rounds
Length: 00:05:07
Year: 2003
Track Description:
Keeping the pace slowing down.

SHOW LESS

12
KLF : Magrudaga Eterna
No sleep mix would be complete without a track from Chill Out. Maybe I should forget about the mix and just st [...]

SHOW MORE

Track 5 from Chill Out
Length: 00:07:40
Year: 1990
Track Description:
No sleep mix would be complete without a track from Chill Out. Maybe I should forget about the mix and just stick this on instead?

SHOW LESS

13
Boards of Canada : Aquarius
Finish off with a little Boards of Canada. Hopefully by this time i'll be zzzzzzzzzzzzzzzzzzzzzz

SHOW MORE

Track 12 from Music Has the Right to Children
Length: 00:05:57
Year: 1998
Track Description:
Finish off with a little Boards of Canada. Hopefully by this time i'll be zzzzzzzzzzzzzzzzzzzzzz

SHOW LESS
Tag Board
You must log in to leave a tag
Stuff
Quick Jump
immers's other mixes
Related mixes
recent visitors
show all