[?]
Not a member? Sign-up now, it's free!
Login
[?]
These are links to some of the major sections in the mixtape collective.
Lists: Browse various lists that are generated by the loads of data we have collected.
Contests: Check out the latest contests, see previous winners, and find out how you can be a part
Music: Check out our ever-growing database of musical knowledge! Use it to find any artist, album, or track that has been entered since the birth of the site and rate and find detailed usage statistics.
Main
[?]
Tired of looking at the same old pages? Try checking out a random one, you never know what you might find...
Random!
Cymru Rock vol. 1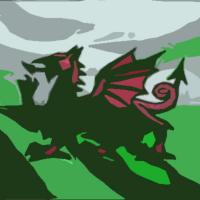 Cymru Rock vol. 1
Created by:
d-loot
Tracks:
10
Length:
00:39:23
Keywords
1. Wales
2. Land of My Fathers
3. Cymru am byth
Created on
3/24/07 03:31pm
Level
4
Points
1825
Total visitors
76
Unique visitors
32
description:
For some time I've been fascinated by Wales. Yet I've only seen it at night, on British Rail, speeding to Fishguard. I've read a couple of books by Niall Griffiths set in Aberystwyth and Northern Wales. It seems like a great place. Though the language does seem a bit impenetrable, I'd give it a shot, if given the chance.

Here's a mix with the Welsh artists I found amongst my CDs. Perhaps not the greatest collection of Welsh music, but a collection none the less.
tracklist
1
Tom Jones : Thunderball
He runs like a Welshman. Doesn't he run like a

SHOW MORE

Track 5 from The Best of Tom Jones
Length: 00:03:06
Year: 0000
Track Description:
He runs like a Welshman. Doesn't he run like a

SHOW LESS

2
Bonnie Tyler : Total Eclipse of the Heart
Who knew the great Bonnie Tyler was Welsh?

SHOW MORE

Track 4 from Faster Than the Speed of Night
Length: 00:06:59
Year: 1983
Track Description:
Who knew the great Bonnie Tyler was Welsh?

SHOW LESS

3
Manic Street Preachers : A Design For Life
I like the Manics. I hope they find Richie, and it turns out he was simply lost in a coal mine or sommink.

SHOW MORE

Track 2 from Everything Must Go
Length: 00:04:16
Year: 1996
Track Description:
I like the Manics. I hope they find Richie, and it turns out he was simply lost in a coal mine or sommink.

SHOW LESS

4
Stereophonics : Hurry Up and Wait
One song from Stereophonics is ok, but sitting through an hour of Kelly Jones' raspy voice can be a bit much. [...]

SHOW MORE

Track 3 from Performance and Cocktails
Length: 00:04:40
Year: 1999
Track Description:
One song from Stereophonics is ok, but sitting through an hour of Kelly Jones' raspy voice can be a bit much.

SHOW LESS

5
Shirley Bassey : Big Spender
Ah Shirley. So classy.

SHOW MORE

Track 1 from Big Spender
Length: 00:02:50
Year: 1967
Track Description:
Ah Shirley. So classy.

SHOW LESS

6
Catatonia : Londinium
There was a time I had a crush on Cerys Matthews.

SHOW MORE

Track 2 from Equally Cursed and Blessed
Length: 00:04:35
Year: 1999
Track Description:
There was a time I had a crush on Cerys Matthews.

SHOW LESS

7
Super Furry Animals : Ysbeidiau Heulog
Not my favorite SFA track, but I thought I should include this one because it is in Welsh.

SHOW MORE

Track 7 from Mwng
Length: 00:02:51
Year: 2000
Track Description:
Not my favorite SFA track, but I thought I should include this one because it is in Welsh.

SHOW LESS

8
Badfinger : No Matter What
A rock 'n roll tragedy this one is

SHOW MORE

Track 5 from No Dice
Length: 00:03:01
Year: 1970
Track Description:
A rock 'n roll tragedy this one is

SHOW LESS

9
Gruff Rhys : Gwn Mi Wn
OK, so I ran out of Welsh Bands. So what? I'm trying to use only my own collection. So Gruff makes it in.

SHOW MORE

Track 2 from Yr Atal Genhedlaeth
Length: 00:02:33
Year: 2005
Track Description:
OK, so I ran out of Welsh Bands. So what? I'm trying to use only my own collection. So Gruff makes it in.

SHOW LESS

10
Cerys Matthews : I Believe In You
I guess I still have a crush on Cerys.

SHOW MORE

Track 8 from Listen to Bob Dylan - A Tribute Album, Disk 1
Length: 00:04:32
Year: 2005
Track Description:
I guess I still have a crush on Cerys.

SHOW LESS
Tag Board
You must log in to leave a tag
Stuff
Quick Jump
d-loot's other mixes
Related mixes
recent visitors
show all