[?]
Not a member? Sign-up now, it's free!
Login
[?]
These are links to some of the major sections in the mixtape collective.
Lists: Browse various lists that are generated by the loads of data we have collected.
Contests: Check out the latest contests, see previous winners, and find out how you can be a part
Music: Check out our ever-growing database of musical knowledge! Use it to find any artist, album, or track that has been entered since the birth of the site and rate and find detailed usage statistics.
Main
[?]
Tired of looking at the same old pages? Try checking out a random one, you never know what you might find...
Random!
LUV4REAL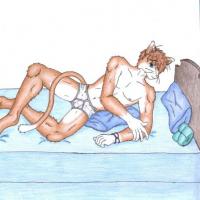 LUV4REAL
Created by:
moogno
Tracks:
12
Length:
00:52:27
Keywords
1. Mix Contest 6
2. Mix Contest 6
3. Mix Contest 6
Created on
11/24/06 04:51am
Level
5
Points
2207
Total visitors
72
Unique visitors
46
This mix was ranked #12 out of 20 entries for this contest
description:
i've been lurking around here for a bit, i wanted to take it slllowwwwwwwwww.
i feel sexy when listening to these songs, a night from fast to slow. some are dancy songs, some are slow songs, some are typical songs, and 100% of these songs contain no moogs. some people say date night, i say "disco nap" around 5, i pick up my lady, go dance, go home, go sex. it's all downhill from here 00:00:00.
tracklist
1
The Dead Milkmen : Punk Rock Girl
sometimes we go shopping for music, but only on thursdays. my lady likes punk rock.
if you don't got Moj [...]

SHOW MORE

Track 7 from Beelzebubba
Length: 00:02:38
Year: 1988
Track Description:
sometimes we go shopping for music, but only on thursdays. my lady likes punk rock.
if you don't got Mojo Nixon then your store could use some fixin'.

SHOW LESS

2
T.S.O.L : Code Blue
necrophelia isn't sexy for most. it's a fast song, and it goes along with the fast to slow theme.
it h [...]

SHOW MORE

Track 2 from Dance With Me
Length: 00:02:09
Year: 1981
Track Description:
necrophelia isn't sexy for most. it's a fast song, and it goes along with the fast to slow theme.
it has character.

SHOW LESS

3
Michael Jackson : The Way You Make Me Feel
as a kid I thought this song was nasty.

SHOW MORE

Track 2 from Bad
Length: 00:04:59
Year: 1987
Track Description:
as a kid I thought this song was nasty.

SHOW LESS

4
Donna Summers : I Feel Love
i still feel kind of nasty from the last song.

SHOW MORE

Track 4 from Endless Summer
Length: 00:03:49
Year: 0000
Track Description:
i still feel kind of nasty from the last song.

SHOW LESS

5
Pulp : Disco 2000
sexy to dance to.

SHOW MORE

Track 8 from Hits
Length: 00:04:33
Year: 2002
Track Description:
sexy to dance to.

SHOW LESS

6
Phoenix : Too Young
DANCE, not nasty.

SHOW MORE

Track 2 from United
Length: 00:03:19
Year: 2005
Track Description:
DANCE, not nasty.

SHOW LESS

7
Genesis : Tonight, Tonight, Tonight (edit)
do you like Phil Collins? I've been a big Genesis fan ever since the release of their 1980 album, Duke. Before [...]

SHOW MORE

Track 7 from Platinum Collection (disc 1)
Length: 00:04:29
Year: 2004
Track Description:
do you like Phil Collins? I've been a big Genesis fan ever since the release of their 1980 album, Duke. Before that, I really didn't understand any of their work. Too artsy, too intellectual. It was on Duke where Phil Collins' presence became more apparent. I think Invisible Touch was the group's undisputed masterpiece. It's an epic meditation on intangibility. At the same time, it deepens and enriches the meaning of the preceding three albums. Christy, take off your robe. Listen to the brilliant ensemble playing of Banks, Collins and Rutherford. You can practically hear every nuance of every instrument. Sabrina, remove your dress.

SHOW LESS

8
Pixies : Where is my Mind?
my mind is on sex.
so sexy when you have a gunshot hole in your cheek, you're holding Marla Singer's han [...]

SHOW MORE

Track 7 from Surfer Rosa
Length: 00:03:53
Year: 1988
Track Description:
my mind is on sex.
so sexy when you have a gunshot hole in your cheek, you're holding Marla Singer's hand, and in two minutes, primary charges will blow base charges and a few square blocks will be reduced to smoldering rubble.
my mind is on love.

SHOW LESS

9
ll cool j : i need love
'I need drugs' or 'I need love'? toughie, i think i need love.

SHOW MORE

Track 9 from bigger and deffer
Length: 00:05:23
Year: 1995
Track Description:
'I need drugs' or 'I need love'? toughie, i think i need love.

SHOW LESS

10
Yeah Yeah Yeahs : Phenomena
she is so hot, i had to use this for the climax. like Stevie Nicks minus the bd gypsywear.

SHOW MORE

Track 4 from Show Your Bones
Length: 00:04:10
Year: 2006
Track Description:
she is so hot, i had to use this for the climax. like Stevie Nicks minus the bd gypsywear.

SHOW LESS

11
Nina Simone : Don't Smoke in Bed
please

SHOW MORE

Track 10 from Ultimate Nina Simone
Length: 00:05:26
Year: 2006
Track Description:
please

SHOW LESS

12
Sigur Rós : Sæglópur
float on a puffy cloud, shut my eyes for a bit, think of all the dreams i really want to have that night, hope [...]

SHOW MORE

Track 6 from Takk
Length: 00:07:39
Year: 2005
Track Description:
float on a puffy cloud, shut my eyes for a bit, think of all the dreams i really want to have that night, hope that thinking of these things will somehow make me dream about these things, forget what i was thinking about, forgetforgetforget. sleep, wake up, forget.

SHOW LESS
Tag Board
You must log in to leave a tag
Stuff
Quick Jump
moogno's other mixes
Related mixes
recent visitors
show all