[?]
Not a member? Sign-up now, it's free!
Login
[?]
These are links to some of the major sections in the mixtape collective.
Lists: Browse various lists that are generated by the loads of data we have collected.
Contests: Check out the latest contests, see previous winners, and find out how you can be a part
Music: Check out our ever-growing database of musical knowledge! Use it to find any artist, album, or track that has been entered since the birth of the site and rate and find detailed usage statistics.
Main
[?]
Tired of looking at the same old pages? Try checking out a random one, you never know what you might find...
Random!
In the Shower...I am a God.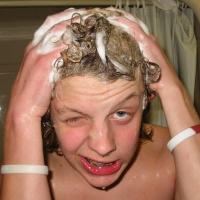 In the Shower...I am a God.
Created by:
sledgbrainerd
Tracks:
19
Length:
01:19:40
Keywords
1. Hot
2. Cold
3. Sing-a-longs
Created on
12/03/06 03:50pm
Level
6
Points
2657
Total visitors
89
Unique visitors
54
description:
I like to listen to music in the shower. I recently found an old mix that I listened to back in 2001. The first half was music for showering during summer, when its warm and happy out. The second half is for winter when its cold, dark, and miserable. The shower is the point in the day when you can ignore all outside happenings and relax. Cooler water during summer, hot water during winter is how I do it.

I also like to sing. Im not afraid to say it. So Im inlcuding a mix that I made a couple of years ago, for singing along to. I feel for anyone in my house at these times.

1-6: Summer
7--11: Winter
12-19: SING!
tracklist
1
The Roots : Love of My Life
Great opener to get ya pumped for the nice weather.

SHOW MORE

Track 6 from Come Alive! (Disc 1)
Length: 00:03:43
Year: 1999
Track Description:
Great opener to get ya pumped for the nice weather.

SHOW LESS

2
Beastie Boys : So Wat'cha Want
This song will be good forever.

SHOW MORE

Track 7 from Check Your Head
Length: 00:03:37
Year: 1992
Track Description:
This song will be good forever.

SHOW LESS

3
Gang Starr : You Know My Steez
Gang Starr = Summer. Anyone who is remotely interested in hiphop should pick up some o this shit.

SHOW MORE

Track 13 from Full Clip: A Decade of Gang Starr (Disc 1)
Length: 00:03:44
Year: 1999
Track Description:
Gang Starr = Summer. Anyone who is remotely interested in hiphop should pick up some o this shit.

SHOW LESS

4
A Tribe Called Quest : Sucka Nigga
This song stays in your head for years.

SHOW MORE

Track 5 from Midnight Marauders
Length: 00:04:04
Year: 1993
Track Description:
This song stays in your head for years.

SHOW LESS

5
Cake : You Turn the Screws
Cake does to your ears what a shower does to your body.

SHOW MORE

Track 5 from Prolonging the Magic
Length: 00:04:13
Year: 1998
Track Description:
Cake does to your ears what a shower does to your body.

SHOW LESS

6
Mr. Bungle : RetroVertigo
This song gives me shower erections. In my opinion This album is the best Summer album of all-time. Buy it bi [...]

SHOW MORE

Track 3 from California
Length: 00:04:59
Year: 1999
Track Description:
This song gives me shower erections. In my opinion This album is the best Summer album of all-time. Buy it bitchez.

SHOW LESS

7
Dungeon Family : Rollin'(Featuring Society of Soul)
Some smooth cool Atlanta rap. Dungeon Family = Outkast, Goodie Mobb, and some others from the Dungeon Family [...]

SHOW MORE

Track 10 from Even in Darkness
Length: 00:04:20
Year: 2001
Track Description:
Some smooth cool Atlanta rap. Dungeon Family = Outkast, Goodie Mobb, and some others from the Dungeon Family "click".

SHOW LESS

8
Gorillaz : Starshine
Creepy and dark, like winter.

SHOW MORE

Track 13 from Gorillaz
Length: 00:03:31
Year: 2001
Track Description:
Creepy and dark, like winter.

SHOW LESS

9
Outkast : Toilet Tisha
It sounds like it getting fucking cold as shit outside.

SHOW MORE

Track 21 from Stankonia
Length: 00:04:24
Year: 2000
Track Description:
It sounds like it getting fucking cold as shit outside.

SHOW LESS

10
Tricky : Bury the Evidence (f. Hawkman)
Gets you pumped (super pumped) to go brave the shittiness outside.

SHOW MORE

Track 9 from Blowback
Length: 00:04:53
Year: 2001
Track Description:
Gets you pumped (super pumped) to go brave the shittiness outside.

SHOW LESS

11
tool : 4º
Someone really put all of the blank tracks from this album in the database? C'mon! Alright if thats how you R [...]

SHOW MORE

Track 8 from Undertow
Length: 00:06:03
Year: 1993
Track Description:
Someone really put all of the blank tracks from this album in the database? C'mon! Alright if thats how you ROLL, then I suggest NIN's Broken, and TV on the Radio's CD version of Return to Cookie Mountain. I think the Roots' Phrenology has some too!

SHOW LESS

12
The Misfits : Where Eagles Dare
"I Ain't No Goddamned Sonofabitch! You Better Think About It Baby!"

SHOW MORE

Track 10 from Box Set (disc 2: 3 Albums)
Length: 00:01:59
Year: 1996
Track Description:
"I Ain't No Goddamned Sonofabitch! You Better Think About It Baby!"

SHOW LESS

13
Danzig : Killer Wolf
Danzig is fun to sing to okay?

SHOW MORE

Track 3 from II: Lucrifuge
Length: 00:03:59
Year: 1990
Track Description:
Danzig is fun to sing to okay?

SHOW LESS

14
Neil Diamond : Forever in Bluejeans
Also my KARAOKE song.

SHOW MORE

Track 0 from The Essential
Length: 00:03:39
Year: 0000
Track Description:
Also my KARAOKE song.

SHOW LESS

15
Tears for Fears : Head Over Heels
Anyone who doesn't sing along to this sweet tune, doesn't have a soul. There. I said it.

SHOW MORE

Track 7 from Songs From the Big Chair
Length: 00:04:09
Year: 1985
Track Description:
Anyone who doesn't sing along to this sweet tune, doesn't have a soul. There. I said it.

SHOW LESS

16
Crowded House : World Where You Live
Underrated band. Some great 80's pop-rock.

SHOW MORE

Track 2 from Crowded House
Length: 00:03:05
Year: 0000
Track Description:
Underrated band. Some great 80's pop-rock.

SHOW LESS

17
Toadies : Possum Kingdom
DUH!

SHOW MORE

Track 4 from Rubberneck
Length: 00:05:09
Year: 1994
Track Description:
DUH!

SHOW LESS

18
Cheap Trick : Surrender
I like pretending to be Damone from Fast Times at Ridgemont High when I rock this shit.

SHOW MORE

Track 1 from Heaven Tonight
Length: 00:04:14
Year: 1978
Track Description:
I like pretending to be Damone from Fast Times at Ridgemont High when I rock this shit.

SHOW LESS

19
NOMEANSNO : State of Grace
This song is very thereputic to sing. Lets all the shit roll down the drain.

SHOW MORE

Track 12 from The Worldhood of the World (As Such)
Length: 00:05:55
Year: 1995
Track Description:
This song is very thereputic to sing. Lets all the shit roll down the drain.

SHOW LESS
Tag Board
You must log in to leave a tag
Stuff
Quick Jump
sledgbrainerd's other mixes
Related mixes
recent visitors
show all