[?]
Not a member? Sign-up now, it's free!
Login
[?]
These are links to some of the major sections in the mixtape collective.
Lists: Browse various lists that are generated by the loads of data we have collected.
Contests: Check out the latest contests, see previous winners, and find out how you can be a part
Music: Check out our ever-growing database of musical knowledge! Use it to find any artist, album, or track that has been entered since the birth of the site and rate and find detailed usage statistics.
Main
[?]
Tired of looking at the same old pages? Try checking out a random one, you never know what you might find...
Random!
The Walk of Shame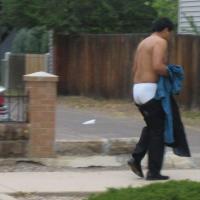 The Walk of Shame
Created by:
sledgbrainerd
Tracks:
25
Length:
01:19:42
Keywords
1. Hungover
2. Sweaty
3. Hot
Created on
7/18/06 06:22pm
Level
7
Points
3041
Total visitors
134
Unique visitors
66
description:
This is a mix I made for walking home in the morning after drinking all night and passing out at random peoples houses. It usually takes about an hour to about an hour and 15 minutes to get home from downtown. It would only take about 40 minutes, but I always stop at Giseppis and get a slice of pizza and lolligag all over the place.

Im gonna be moving to LA in a two days, so I will actually post a link to this mix when I get settled there.

It starts out mellow, goes into elctro/funky stuff, into rockin socks off, into fun/silly tunes. Enjoy.
tracklist
1
The Residents : Love Theme From a Major Motion Picture
A nice intro to the mix.

SHOW MORE

Track 27 from The Warner Bros. Album
Length: 00:00:39
Year: 1971
Track Description:
A nice intro to the mix.

SHOW LESS

2
Neil Diamond : Face Me
This is off of his newest album that was on American Recordings. Rick Rubin was trying to pull of the same th [...]

SHOW MORE

Track 11 from 12 Songs
Length: 00:03:27
Year: 2005
Track Description:
This is off of his newest album that was on American Recordings. Rick Rubin was trying to pull of the same thing he did for Johnny Cash. I'm not sure if he did or not, but I like the album quite a bit. Neil is a badass. The second most badass "NEIL" that comes to mind (Behind Neil Young of Course).

SHOW LESS

3
Isobel Campbell and Mark Lanegan : Revolver
I highly recommend this album. And for you Euro-music-prize-lovers out there, this album is up for the Mercur [...]

SHOW MORE

Track 0 from Ballad Of The Broken Seas
Length: 00:02:40
Year: 2006
Track Description:
I highly recommend this album. And for you Euro-music-prize-lovers out there, this album is up for the Mercury Prize. Great Duet.

SHOW LESS

4
Sharks Keep Moving : All Out Of...
This band is good mellow stuff. A good bridge to the next song from the last one.

SHOW MORE

Track 3 from Desert Strings and Drifters [EP]
Length: 00:02:27
Year: 1998
Track Description:
This band is good mellow stuff. A good bridge to the next song from the last one.

SHOW LESS

5
Jaga Jazzist : Tristar
I already used this song on a mix, but it works too well here to take it off. It will be the only time, I pro [...]

SHOW MORE

Track 5 from Animal Chin EP
Length: 00:03:48
Year: 2002
Track Description:
I already used this song on a mix, but it works too well here to take it off. It will be the only time, I promise.

SHOW LESS

6
AFX : Fenix Funk
This from a collection of songs from his "Analord" series that were vinyl only (untill he put out this collect [...]

SHOW MORE

Track 1 from Chosen Lords
Length: 00:05:06
Year: 2006
Track Description:
This from a collection of songs from his "Analord" series that were vinyl only (untill he put out this collection on CD, I guess). Some of the stuff is awesome, some of them are underwhelming. I dig this tune though.

SHOW LESS

7
Mogwai : Travel Is Dangerous
I think this is the best one on the new album. Back to some mellow sounds after the hyperactive AFX track.

SHOW MORE

Track 4 from Mr. Beast
Length: 00:04:01
Year: 2006
Track Description:
I think this is the best one on the new album. Back to some mellow sounds after the hyperactive AFX track.

SHOW LESS

8
The Avalanches : Run DNA
I saw this on someone else's mix the other day. I haven't seen the video, but I guess I could youtube it. Th [...]

SHOW MORE

Track 6 from El Producto
Length: 00:03:06
Year: 1997
Track Description:
I saw this on someone else's mix the other day. I haven't seen the video, but I guess I could youtube it. This Rapper that they have on this album gets annoying sometimes, but not so much on this tune. The beats are UP N THA DUMP N SHIT.

SHOW LESS

9
Prefuse 73 : Pagina Tres
I think this EP is a bit under-rated. I think that this track especially is where it's at.

SHOW MORE

Track 3 from Reads the Books
Length: 00:02:35
Year: 2005
Track Description:
I think this EP is a bit under-rated. I think that this track especially is where it's at.

SHOW LESS

10
Four Tet : Pockets
I love this song. It reminds me of old video game music. Ive been really digging on Four Tet's stuff lately. [...]

SHOW MORE

Track 1 from Pockets
Length: 00:05:29
Year: 2006
Track Description:
I love this song. It reminds me of old video game music. Ive been really digging on Four Tet's stuff lately. The Madvillain Remixes are dudical. Rounds is the album Ive been peepin' lately.

SHOW LESS

11
Mark Mothersbaugh : Ping Island/Lightning Strike Rescue Op
The 'lectronics on this blend it in well with the surrounding songs and the driving pace of this piece mixes w [...]

SHOW MORE

Track 16 from The Life Aquatic with Steve Zissou Original Soundtrack
Length: 00:04:15
Year: 2004
Track Description:
The 'lectronics on this blend it in well with the surrounding songs and the driving pace of this piece mixes well with the next tune.

SHOW LESS

12
Peaches : Tombstone, Baby
The low ends of this tune are a nice contrast to the orchistra at the end of the Mothersbaugh piece. Some of [...]

SHOW MORE

Track 6 from Fatherfucker
Length: 00:03:08
Year: 2003
Track Description:
The low ends of this tune are a nice contrast to the orchistra at the end of the Mothersbaugh piece. Some of Peaches stuff is annoying but some is kinda rad. She's pretty gross though.

SHOW LESS

13
Tortoise and Bonnie "Prince" Billy : Thunder Road
An electronic/rock cover of the Boss' tune is epic as fuck.

SHOW MORE

Track 2 from The Brave and The Bold
Length: 00:06:28
Year: 2006
Track Description:
An electronic/rock cover of the Boss' tune is epic as fuck.

SHOW LESS

14
Fantomas : Investigation of a Citizen Above Suspicion
Fantomas covering Ennio Morricone? My flapjacket is quivering.

SHOW MORE

Track 14 from Directors Cut
Length: 00:04:01
Year: 2001
Track Description:
Fantomas covering Ennio Morricone? My flapjacket is quivering.

SHOW LESS

15
Melt Banana : Chain-Shot to Have Some Fun
Listen to this band. Some of the best whatever kind of music this is around. Rockin/Avant/Punk/Metal/Noise/E [...]

SHOW MORE

Track 5 from Cell-Scape
Length: 00:03:13
Year: 2003
Track Description:
Listen to this band. Some of the best whatever kind of music this is around. Rockin/Avant/Punk/Metal/Noise/Electronic I think is the genre heading it can be found under in Sam Goody. It has a chick singer too.

SHOW LESS

16
Boris : Electric
Two Japanese bands in a row. More rock. Ive said it a million times. Listen to this fucking band. If I rem [...]

SHOW MORE

Track 6 from Pink (Import)
Length: 00:01:45
Year: 2005
Track Description:
Two Japanese bands in a row. More rock. Ive said it a million times. Listen to this fucking band. If I remember correctly (from when I saw them play along with Thrones and Sunn0))) at Barbati's Pan in Portland) the bass player is a chick, and I think she was even HOT. The whole band is fuckin HAWT, really.

SHOW LESS

17
Dredg : Movement I: @45°N. 180°W
I used to like this band untill Eric played them every second of every day whhile we played Tony Hawk's. Then [...]

SHOW MORE

Track 2 from Leitmotif
Length: 00:01:01
Year: 2001
Track Description:
I used to like this band untill Eric played them every second of every day whhile we played Tony Hawk's. Then they cam out with El Cielo and the singers balls dropped or something and his whole voice was different and sounded like he was trying to be a total bonewagon. Well he succeeded.

SHOW LESS

18
Harkonen : Cannibal
I need to hear more of these guys. This Ep is the only thing I have of theirs and it kicks my ass.

SHOW MORE

Track 3 from Dancing
Length: 00:02:24
Year: 2003
Track Description:
I need to hear more of these guys. This Ep is the only thing I have of theirs and it kicks my ass.

SHOW LESS

19
Foetus : I'll Meet You in Poland, Baby
Something tells me Trent Reznor used to listen to a lot of this guy. I think that something is the fact THAT [...]

SHOW MORE

Track 3 from Hole
Length: 00:04:50
Year: 1984
Track Description:
Something tells me Trent Reznor used to listen to a lot of this guy. I think that something is the fact THAT REZNOR COPIED HIS SINGING STYLE and DOES A SPOT ON IMPRESSION OF THE SINGERS VOICE. I wasnt really into this album, although I appreciate this tune. I want to hear more though, because I discovered a short while ago that the dude behind this band is also the guy behind Steroid Maximus, which I dig on big time.

SHOW LESS

20
Gang Of Four : Not Great Men
Im really proud of the transition from Foetus to this song. Money, Baby, Money. I would probably be more into [...]

SHOW MORE

Track 4 from Return the Gift
Length: 00:03:12
Year: 2005
Track Description:
Im really proud of the transition from Foetus to this song. Money, Baby, Money. I would probably be more into this band, if I had heard them before all those shitty retrorock bands were ripping them off.

SHOW LESS

21
Godheadsilo : Ventrilloqueef
This track makes me LOL.

SHOW MORE

Track 2 from The Scientific Supercake LP
Length: 00:00:20
Year: 0000
Track Description:
This track makes me LOL.

SHOW LESS

22
Frog Eyes : The Akhian Press
Someone told me that the singer of this band looks like a fat Conan O'Brian. That mental image along with the [...]

SHOW MORE

Track 2 from The Folded Palm
Length: 00:01:42
Year: 2004
Track Description:
Someone told me that the singer of this band looks like a fat Conan O'Brian. That mental image along with the guys voice, also makes me LOL.

SHOW LESS

23
Frank Zappa : Fembot in a Wet T-Shirt
This song is the sound of Pure fun and Excitement. YESSSSSSSSSSSSSSSSSSSSSSSSSSSSS SSSSSSSSSSSSSSSSSSSSSSSS!! [...]

SHOW MORE

Track 17 from Zappa Picks by Larry LaLonde of Primus
Length: 00:04:44
Year: 2002
Track Description:
This song is the sound of Pure fun and Excitement. YESSSSSSSSSSSSSSSSSSSSSSSSSSSSS SSSSSSSSSSSSSSSSSSSSSSSS!!!!!!!!

SHOW LESS

24
The Go! Team : Huddle Formation
Continue the fun right on through to the end.

SHOW MORE

Track 8 from Thunder, Lightning, Strike
Length: 00:03:11
Year: 2005
Track Description:
Continue the fun right on through to the end.

SHOW LESS

25
Beastie Boys : Honky Rink
Wrap up the fun streak with some Beastie silliness.

SHOW MORE

Track 0 from Gratitude
Length: 00:02:10
Year: 1992
Track Description:
Wrap up the fun streak with some Beastie silliness.

SHOW LESS
Tag Board
You must log in to leave a tag
Stuff
Quick Jump
sledgbrainerd's other mixes
Related mixes
recent visitors
show all