[?]
Not a member? Sign-up now, it's free!
Login
[?]
These are links to some of the major sections in the mixtape collective.
Lists: Browse various lists that are generated by the loads of data we have collected.
Contests: Check out the latest contests, see previous winners, and find out how you can be a part
Music: Check out our ever-growing database of musical knowledge! Use it to find any artist, album, or track that has been entered since the birth of the site and rate and find detailed usage statistics.
Main
[?]
Tired of looking at the same old pages? Try checking out a random one, you never know what you might find...
Random!
Born In The Fifties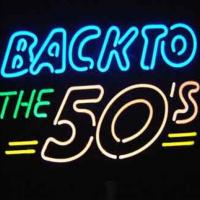 Born In The Fifties
Created by:
johnny_luddite
Tracks:
16
Length:
00:57:01
Keywords
1. fifties
2. innovation
3. child of
Created on
12/05/06 11:31am
Level
6
Points
2651
Total visitors
59
Unique visitors
36
description:
For many, the sixties is the decade that started it all, music wise. The decade before though had much to commend it. Rock and Roll and the cult of the teenager were born. Blues went electric, Sinatra was at his peak, and Jazz grew up as Bebop went to new and exploratory areas. Oh yeah, and it was the decade I was born in!
tracklist
1
Miles Davis : Boplicity
The start of the decade, and Miles Davis was defining what was cool in the world of jazz!

SHOW MORE

Track 8 from Birth of the Cool
Length: 00:03:01
Year: 1950
Track Description:
The start of the decade, and Miles Davis was defining what was cool in the world of jazz!

SHOW LESS

2
Les Paul & Mary Ford : How High the Moon
Astonishing technical guitar wizadry mixed with a middle of the road vocal. It could only be the fifties.

SHOW MORE

Track 13 from Guitar Wizard
Length: 00:02:08
Year: 0000
Track Description:
Astonishing technical guitar wizadry mixed with a middle of the road vocal. It could only be the fifties.

SHOW LESS

3
Muddy Waters : I'm Ready
The blues had moved off the plantations years before, but now it was in the city, Chicago, Detroit, and it was [...]

SHOW MORE

Track 2 from The Chess Box Disc 2 1954-59
Length: 00:03:04
Year: 0000
Track Description:
The blues had moved off the plantations years before, but now it was in the city, Chicago, Detroit, and it was electric. TheMuddy Waters Blues Band were harder than anyone else at the time, none harder than this track. "Iam ready for you, I hope you're ready for me." Chess Records at its finest.

SHOW LESS

4
Jackie Brenston & His Delta Cats : Rocket 88
This is thought by many to be the first authentic rock and roll record, but where R&B and Blues end and R&R be [...]

SHOW MORE

Track 5 from Great Balls Of Fire
Length: 00:02:47
Year: 1989
Track Description:
This is thought by many to be the first authentic rock and roll record, but where R&B and Blues end and R&R begin can be debated till the end of time. What really does matter is that this record was mostly the work of an uncredited Ike Turner.

SHOW LESS

5
Howlin' Wolf : Moanin' At Midnight
Wolf recorded at Chess, with the great Hubert Sumlin on lead guitar, but earlier in the decade he had been at [...]

SHOW MORE

Track 1 from Portrait In Blues
Length: 00:02:58
Year: 0000
Track Description:
Wolf recorded at Chess, with the great Hubert Sumlin on lead guitar, but earlier in the decade he had been at Sun Records in memphis, when Sam Phillips used to record just black artists. That would change...

SHOW LESS

6
Elvis Presley : That's Allright
At the time, Shake Rattle And Roll by the redneck Bill Hailey & The Comets was thought to be R&R record number [...]

SHOW MORE

Track 1 from The Sun Sessions
Length: 00:01:57
Year: 1976
Track Description:
At the time, Shake Rattle And Roll by the redneck Bill Hailey & The Comets was thought to be R&R record number one, but the one that really matters was recorded at Sun Studios in 1954. Elvis lets the black roots of the music show in his vocals whilst Scotty Moore quietly revolutionised forever the way guitar would be played.

SHOW LESS

7
Frank Sinatra : Old Devil Moon
Sinatra reached his peak with the "Songs For Swinging Lovers" album. Romantic orchestral music at its best.

SHOW MORE

Track 6 from Songs For Swinging Lovers
Length: 00:03:57
Year: 1955
Track Description:
Sinatra reached his peak with the "Songs For Swinging Lovers" album. Romantic orchestral music at its best.

SHOW LESS

8
Sonny Rollins : Blue
With his first solo album, Rollins redefined the sax solo, just as Miles was doing for the horn. Jazz and blue [...]

SHOW MORE

Track 5 from Saxophone Colossus
Length: 00:11:14
Year: 1956
Track Description:
With his first solo album, Rollins redefined the sax solo, just as Miles was doing for the horn. Jazz and blues collide here, and Rollins was almost never better!

SHOW LESS

9
Julie London : Cry Me a River
Great guitar and fantastic melancholic vocals. "Now you say you love me..."

SHOW MORE

Track 2 from The Ultimate Collection
Length: 00:02:49
Year: 2006
Track Description:
Great guitar and fantastic melancholic vocals. "Now you say you love me..."

SHOW LESS

10
Otis Rush : All Your Love
Rush was at the peak of his vocal and guitar powers, particularly on this track, the template Peter Green woul [...]

SHOW MORE

Track 24 from The Cobra Sessions 1956-1958
Length: 00:02:38
Year: 0000
Track Description:
Rush was at the peak of his vocal and guitar powers, particularly on this track, the template Peter Green would use to write 'Black Magic Woman' a decade later.

SHOW LESS

11
Roy Orbison : Ooby Dooby
I heard this when I was very young, then forgot about it till I heard it in of all things, a Star Trek film. O [...]

SHOW MORE

Track 1 from The Big "O" - The Early Years
Length: 00:02:15
Year: 0000
Track Description:
I heard this when I was very young, then forgot about it till I heard it in of all things, a Star Trek film. Orbison playing rockabilly in the Sun studios, and playing it very well!

SHOW LESS

12
Little Richard : I Got It
What little Richard had was an incredible voice, soulful yet it rocked.

SHOW MORE

Track 9 from The Essential
Length: 00:02:18
Year: 1985
Track Description:
What little Richard had was an incredible voice, soulful yet it rocked.

SHOW LESS

13
Ritchie Valens : Come On Let's Go
The birth of La Raza rock. La Bamba would have been the obvious choice, so I went for this instead.

SHOW MORE

Track 3 from La Bamba
Length: 00:02:02
Year: 0000
Track Description:
The birth of La Raza rock. La Bamba would have been the obvious choice, so I went for this instead.

SHOW LESS

14
John Lee Hooker : Tell Me Baby
Many of the important blues artists recorded at Chess at sometime in the decade. Even staunch Detroit man John [...]

SHOW MORE

Track 13 from The Complete 50's Chess Recordings disc 2
Length: 00:03:44
Year: 2003
Track Description:
Many of the important blues artists recorded at Chess at sometime in the decade. Even staunch Detroit man John Lee Hooker.

SHOW LESS

15
Jerry Lee Lewis : Whole Lot of Shakin' Going On
Lewis took black blues piano, only watered it down a little, and sold it back to the white kids.

SHOW MORE

Track 13 from Jerry Lee Lewis
Length: 00:02:50
Year: 1957
Track Description:
Lewis took black blues piano, only watered it down a little, and sold it back to the white kids.

SHOW LESS

16
Miles Davis : Billy Boy
I had to include two Miles Davis tracks here. You can tell how jazz and Davis developed in the fifties by comp [...]

SHOW MORE

Track 5 from Milestones
Length: 00:07:19
Year: 1958
Track Description:
I had to include two Miles Davis tracks here. You can tell how jazz and Davis developed in the fifties by comparing the two Miles cuts here.

SHOW LESS
Tag Board
You must log in to leave a tag
Stuff
Quick Jump
johnny_luddite's other mixes
Related mixes
recent visitors
show all