[?]
Not a member? Sign-up now, it's free!
Login
[?]
These are links to some of the major sections in the mixtape collective.
Lists: Browse various lists that are generated by the loads of data we have collected.
Contests: Check out the latest contests, see previous winners, and find out how you can be a part
Music: Check out our ever-growing database of musical knowledge! Use it to find any artist, album, or track that has been entered since the birth of the site and rate and find detailed usage statistics.
Main
[?]
Tired of looking at the same old pages? Try checking out a random one, you never know what you might find...
Random!
Be my metaphorical train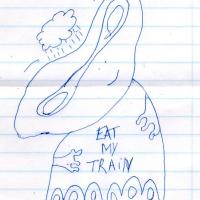 Be my metaphorical train
Created by:
Rover
Tracks:
15
Length:
00:54:26
Keywords
1. Mix Contest 7
2. Mix Contest 7
3. Mix Contest 7
Created on
12/07/06 02:14pm
Level
6
Points
2945
Total visitors
176
Unique visitors
73
This mix was ranked #2 out of 28 entries for this contest
description:
I had real fun making this mix. Actually, I should be studying German, because I have an exam tomorrow. I didn't do anything yet. I made this mix and I celebrated Tom Waits, and I baked some cookies. It's his birthday today. (07/12)

1. Your Favorite Album Opener
2. A Song About Animals
3. A Song That Makes You Want To Commit A Felony
4. A Song About Sex
5. A Song Michael Bolton Should Cover
6. The Worst Song In The World
7. Wildcard: Your Guilty Pleasure
8. If Snoop Dogg's 'Doggystyle' Came Out In 1944
9. A Song < 2:00
10. A Remix Better Than The Original
11. A Song From The Last Record You Purchased
12. A Song That References Video Games
13. A Song With A Swear Word In The Title
14. The Song That Got You Through High School
15. Your Favorite Album Closer

I scribbled the title and the little drawing down when I was watching TV earlier. I don't even remember what I was watching. Anyway, it doesn't mean anything.
tracklist
1
Black Rebel Motorcycle Club : Shuffle Your Feet
This is the opening song to 'Howl'. It's really good stuff. The start is really strong, the band members sing [...]

SHOW MORE

Track 1 from Howl
Length: 00:02:53
Year: 2005
Track Description:
This is the opening song to 'Howl'. It's really good stuff. The start is really strong, the band members sing 'Time won't save our souls' repeatedly, without any instruments.

SHOW LESS

2
The Residents : What Have My Chickens Done Now?
This one was the first thing that came to my mind about animals. This is not my favourite Residents album, but [...]

SHOW MORE

Track 3 from Animal Lover
Length: 00:04:24
Year: 2005
Track Description:
This one was the first thing that came to my mind about animals. This is not my favourite Residents album, but I really like the concept of it. It's based on animal sounds and animal mating - accordingly to the eyeball. I almost touched the eyeball four years ago. That could be one of the most intense moments in my whole short life.

SHOW LESS

3
Wolf Eyes : Dead Hills 2
I had to look up 'felony' on wikipedia to know what it was. I'm so foreign. This song makes me feel so cold in [...]

SHOW MORE

Track 2 from Dead Hills
Length: 00:05:46
Year: 2002
Track Description:
I had to look up 'felony' on wikipedia to know what it was. I'm so foreign. This song makes me feel so cold inside, I think I could easily commit some major crimes. It cuts through your brain like ... brain surgery equipment.

SHOW LESS

4
Juana Molina : Misterio uruguayo
I could have sex to this, but I only just turned sixteen and I have nevereven kissed a boy (or a girl). So don [...]

SHOW MORE

Track 11 from Segundo
Length: 00:04:20
Year: 2003
Track Description:
I could have sex to this, but I only just turned sixteen and I have nevereven kissed a boy (or a girl). So don't rely on my knowledge for this one. Juana Molina is an Argentinian singer, and that's exactly where I'm going to in four months. So now, I really like everything Argentinian. If you like sweet Spanish voices with some tense guitar in the back, you should check this out.

SHOW LESS

5
Man Man : Fishstick Gumbo
This is already the second time I need to look up something on wikipedia. Who the fuck is Michael Bolton? He's [...]

SHOW MORE

Track 12 from Six Demon Bag
Length: 00:00:04
Year: 2006
Track Description:
This is already the second time I need to look up something on wikipedia. Who the fuck is Michael Bolton? He's not famous in this place, that's for sure. But looking at his discography, I suppose he likes his Sinatra. And he looks like his music is crap, according to google images. I'd rather not hear him cover any song. So I give him this: Fishstick Gumbo. It lasts four seconds, but the song actually only starts the second second. It's a little scream, and a slamming door. Wouldn't that be a perfect addition to this Bolton guy's oeuvre?

SHOW LESS

6
Peter Andre : Mysterious Girl
I feel bad for even adding this to the database. Because it is utter crap. My sisters used to fight about Pete [...]

SHOW MORE

Track 3 from Natural
Length: 00:03:43
Year: 0000
Track Description:
I feel bad for even adding this to the database. Because it is utter crap. My sisters used to fight about Peter Andre, about who of the two was the Mysterious Girl he's singing about. And he used to have hair that looked like...a spiderweb. Or whatever. It was very very unpleasant to look at. He's married to Jordan the porn actress with the big boobies, and they are having sex.

SHOW LESS

7
Alejandro Sanz : No Es Lo Mismo
Alejandro! He's my guilty pleasure. You know, he's the guy who sings with Shakira in 'La Tortura'. He's very b [...]

SHOW MORE

Track 1 from No Es Lo Mismo
Length: 00:06:04
Year: 0000
Track Description:
Alejandro! He's my guilty pleasure. You know, he's the guy who sings with Shakira in 'La Tortura'. He's very big in Spain and in Latin America. So I was totally turned on by his voice in 'La Tortura', so at the sales I bought two of his cds for ... not a lot of money. It turns out he doesn't sing any hot songs, only emotional ballads. I don't like ballads, I hate them. But I'm weak, and Alejandro is so hot. This song lasts a whopping six minutes, which is a lot for a song like this. I have no idea WHAT he is singing. That might be the thing, I can invent stories about what he's singing. He's hot and he sings in Spanish. Yess. I could talk about him all day long. (God, this is so wrong)

SHOW LESS

8
Django Reinhardt : Oiseaux Des Iles
This is a hard one for me, because I don't listen to a lot of older music...But there is one I could think of. [...]

SHOW MORE

Track 16 from Hot Club De France
Length: 00:02:51
Year: 0000
Track Description:
This is a hard one for me, because I don't listen to a lot of older music...But there is one I could think of. Django. He played mostly in the 40s and the 50s I think. And he's Belgian! And he produces the most magical sounds with that guitar of his...

SHOW LESS

9
Fugazi : I'm So Tired
This song lasts only 1:58 minutes. It's not your usual Fugazi song, there's just a piano, and Ian singing. Thi [...]

SHOW MORE

Track 12 from Instrument Soundtrack
Length: 00:01:58
Year: 1999
Track Description:
This song lasts only 1:58 minutes. It's not your usual Fugazi song, there's just a piano, and Ian singing. This song makes me feel tired, but it never tires me. (hurray for the word games here)

SHOW LESS

10
Takako Minekawa : Milk Rock (Cornelius remix)
Takako Minekawa is a female japanese singer, she mostly makes soft, electronical songs. And she sings. About c [...]

SHOW MORE

Track 1 from Ximer
Length: 00:05:05
Year: 1999
Track Description:
Takako Minekawa is a female japanese singer, she mostly makes soft, electronical songs. And she sings. About cats and other ordinary things in life. It's goooood. But it gets even better if you add some electronic Cornelius beats. Cornelius is awesome. So if you combine Cornelius with something that's already good, it gets even better! By the way, Takako and Cornelius are married. They make a great musical couple!

SHOW LESS

11
M. Ward : Chinese Translation
I'm cheating a bit on this one, because the last album I purchased was a Jules Verne audiobook. That's not ver [...]

SHOW MORE

Track 6 from Post-War
Length: 00:04:00
Year: 2006
Track Description:
I'm cheating a bit on this one, because the last album I purchased was a Jules Verne audiobook. That's not very appropriate mixtape material. But this is: Post-War by M. Ward! It's a really great album. M. Ward and his americana-ish stuff gives me the chills. This song has a beautiful hook:

What would you do with the pieces of a broken heart?

Isn't that the most beautiful thing you've ever heard? Well, to me it is.

SHOW LESS

12
Fantomas : 4/10/05 Sunday
I only recently discovered Fantômas. I had to, because I had just watched the French movie with the same titl [...]

SHOW MORE

Track 10 from Suspended Animation
Length: 00:02:19
Year: 2005
Track Description:
I only recently discovered Fantômas. I had to, because I had just watched the French movie with the same title, and I remember there was a band with the same name. This whole album drives me crazy. This song reminded me of my old Nintendo console the minute I heard it.

SHOW LESS

13
Quasi : Hot Shit
It's not what you would expect with such a title. It sounds a bit sad. A slow beginning, the voices join in ve [...]

SHOW MORE

Track 1 from Hot Shit
Length: 00:04:31
Year: 2003
Track Description:
It's not what you would expect with such a title. It sounds a bit sad. A slow beginning, the voices join in very late. It's good shit, but not hot shit. It reminds me vaguely of oceans and fish, for no reason at all.

SHOW LESS

14
Eels : Guest List
'Sometimes it feels like I'm made of eggshell, and it feels like I'm gonna crack.'
Those lyrics get me ev [...]

SHOW MORE

Track 8 from Beautiful Freak
Length: 00:03:13
Year: 1996
Track Description:
'Sometimes it feels like I'm made of eggshell, and it feels like I'm gonna crack.'
Those lyrics get me everytime. I'm still in what the americans would call highschool, and when I feel blue I put on this album, and I'll still feel blue. Yeah, that's kind of sad. This song has all of my teenage girl frustrations in it.

SHOW LESS

15
Tom Waits : Rainbirds
The instrumental end of 'Swordfishtrombones'. It's beautiful.

SHOW MORE

Track 15 from Swordfishtrombones
Length: 00:03:15
Year: 1983
Track Description:
The instrumental end of 'Swordfishtrombones'. It's beautiful.

SHOW LESS
Tag Board
You must log in to leave a tag
Stuff
Quick Jump
Rover's other mixes
Related mixes
recent visitors
show all