[?]
Not a member? Sign-up now, it's free!
Login
[?]
These are links to some of the major sections in the mixtape collective.
Lists: Browse various lists that are generated by the loads of data we have collected.
Contests: Check out the latest contests, see previous winners, and find out how you can be a part
Music: Check out our ever-growing database of musical knowledge! Use it to find any artist, album, or track that has been entered since the birth of the site and rate and find detailed usage statistics.
Main
[?]
Tired of looking at the same old pages? Try checking out a random one, you never know what you might find...
Random!
Bahian Summer Plus Other Pop Favourites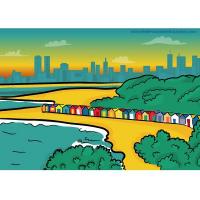 Bahian Summer Plus Other Pop Favourites
Created by:
simurai
Tracks:
13
Length:
00:43:48
Keywords
1. Brazil
2. 60's Pop
3. Summer
Created on
12/16/06 09:13pm
Level
5
Points
2285
Total visitors
47
Unique visitors
33
description:
This is in some ways the opposite to the last mix. That was gloomy and electronicy, this one features a much lighter mood, and an emphasis on real instrumentation, specifically acoustics. The sound is laid-back, and unmistakebly summery.

I also tried to contain a Brazillian theme, I think around half the tracks contain bossa rhythms which always reminds me of fun times in the Brazillian summer, etc. Lots of 60's Pop is included. To me this music is synonomous with feelings of summer happiness. Also I used some of the current crop of hip-hop influenced electronic type folk producers.

It is titled 'Bahian Summer Plus Other Pop Favourites'. The two actual Brazillian acts on this mix were both from the Bahia region, a region lauded by people such as John Coltrane and so many more I can't think of right now as a great place for music. The Bahian Summer part is also a reference to the Beach Boys' Endless Summer compilation. I added Plus Other Pop Favourties, because just leaving the first part wouldn't be such an honest representation of the mix. The Other Pop Favourites part also serves as a reference to those compilations put out in the 60's and 70's.

This tape features music from lots of different places, in five different languages: English, Portuguese, French, Korean and Japanese. Lots of different regional flavours here, but over the same feel.

The cover is a cartoonish type image I found on google of the beach I live not too far from. It makes it look a lot cooler than it is.

Anyway, that's probably enough from me. It's summer here, so I'm gonna go and actually make this tape, then head to the beach with a boom box. I hope you like it.
tracklist
1
Caetano Veloso : Irene
Glorious start to the mix. Perfect bossa rhythm and sweet nylon string guitar and vocals. You have to really h [...]

SHOW MORE

Track 1 from Caetano Veloso
Length: 00:03:49
Year: 1969
Track Description:
Glorious start to the mix. Perfect bossa rhythm and sweet nylon string guitar and vocals. You have to really hear the melodies to love this song as much as I do.

I read somewhere when translated, this song says "I want to hear Irene laughing" Which is a nice enough lyric, but the Irene mentioned is some political activist's machine gun. Pretty irrelevant to the mix, but the Charlton Heston fan in me thinks that's great.

SHOW LESS

2
The Zombies : This Will Be Our Year
Odessey & Oracele is probably my favourite album from the 60's. This such a lovely positive track, and seeing [...]

SHOW MORE

Track 9 from Odessey & Oracle
Length: 00:02:08
Year: 0000
Track Description:
Odessey & Oracele is probably my favourite album from the 60's. This such a lovely positive track, and seeing how it's nearly the new year I thought it was fitting.

SHOW LESS

3
Beulah : What Will You Do When Your Suntan Fades
This song is so damned smooth. That gentle bossa nova rhythm with the light piano, it makes me want a Kahlua + [...]

SHOW MORE

Track 3 from The Coast Is Never Clear
Length: 00:04:05
Year: 2001
Track Description:
This song is so damned smooth. That gentle bossa nova rhythm with the light piano, it makes me want a Kahlua + Milk.

The lyrics have got a bit of a sadder edge, an end of summer type thing, but you have to be listening to it deeper than I will be to notice.

SHOW LESS

4
The Crayon Fields : Midnight
This band and track will probably me lost on most people. They're a local band from my city of Melbourne, and [...]

SHOW MORE

Track 11 from Animal Bells
Length: 00:03:18
Year: 2006
Track Description:
This band and track will probably me lost on most people. They're a local band from my city of Melbourne, and they make the most beautiful 60's inspired pop, with a distinctive dreamy quality. Beautiful harmonies and organs. It's probably my favourite record of the year, and I think that's very sad that most people here won't hear it. If you do want to hear this band though, you can check out a few songs at: http://www.mysp ace.com/thecrayonfields

Anyway, the main reason this song is on the mix is just because it sounds so gorgeous. Xylophones ring and guitars shimmer, plus the really dreamy vocals and harmonies. Beautiful.

SHOW LESS

5
Daedelus : Sundown
First reason this is here, Brazillian rhythms. There's this section in the middle, this big percussive breakdo [...]

SHOW MORE

Track 2 from Denies The Day's Demise
Length: 00:03:18
Year: 2006
Track Description:
First reason this is here, Brazillian rhythms. There's this section in the middle, this big percussive breakdown, with the crowd clapping and chanting, and I just think that's great. Oh, and did I mention; cowbell!

He's one of the guys doing this whole authentic sound vs digital thing. Bongos and synths kinda play against each other to create a really cool blend.

SHOW LESS

6
Stereolab : Cybele's Reverie
My favourite Stereolab song. Oozes 60's french lounge-pop feel, and I love it. To me this track has a lovely l [...]

SHOW MORE

Track 2 from Emperor Tomato Ketchup
Length: 00:04:42
Year: 1996
Track Description:
My favourite Stereolab song. Oozes 60's french lounge-pop feel, and I love it. To me this track has a lovely laid-back feel, and I think it would make a great soundtrack to a day at the beach, or maybe a barbeque.

SHOW LESS

7
Gal Costa : Não Identificado
First and foremost reason this track is on here: it is absolutely gorgeous. Gal's voice always makes me swoon, [...]

SHOW MORE

Track 1 from Gal Costa
Length: 00:03:09
Year: 1968
Track Description:
First and foremost reason this track is on here: it is absolutely gorgeous. Gal's voice always makes me swoon, but with this track's melody and those sweeping strings, it's amazing. Also, she is Brazillian, from the Bahia reigon.

SHOW LESS

8
Kim Jung Mi : 햇님
A beautiful summery folk feel, with diving vocals from miss Kim Jung Mi. I don't understand what's being said, [...]

SHOW MORE

Track 1 from Now
Length: 00:07:02
Year: 1973
Track Description:
A beautiful summery folk feel, with diving vocals from miss Kim Jung Mi. I don't understand what's being said, but this music is really beautiful. It's from Korea.

SHOW LESS

9
Manitoba : Crayon
This song just rules the xylophones and everything working together is just great. Like Daedelus, Manitoba (or [...]

SHOW MORE

Track 9 from Up In Flames
Length: 00:02:40
Year: 2003
Track Description:
This song just rules the xylophones and everything working together is just great. Like Daedelus, Manitoba (or Caribou) is one of the best of these computer folk type bands.

SHOW LESS

10
Maple Leaf : 卒業
This is probably the most summery pop song ever written. So happy sounding, this song always makes me smile. I [...]

SHOW MORE

Track 4 from メープル・リーフ
Length: 00:02:46
Year: 1972
Track Description:
This is probably the most summery pop song ever written. So happy sounding, this song always makes me smile. I also love the fact they're singing in Japanese, and I don't understand a word (actually, I, do, they say Sayonara), but I know what's going on.

SHOW LESS

11
Claire Dixon : Je n'ai besoin que de ...
Lovely sounding 60's girl pop from France. This comes from a really awesome compilation of French girl pop stu [...]

SHOW MORE

Track 23 from Ultra Chicks - Filles In The Garage: Volume 1
Length: 00:02:30
Year: 2000
Track Description:
Lovely sounding 60's girl pop from France. This comes from a really awesome compilation of French girl pop stuff from the 60's called Ultra Chicks. There are heaps of comps for english stuff like that, but this is the first I've seen of French stuff, and it's all great.

SHOW LESS

12
The Go! Team : Feel Good by Numbers
A short description on why you chose to include this song: this song is fun. There's your short description.

SHOW MORE

Track 4 from Thunder, Lightning, Strike
Length: 00:01:56
Year: 2005
Track Description:
A short description on why you chose to include this song: this song is fun. There's your short description.

SHOW LESS

13
The Beach Boys : Wouldn't It Be Nice
Anyone who thinks The Beach Boys would be on a tape like this are kidding themselves. I probably picked the mo [...]

SHOW MORE

Track 1 from Pet Sounds
Length: 00:02:25
Year: 1966
Track Description:
Anyone who thinks The Beach Boys would be on a tape like this are kidding themselves. I probably picked the most obvious track as well, but that doesn't matter when it's so perfect.

SHOW LESS
Tag Board
You must log in to leave a tag
Stuff
Quick Jump
simurai's other mixes
Related mixes
recent visitors
show all