[?]
Not a member? Sign-up now, it's free!
Login
[?]
These are links to some of the major sections in the mixtape collective.
Lists: Browse various lists that are generated by the loads of data we have collected.
Contests: Check out the latest contests, see previous winners, and find out how you can be a part
Music: Check out our ever-growing database of musical knowledge! Use it to find any artist, album, or track that has been entered since the birth of the site and rate and find detailed usage statistics.
Main
[?]
Tired of looking at the same old pages? Try checking out a random one, you never know what you might find...
Random!
Fuck Hip Hop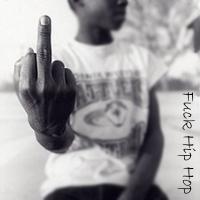 Fuck Hip Hop
Created by:
bootylicious
Tracks:
19
Length:
01:16:28
Keywords
1. hip hop
2. cash, money, hos
3. gold teef
Created on
6/12/06 04:23am
Level
9
Points
4665
Total visitors
658
Unique visitors
258
description:
Great songs from some of my favorite hip hop artists.. Inspired by the RJD2 track "F.H.H." that finishes this mix off, this is a shot at the sorry state of hip hop today.. ryhming words by extending the suffix or just adding urrrrrrrrrrrrrrrrrr, the cash, money, hos flying around in all the videos, etc.. all you see nowadays is shit.

You'd be hard pressed to find any these artists sporting gold teef, spinning rims and 50 lbs of bling.
tracklist
1
Handsome Boy Modeling School : If It Wasn't for You (feat. De La Soul & Starchild Excalibur)
The intro on this track makes it a fun one to start the mix with. I enjoy the vocals on this song, combined wi [...]

SHOW MORE

Track 2 from White People
Length: 00:04:37
Year: 2004
Track Description:
The intro on this track makes it a fun one to start the mix with. I enjoy the vocals on this song, combined with the track it offers a general chill feeling.

SHOW LESS

2
Buck 65 : Wicked and Weird
This song has a bouncy, quick beat which makes for a pleasant change from Buck 65's usually depressing sound. [...]

SHOW MORE

Track 2 from Talkin' Honkey Blues
Length: 00:03:42
Year: 2003
Track Description:
This song has a bouncy, quick beat which makes for a pleasant change from Buck 65's usually depressing sound.

SHOW LESS

3
People Under the Stairs : Youth Explosion
PUTS are an old favorite for me, I was way into them for awhile.. but they never get old.

This is [...]

SHOW MORE

Track 3 from Question in the Form of an Answer
Length: 00:04:41
Year: 2000
Track Description:
PUTS are an old favorite for me, I was way into them for awhile.. but they never get old.

This is a great track from PUTS that represents their musical style well. It has a good beat, with some light horns for melody and some light scratching throughout the background.

SHOW LESS

4
A Tribe Called Quest : I Left My Wallet in El Segundo
Another of my favorite Tribe songs, this is an upbeat, fun, track with a rad beat and a bit of dialogue inters [...]

SHOW MORE

Track 7 from Hits, Rarities & Remixes
Length: 00:04:04
Year: 2003
Track Description:
Another of my favorite Tribe songs, this is an upbeat, fun, track with a rad beat and a bit of dialogue interspersed.

SHOW LESS

5
Digable Planets : Time & Space (A New Refutation Of)
I've been on a major Digable Planets kick lately. I love these guys (and girl)..

They've got a grea [...]

SHOW MORE

Track 5 from Reachin' (A New Refutation of Time and Space)
Length: 00:03:32
Year: 0000
Track Description:
I've been on a major Digable Planets kick lately. I love these guys (and girl)..

They've got a great, jazzy beat which is why I like them so much.. the jazziness gets me every time.. that, and the fact that Ladybug Mecca is the most talented female vocalist I've ever heard. She's got a soft, sexy, funky voice that gets me into the groove every time.

Fade out the outro on the track if you want, but I think it makes for a good transition to the next song.

SHOW LESS

6
Busdriver : Kev's Blistering Computer Tan and Driver's Rapper's Moniker
Busdriver has a very upbeat, funky, crazy style. The fluctuations in his voice along with the kindof jazzy tra [...]

SHOW MORE

Track 5 from Cosmic Cleavage
Length: 00:03:53
Year: 0000
Track Description:
Busdriver has a very upbeat, funky, crazy style. The fluctuations in his voice along with the kindof jazzy tracks with sort-of walking baselines make for a great, unique style.

SHOW LESS

7
DJ Shadow : Why Hip Hop Sucks in '96
Here is a quick interlude to tie the mix together a bit.. the only vocals in this song are a quick statement o [...]

SHOW MORE

Track 10 from Endtroducing.....
Length: 00:00:41
Year: 1996
Track Description:
Here is a quick interlude to tie the mix together a bit.. the only vocals in this song are a quick statement of why hip hop sucks in '96.. which holds true for today as well...

"Its the money."

SHOW LESS

8
Del tha Funkee Homosapien : Proto Culture (feat. Khaos Unique)
"I play games by Capcom/With a Powerglove strapped on/On any platform/I don't spend my dough on Phat Pharm"
SHOW MORE
Track 16 from Both Sides of the Brain
Length: 00:04:15
Year: 2000
Track Description:
"I play games by Capcom/With a Powerglove strapped on/On any platform/I don't spend my dough on Phat Pharm"

My all time favorite hip hop artist, Del never disappoints. You can't NOT like a guy who raps about stuff like video games and mechs. I believe he has the midas touch, which can be seen in the many artists he has had a hand in, several of which are on this mix.

This is one of my favorite Del songs, its all about video games and displays Del's extensive knowledge of all things badass.

SHOW LESS

9
Jurassic 5 : Concrete Schoolyard
This is an oldie from the J5, released on their EP 3 years before their first full-length came out. Its probab [...]

SHOW MORE

Track 5 from EP
Length: 00:05:23
Year: 1997
Track Description:
This is an oldie from the J5, released on their EP 3 years before their first full-length came out. Its probably my favorite J5 song, because it has a fun track, good beat, gang vocals (most mixtapes need at least one song with gang vocals), and I just generally like Chali 2na's deep, deep voice.

SHOW LESS

10
Deltron 3030 : Positive Contact
Another awesome creation from Del.. and of course Dan the Automator and Kid Koala. This track has has a cool k [...]

SHOW MORE

Track 5 from Deltron 3030
Length: 00:04:42
Year: 2001
Track Description:
Another awesome creation from Del.. and of course Dan the Automator and Kid Koala. This track has has a cool kindof "radar" type bwowwow bass sound and either synthesizers or high pitched horns that give this track a funky feel.. along with some sweet samples and scratching done by Kid Koala.

SHOW LESS

11
Souls of Mischief : Disseshowedo
I liked the way this song flows with the Deltron song right before it.. its got a cool track with some horns a [...]

SHOW MORE

Track 5 from 93 'til Infinity
Length: 00:02:59
Year: 1993
Track Description:
I liked the way this song flows with the Deltron song right before it.. its got a cool track with some horns and guitar, as well as that repeating wah note on the guitar that sort of holds the theme from the last song.

SHOW LESS

12
Themselves : Mouthful
This song is used here as an interlude between the funkier, more upbeat happier hip hop and the more intense, [...]

SHOW MORE

Track 2 from The No Music
Length: 00:04:07
Year: 2002
Track Description:
This song is used here as an interlude between the funkier, more upbeat happier hip hop and the more intense, angrier sounding hip hop.

The second half of this song is filled with noise and feedback which makes it flow quite well into the Dälek song after it.

SHOW LESS

13
Dälek : Distorted Prose
I like the unique sound of Dälek, the style of vocals combined with the music gives it a much more dramatic a [...]

SHOW MORE

Track 1 from Absence
Length: 00:06:00
Year: 2004
Track Description:
I like the unique sound of Dälek, the style of vocals combined with the music gives it a much more dramatic and poetic feeling than most hip hop.

SHOW LESS

14
Hieroglyphics : Mics of the Roundtable
Much like Souls of Mischief ('cause its some of the same people) I enjoy Hiero's vocals and sweet tracks.. thi [...]

SHOW MORE

Track 12 from Third Eye Vision
Length: 00:04:43
Year: 2001
Track Description:
Much like Souls of Mischief ('cause its some of the same people) I enjoy Hiero's vocals and sweet tracks.. this one almost sounds mystical in a way.

SHOW LESS

15
Dr. Octagon : halfsharkalligatorhalfman
"YES you have met the dangerous 208 year old uncle of Dr. Octagon"

How could the combination of Koo [...]

SHOW MORE

Track 17 from Dr. Octagonecologyst
Length: 00:04:29
Year: 1997
Track Description:
"YES you have met the dangerous 208 year old uncle of Dr. Octagon"

How could the combination of Kool Keith and Dan the Automator not be absolutely awesome?! And if the last track on the mix sounded mystical, this is fucking twilight zone.

SHOW LESS

16
Sage Francis : Personal Journalist
Corey introduced me to Sage Francis a couple of years ago when we worked together one summer.. this album was [...]

SHOW MORE

Track 3 from Personal Journals
Length: 00:02:49
Year: 2002
Track Description:
Corey introduced me to Sage Francis a couple of years ago when we worked together one summer.. this album was listened to quite often on the drive to and from work.. the angry style fit well with the depressing job we had.

SHOW LESS

17
Non Phixion : Futurama
"Reign in blood/Sorta like Slayer did in '86"

Non Phixion is quite possibly the group that introduc [...]

SHOW MORE

Track 1 from The Future Is Now
Length: 00:04:07
Year: 0000
Track Description:
"Reign in blood/Sorta like Slayer did in '86"

Non Phixion is quite possibly the group that introduced me to good hip hop. This is another angry, hardcore sounding song. The track has some great high-pitched strings that give it an unresting feeling that flows with the intensity of their vocals.

You can't not like a hip hop group that references a Slayer album in the first song of their album, and then mentions a Sabbath concert in the next track!

SHOW LESS

18
The Socialists : Socialists
Another group Corey introduced me to a couple of summers ago.. The Socialists have a great sound. This is one [...]

SHOW MORE

Track 10 from The Socialists
Length: 00:03:13
Year: 0000
Track Description:
Another group Corey introduced me to a couple of summers ago.. The Socialists have a great sound. This is one of my favorite songs of theirs.. the samples are rad.

SHOW LESS

19
RJD2 : F.H.H. (feat. Jakki)
"Keep tryna keep it real by keepin' it raw/While half of y'all still be keepin' it flaw/And all the real heads [...]

SHOW MORE

Track 8 from Deadringer
Length: 00:04:31
Year: 2002
Track Description:
"Keep tryna keep it real by keepin' it raw/While half of y'all still be keepin' it flaw/And all the real heads scream "FUCK HIP HOP!"/Until this mediocre bullshit stops"

This is the inspirational title track of this mix, a rant about the sorry state that hip hop is in and a sort of call to action to step up and stop producing shit..

"Like kids who think they words rhyme 'cause they the suffix"

SHOW LESS
Tag Board
You must log in to leave a tag
Stuff
Quick Jump
bootylicious's other mixes
Related mixes
recent visitors
show all