[?]
Not a member? Sign-up now, it's free!
Login
[?]
These are links to some of the major sections in the mixtape collective.
Lists: Browse various lists that are generated by the loads of data we have collected.
Contests: Check out the latest contests, see previous winners, and find out how you can be a part
Music: Check out our ever-growing database of musical knowledge! Use it to find any artist, album, or track that has been entered since the birth of the site and rate and find detailed usage statistics.
Main
[?]
Tired of looking at the same old pages? Try checking out a random one, you never know what you might find...
Random!
My Sampler Ate This EP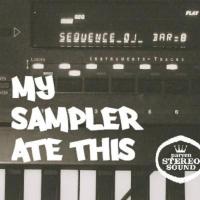 My Sampler Ate This EP
Created by:
ParYen
Tracks:
10
Length:
00:50:21
Keywords
1. hip hop
2. jazz rock soul r&b
3. samples
Created on
12/16/06 01:55am
Level
5
Points
2213
Total visitors
65
Unique visitors
39
description:
I've taken some fresh songs that I like (from Gentle Giant, Hubert Laws, etc) and paired them up with a hip hop track where the producer has utilized some portion of that particular song. Someone else did a similar mix earlier in the year, but I can't remember who. I just wanted to have a little fun and make a mix that lasts around an hour. I really like all of these songs.
tracklist
1
Mad Men : Mad Men On Arrival
Well into "Passacaglia in C Minor" Kan Kick extracts a dark loop and adds some drums that hum...
Lyrics b [...]

SHOW MORE

Track 4 from Mad Men On Arrival EP
Length: 00:03:27
Year: 2002
Track Description:
Well into "Passacaglia in C Minor" Kan Kick extracts a dark loop and adds some drums that hum...
Lyrics by: Declaime, Kan Kick and Poppy. Produced by: Kan Kick. Recorded on: 8 track at Aunt Lois' kilnroom, Las Vegas by Kan Kick and Declaime. Declaime, by the way, IS Dudley Perkins. And this 8 track; it was rented.
I was just waiting to insert a Mad Men track. Hip hop at its finest.

SHOW LESS

2
Hubert Laws : Passacaglia in C Minor
Mad Men On Arrival.
The music in Hubert Laws' 'Afro-Classic' was arranged, reconstructed and/or adapted b [...]

SHOW MORE

Track 4 from Afro-Classic
Length: 00:15:10
Year: 1970
Track Description:
Mad Men On Arrival.
The music in Hubert Laws' 'Afro-Classic' was arranged, reconstructed and/or adapted by Don Sebesky. The album draws on the classics as a source of material-- and in some cases, form-- and on African influences for rhythm and sonority. The idea was to provide a setting in which the classic and African forms could coexist. Where these two forms go beyond coexistence, and intermix, it was an unshceduled development that happened during the recording sessions-- the natural outcome of improvisation.

SHOW LESS

3
Quasimoto : Boom Music
The opening strums from Sam & Dave.
Produced, recorded and mixed by Madlib for Madlib Productions (ASCAP) [...]

SHOW MORE

Track 12 from The Unseen
Length: 00:02:47
Year: 2000
Track Description:
The opening strums from Sam & Dave.
Produced, recorded and mixed by Madlib for Madlib Productions (ASCAP) at the Conductors Hideaway. Additional mixdown by Kut Masta Kurt at Threshold Recordings and Peanut Butter Wolf at The Dump. Furry monster created by Keith Beats a.k.a. DJ Design.

SHOW LESS

4
Sam & Dave : When Something Is Wrong With My Baby
Boom Music.
Time Magazine, October 25, 1968: "...Of all the R&B cats, nobody steams up the place like Sa [...]

SHOW MORE

Track 2 from The Best Of Sam & Dave
Length: 00:03:15
Year: 1969
Track Description:
Boom Music.
Time Magazine, October 25, 1968: "...Of all the R&B cats, nobody steams up the place like Sam & Dave..."
All of these recordings were made in Memphis by the talented producing-writing team Isaac Hayes and David Porter.

SHOW LESS

5
Mood : Illuminated Sunlight
The group keeps the MOODy feel of Pradizer Adeus (To Say Goodbye) with their sampling on this track.
Mood [...]

SHOW MORE

Track 15 from Doom
Length: 00:05:02
Year: 1997
Track Description:
The group keeps the MOODy feel of Pradizer Adeus (To Say Goodbye) with their sampling on this track.
Mood is a hip hop group based in Cincinnati, Ohio, composed of rappers Main Flow, Donte, and producer Jahson. Their 1997 album 'Doom' featured production by a young Hi-Tek and guest appearances by Talib Kweli. Although overlooked, they are one of the more influential groups in Hip Hop, considering the release of Doom was in 1997, a formative era for the genre.

SHOW LESS

6
Sérgio Mendes & Brasil '66 : Pradizer Adeus (To Say Goodbye)
Illuminated Sunlight.
Look around... beyond the double glass wall, Sergio Mendes walks to the piano. The [...]

SHOW MORE

Track 7 from Look Around
Length: 00:03:03
Year: 1967
Track Description:
Illuminated Sunlight.
Look around... beyond the double glass wall, Sergio Mendes walks to the piano. The many weeks of perfection-seeking preparation are behind him. He's ready. His group is ready. In the booth, producer Herb Alpert, the engineer and the wheels of tape are ready. Sergio closes his eyes. He finds just the right tempo. "Um, dois, tres!" ...the music starts...the magic begins. Suddenly the studio does have wings. Suddenly it flies. And what a flight! Smooth as glass. Like seagull kites over the warm sands of Copacabana beach...the incredible cool green of the rain forests...the joy of Carnival. The sight and sound of Brazil.

SHOW LESS

7
Busta Rhymes : Where We Are About To Take It
Producer Nottz extracted from Dick Hyman's Moog stylings of "The Topless Dancers of Corfu"...
Nottz has p [...]

SHOW MORE

Track 3 from E.L.E. (Extinction Level Event): The Final World Front
Length: 00:03:06
Year: 1998
Track Description:
Producer Nottz extracted from Dick Hyman's Moog stylings of "The Topless Dancers of Corfu"...
Nottz has produced for some of the biggest names in hip hop including Notorious B.I.G., Busta Rhymes, Method Man, Scarface, Snoop Dogg, and G-Unit. Some of his earliest production work was on the Rawkus Records compilation Lyricist Lounge, Volume One, in 1998. From there he landed three tracks on Busta Rhymes' Extinction level Event LP, after Rhymes stumbled across one of his beattapes.

SHOW LESS

8
Dick Hyman : Topless Dancers Of Corfu
Where We Are About To Take It.
Greek music, which, along with Indian music, are two of the current influe [...]

SHOW MORE

Track 1 from MOOG: The Electric Eclectics Of Dick Hyman
Length: 00:03:01
Year: 1969
Track Description:
Where We Are About To Take It.
Greek music, which, along with Indian music, are two of the current influences on Dick Hyman's musical creativity, is the basis for this piece. This was one of the selections that Dick composed in advance, one on which he uses the live rhythm section. Because the synthesizer can play only one note at a time and has only two keyboards, overdubbing was necessary to create fully harmonized melodies. In the overdubbing process, Dick threw in some double speeded effects which reproduce as a high, bird-like sound. The sudden, rising, whistling sounds are unique to the synthesizer. "When you play the synthesizer keyboard as though it were a piano or organ, funny things happen," Dick said. "On a piano or an organ, if you're playing staccato and you hold a note for a second, it will fade away downward. But if you play a note in the same fashion on the synthesizer, it goes up. It's weird."

SHOW LESS

9
Lootpack : Likwit Fusion (Featuring The Alkoholiks & Defari)
One of many tracks to grab the keys off "Proclamation."
The Lootpack = Madlib, Wildchild, DJ Romes
T [...]

SHOW MORE

Track 15 from Soundpieces: Da Antidote!
Length: 00:04:46
Year: 1999
Track Description:
One of many tracks to grab the keys off "Proclamation."
The Lootpack = Madlib, Wildchild, DJ Romes
Tha Alkaholiks = E-Swift, Tash, J-Ro
Hail to power, hail to glory's way... Cuz beats knock redundant off the SP-1200. (Everyone seems to think Tash is saying "this beat's not redundant off the SP-1200" but I disagree. I think he's either saying "cuz beat's not..." or "cuz beats knock..." and my gut feeling it's "knock." Just listen closely.

SHOW LESS

10
Gentle Giant : Proclamation
Likwit Fusion.
You may not have all you want or you need
all that you have has been due to my hand,< [...]

SHOW MORE

Track 1 from The Power and The Glory
Length: 00:06:44
Year: 1974
Track Description:
Likwit Fusion.
You may not have all you want or you need
all that you have has been due to my hand,
it can change, it can stay the same,
who can say, who can make their claim.

Fresh.
http://www.yout ube.com/watch?v=UWfmfgHXAfE

SHOW LESS
Tag Board
You must log in to leave a tag
Stuff
Quick Jump
ParYen's other mixes
Related mixes
recent visitors
show all