[?]
Not a member? Sign-up now, it's free!
Login
[?]
These are links to some of the major sections in the mixtape collective.
Lists: Browse various lists that are generated by the loads of data we have collected.
Contests: Check out the latest contests, see previous winners, and find out how you can be a part
Music: Check out our ever-growing database of musical knowledge! Use it to find any artist, album, or track that has been entered since the birth of the site and rate and find detailed usage statistics.
Main
[?]
Tired of looking at the same old pages? Try checking out a random one, you never know what you might find...
Random!
A Logical Progression I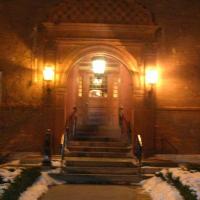 A Logical Progression I
Created by:
vlaskerbean
Tracks:
12
Length:
00:56:08
Keywords
1. Beginning
2. slow
3. fun
Created on
1/02/07 12:23am
Level
4
Points
1812
Total visitors
29
Unique visitors
25
description:
The beginning of the relationship mix. The tracks aren't so much about flow and complimenting one another, but stand testiment to a great love that ended just as tenderly and sadly as it started.

We met at a party, and the parties probably ended it. This is the ode, the great soundtrack, to the greatest year of my life. I made it a few weeks ago. Christmas makes everyone a little crazy, I think.
tracklist
1
Nine Inch Nails : Perfect Drug
It was a first for us.

SHOW MORE

Track 3 from Lost Highway (Soundtrack from the Motion Picture)
Length: 00:05:14
Year: 1997
Track Description:
It was a first for us.

SHOW LESS

2
The Killers : Somebody Told Me
I heard it at one of his parties.

SHOW MORE

Track 4 from Hot Fuss
Length: 00:03:17
Year: 2004
Track Description:
I heard it at one of his parties.

SHOW LESS

3
Radiohead : Like spinning plates
We loved to sit and listen to Radiohead. I especially loved this one.

SHOW MORE

Track 10 from Amnesiac
Length: 00:03:59
Year: 2001
Track Description:
We loved to sit and listen to Radiohead. I especially loved this one.

SHOW LESS

4
The Postal Service : Brand New Colony
It was "our song."

SHOW MORE

Track 9 from Give Up
Length: 00:04:12
Year: 2003
Track Description:
It was "our song."

SHOW LESS

5
Kissing Tigers : So Stay in Love
Before his parties, I put my face on to the Kissing Tigers.

SHOW MORE

Track 1 from The Pleasure of Resistance
Length: 00:03:14
Year: 2006
Track Description:
Before his parties, I put my face on to the Kissing Tigers.

SHOW LESS

6
Guns N Roses : Sweet Child O Mine
He loved this song by "G&R." They always played it at The Palms, his favorite bar.

SHOW MORE

Track 9 from Appetite for Destruction
Length: 00:05:52
Year: 1987
Track Description:
He loved this song by "G&R." They always played it at The Palms, his favorite bar.

SHOW LESS

7
Nine Inch Nails : Closer
Self explanitory track.

SHOW MORE

Track 5 from The Downward Spiral
Length: 00:06:13
Year: 1994
Track Description:
Self explanitory track.

SHOW LESS

8
Joni Mitchell : A Case of You
It was college, and it was love, and we drank.

SHOW MORE

Track 9 from Blue
Length: 00:04:24
Year: 1971
Track Description:
It was college, and it was love, and we drank.

SHOW LESS

9
Sigur Rós : Sæglópur
This song sounded like pure love to me when I heard it in his room the first time.

SHOW MORE

Track 6 from Takk
Length: 00:07:39
Year: 2005
Track Description:
This song sounded like pure love to me when I heard it in his room the first time.

SHOW LESS

10
Air : Surfin' on a Rock
A song from our first road trip.

SHOW MORE

Track 6 from Talkie Walkie
Length: 00:03:45
Year: 2004
Track Description:
A song from our first road trip.

SHOW LESS

11
Journey : Don't Stop Believin'
The Official Song of The Palms, Collegetown, Ithaca, NY; his favorite place to have last call.

SHOW MORE

Track 2 from Journey - Greatest Hits
Length: 00:04:10
Year: 1988
Track Description:
The Official Song of The Palms, Collegetown, Ithaca, NY; his favorite place to have last call.

SHOW LESS

12
Ryan Adams : Wonderwall
Trying to hold on, you round the bend, and realize nothing is new anymore.

SHOW MORE

Track 5 from Love Is Hell
Length: 00:04:09
Year: 2004
Track Description:
Trying to hold on, you round the bend, and realize nothing is new anymore.

SHOW LESS
Tag Board
You must log in to leave a tag
Stuff
Quick Jump
vlaskerbean's other mixes
Related mixes
recent visitors
show all