[?]
Not a member? Sign-up now, it's free!
Login
[?]
These are links to some of the major sections in the mixtape collective.
Lists: Browse various lists that are generated by the loads of data we have collected.
Contests: Check out the latest contests, see previous winners, and find out how you can be a part
Music: Check out our ever-growing database of musical knowledge! Use it to find any artist, album, or track that has been entered since the birth of the site and rate and find detailed usage statistics.
Main
[?]
Tired of looking at the same old pages? Try checking out a random one, you never know what you might find...
Random!
VALUE YOUR OPINION!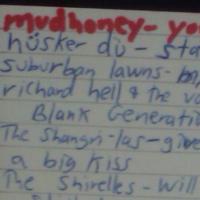 VALUE YOUR OPINION!
Created by:
sparkymonroe
Tracks:
22
Length:
00:59:20
Keywords
1. all vinyl
2. no do overs
3. fun
Created on
1/09/11 01:40pm
Level
1
Points
1151
Total visitors
12
Unique visitors
5
description:
I recently made some nicely priced additions to the piles of musical wax in my room. Lots of early to mid nineties grunge/punk bands, some girl groups of the 60's, and even some folk music. So I listened to this stuff and had a 60 minute blank cassette handy so I pretended CD burning and mp3's were some science fiction pipe dream and went ahead with making an actual mixtape.

Some of this stuff I'd never heard or heard of before, so with headphones on at 3AM, I put this thing together. It turned pretty well except for the volume is a little too low on the $100 Jayhawks song and I had to include a song twice since it was cut off prematurely at the end of side A, but honestly these were the only things I'd change, aside from maybe using a longer cassette so I could wrap it up with a Tom Waits song.


tracklist
1
Mudhoney : You Got It (Keep It Outta My Face)
I chose this song because it rules.

SHOW MORE

Track 5 from Superfuzz Bigmuff Plus Early Singles
Length: 00:02:53
Year: 1990
Track Description:
I chose this song because it rules.

SHOW LESS

2
Husker Du : Statues
This Husker Du single from 1981 is kind of rare and I think it's worth lots more than the 3 dollars I paid for [...]

SHOW MORE

Track 1 from Statues 7"
Length: 00:04:14
Year: 1981
Track Description:
This Husker Du single from 1981 is kind of rare and I think it's worth lots more than the 3 dollars I paid for it, but who cares about that when this song rocks a bunch and calls out all the poseurs at parties who know all the right people, wear all the right clothes, and have no personal ideas about anything.

SHOW LESS

3
suburban lawns : My Boyfriend
This is a snotty little post punk/new wave song sardonically(?) declaring some love for a boyfriend. I love t [...]

SHOW MORE

Track 2 from gidget goes to hell 7"
Length: 00:01:40
Year: 1979
Track Description:
This is a snotty little post punk/new wave song sardonically(?) declaring some love for a boyfriend. I love that one of the band member's names is Frankie Ennui. The lead singer is Su Tissue.

SHOW LESS

4
Richard Hell And The Voidoids : Blank Generation
I was surprised to see this classy little number for sale. Great, great, great.

SHOW MORE

Track 7 from Blank Generation
Length: 00:02:44
Year: 1977
Track Description:
I was surprised to see this classy little number for sale. Great, great, great.

SHOW LESS

5
The Shangri-Las : Give Him a Great Big Kiss
L-U-V.

SHOW MORE

Track 1 from The Leader of the Pack
Length: 00:02:14
Year: 1964
Track Description:
L-U-V.

SHOW LESS

6
The Shirelles : Will You Love Me Tomorrow
The age old question.

SHOW MORE

Track 4 from Tonight's the Night
Length: 00:02:44
Year: 1961
Track Description:
The age old question.

SHOW LESS

7
Vivian Girls : He's Gone
I like Cassie's voice on this one. She does the song justice.

SHOW MORE

Track 2 from My Love Will Follow Me 7"
Length: 00:02:00
Year: 2010
Track Description:
I like Cassie's voice on this one. She does the song justice.

SHOW LESS

8
Dave Dudley : In the General Direction of the World
Never heard of this guy, I just liked the cover art showing a pool shark at work. This song is sort of a mell [...]

SHOW MORE

Track 8 from The Pool Shark
Length: 00:02:53
Year: 1970
Track Description:
Never heard of this guy, I just liked the cover art showing a pool shark at work. This song is sort of a mellow country crossover song. It's a lonely heartbroken traveler's song. And it helps continues this little love-loss-dealing-with-it story arc I started with "Give Him a Great Big Kiss".

SHOW LESS

9
silver jews : Honk If You're Lonely
Had to have a Silver Jews song on here. A fine fine example of alt-country music that doesn't take itself too [...]

SHOW MORE

Track 11 from american water
Length: 00:02:47
Year: 1998
Track Description:
Had to have a Silver Jews song on here. A fine fine example of alt-country music that doesn't take itself too seriously.

SHOW LESS

10
Camera Obscura : I Can't Stay Mad At You
The saga concludes happily, for now.

SHOW MORE

Track 2 from Lloyd I'm Ready to Be Heartbroken 7"
Length: 00:02:12
Year: 2006
Track Description:
The saga concludes happily, for now.

SHOW LESS

11
John Fahey : Night Train of Valhalla
Such a haunting song that gets cut off at the end! Such is mixtape life.

SHOW MORE

Track 4 from Volume 6/ Days Have Gone By
Length: 00:02:18
Year: 1967
Track Description:
Such a haunting song that gets cut off at the end! Such is mixtape life.

SHOW LESS

12
The Controllers : Hello!
Short funk jam to start Side B.

SHOW MORE

Track 3 from Fill Your Life With Love
Length: 00:01:21
Year: 1978
Track Description:
Short funk jam to start Side B.

SHOW LESS

13
Devo : Working In the Coal Mine
This isn't the catchiest thing in the world, but it grew on me.

SHOW MORE

Track 11 from New Traditionalists
Length: 00:02:53
Year: 1981
Track Description:
This isn't the catchiest thing in the world, but it grew on me.

SHOW LESS

14
The Pretenders : Back On The Chain Gang
Coal Mines, chain gangs, this is a labor of love.

SHOW MORE

Track 2 from Laerning to Crawl
Length: 00:03:51
Year: 1984
Track Description:
Coal Mines, chain gangs, this is a labor of love.

SHOW LESS

15
Boyracer : Sex
I chose this song because it was short and powerful and had this little spoken part at the beginning of the ne [...]

SHOW MORE

Track 18 from More Songs About Frustration and Self Hate
Length: 00:00:44
Year: 1996
Track Description:
I chose this song because it was short and powerful and had this little spoken part at the beginning of the next track saying something about it's like punk never happened and that fit in nicely with the folk song that followed.

SHOW LESS

16
George and Gerry Armstrong : Pretty Peggy-O
There's an honesty here that is sometimes missing nowadays.

SHOW MORE

Track 2 from Folksong Festival Sampler
Length: 00:02:43
Year: 1967
Track Description:
There's an honesty here that is sometimes missing nowadays.

SHOW LESS

17
The Woods : To Clean
It's sort of folky, I guess. Had to get things going again.

SHOW MORE

Track 0 from
Length: 00:02:17
Year:
Track Description:
It's sort of folky, I guess. Had to get things going again.

SHOW LESS

18
hundred dollar jayhawks : Mighty Dinosaur
The mighty stegasaurus will roam free!

SHOW MORE

Track 2 from Little Rock and Roller
Length: 00:04:53
Year: 2010
Track Description:
The mighty stegasaurus will roam free!

SHOW LESS

19
Giant Weeds : Son of a Preacher Man
A sort of New Orderish cover of a classic song.

SHOW MORE

Track 2 from Greatest Hit 7"
Length: 00:04:18
Year: 1989
Track Description:
A sort of New Orderish cover of a classic song.

SHOW LESS

20
epic 45 : Daylight Ghosts
a brilliant record from england. electronic in sort of a radio dept. way.

SHOW MORE

Track 2 from In All the Empty Houses
Length: 00:03:41
Year: 2009
Track Description:
a brilliant record from england. electronic in sort of a radio dept. way.

SHOW LESS

21
Boy Scout Love Triangle : I Never Said I Liked You
A really twee song that mentions listening to Birthday Party records. Total record geek song. Had to include [...]

SHOW MORE

Track 6 from L'eternité Du Tout EP
Length: 00:01:42
Year: 1991
Track Description:
A really twee song that mentions listening to Birthday Party records. Total record geek song. Had to include it.

SHOW LESS

22
John Fahey : Night Train of Valhalla
I successfully included this gem. This time with time to spare, unlike the Side A abbreviated version. Peace [...]

SHOW MORE

Track 4 from Volume 6/ Days Have Gone By
Length: 00:02:18
Year: 1967
Track Description:
I successfully included this gem. This time with time to spare, unlike the Side A abbreviated version. Peace.

SHOW LESS
Tag Board
You must log in to leave a tag
Stuff
Quick Jump
sparkymonroe's other mixes
Related mixes
recent visitors
show all