[?]
Not a member? Sign-up now, it's free!
Login
[?]
These are links to some of the major sections in the mixtape collective.
Lists: Browse various lists that are generated by the loads of data we have collected.
Contests: Check out the latest contests, see previous winners, and find out how you can be a part
Music: Check out our ever-growing database of musical knowledge! Use it to find any artist, album, or track that has been entered since the birth of the site and rate and find detailed usage statistics.
Main
[?]
Tired of looking at the same old pages? Try checking out a random one, you never know what you might find...
Random!
TEST YOUR STRENGTH!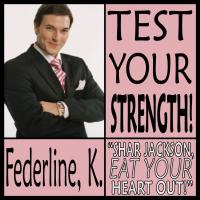 TEST YOUR STRENGTH!
Created by:
osborne
Tracks:
25
Length:
01:19:34
Keywords
1. Mix Contest 0
2. Mix Contest 0
3. Mix Contest 0
Created on
1/04/07 08:29am
Level
2
Points
1375
Total visitors
60
Unique visitors
27
This mix was ranked #0 out of 0 entries for this contest
description:
The conception of a new mixtape theme never comes easy. Which is precisely why the gods have unloaded this beastly burden (known as "Popozão" to the less fortunate) upon us. I have taken up this burden.
tracklist
1
Kevin Federline : Popozão
Do not scoff at this mixtape with your elitist values.

SHOW MORE

Track 1 from Popozão - EP
Length: 00:03:18
Year: 2006
Track Description:
Do not scoff at this mixtape with your elitist values.

SHOW LESS

2
Kevin Federline : Popozão
This is no mere one-off hypothetical mixtape.

SHOW MORE

Track 1 from Popozão - EP
Length: 00:03:18
Year: 2006
Track Description:
This is no mere one-off hypothetical mixtape.

SHOW LESS

3
Kevin Federline : Popozão
With your help, this dream could become a reality.

SHOW MORE

Track 1 from Popozão - EP
Length: 00:03:18
Year: 2006
Track Description:
With your help, this dream could become a reality.

SHOW LESS

4
Kevin Federline : Popozão
There are three things one needs to accomplish this.

SHOW MORE

Track 1 from Popozão - EP
Length: 00:03:18
Year: 2006
Track Description:
There are three things one needs to accomplish this.

SHOW LESS

5
Kevin Federline : Popozão
The first item is a never-been-listened-to copy of this single.

SHOW MORE

Track 1 from Popozão - EP
Length: 00:03:18
Year: 2006
Track Description:
The first item is a never-been-listened-to copy of this single.

SHOW LESS

6
Kevin Federline : Popozão
Note the redundancy of the previous statement.

SHOW MORE

Track 1 from Popozão - EP
Length: 00:03:18
Year: 2006
Track Description:
Note the redundancy of the previous statement.

SHOW LESS

7
Kevin Federline : Popozão
The second item is actually a collection of items.

SHOW MORE

Track 1 from Popozão - EP
Length: 00:03:18
Year: 2006
Track Description:
The second item is actually a collection of items.

SHOW LESS

8
Kevin Federline : Popozão
However, for the sake of brevity it is considered to be one.

SHOW MORE

Track 1 from Popozão - EP
Length: 00:03:18
Year: 2006
Track Description:
However, for the sake of brevity it is considered to be one.

SHOW LESS

9
Kevin Federline : Popozão
You will need a record player and a cassette tape recorder.

SHOW MORE

Track 1 from Popozão - EP
Length: 00:03:18
Year: 2006
Track Description:
You will need a record player and a cassette tape recorder.

SHOW LESS

10
Kevin Federline : Popozão
You will also need one unused blank audio cassette tape.

SHOW MORE

Track 1 from Popozão - EP
Length: 00:03:18
Year: 2006
Track Description:
You will also need one unused blank audio cassette tape.

SHOW LESS

11
Kevin Federline : Popozão
Unfortunately, the third item is much more elusive.

SHOW MORE

Track 1 from Popozão - EP
Length: 00:03:18
Year: 2006
Track Description:
Unfortunately, the third item is much more elusive.

SHOW LESS

12
Kevin Federline : Popozão
Do you have the necessary willpower to listen to this track?

SHOW MORE

Track 1 from Popozão - EP
Length: 00:03:18
Year: 2006
Track Description:
Do you have the necessary willpower to listen to this track?

SHOW LESS

13
Kevin Federline : Popozão
Not to mention the sanity?

SHOW MORE

Track 1 from Popozão - EP
Length: 00:03:18
Year: 2006
Track Description:
Not to mention the sanity?

SHOW LESS

14
Kevin Federline : Popozão
With these materials you are ready to begin.

SHOW MORE

Track 1 from Popozão - EP
Length: 00:03:18
Year: 2006
Track Description:
With these materials you are ready to begin.

SHOW LESS

15
Kevin Federline : Popozão (A Cappella)
Place the cold slab of vinyl onto the record spindle.

SHOW MORE

Track 4 from Popozão - EP
Length: 00:03:02
Year: 2006
Track Description:
Place the cold slab of vinyl onto the record spindle.

SHOW LESS

16
Kevin Federline : Popozão (A Cappella)
Carefully apply the needle to the outermost grooves.

SHOW MORE

Track 4 from Popozão - EP
Length: 00:03:02
Year: 2006
Track Description:
Carefully apply the needle to the outermost grooves.

SHOW LESS

17
Kevin Federline : Popozão (A Cappella)
Press both the "play" and "record" buttons simultaneously.

SHOW MORE

Track 4 from Popozão - EP
Length: 00:03:02
Year: 2006
Track Description:
Press both the "play" and "record" buttons simultaneously.

SHOW LESS

18
Kevin Federline : Popozão (A Cappella)
Ear plugs are optional at this point. Enjoy his lyrical genius.

SHOW MORE

Track 4 from Popozão - EP
Length: 00:03:02
Year: 2006
Track Description:
Ear plugs are optional at this point. Enjoy his lyrical genius.

SHOW LESS

19
Kevin Federline : Popozão (A Cappella)
When the track is over, press "pause" and reset the needle.

SHOW MORE

Track 4 from Popozão - EP
Length: 00:03:02
Year: 2006
Track Description:
When the track is over, press "pause" and reset the needle.

SHOW LESS

20
Kevin Federline : Popozão (A Cappella)
Lather, rinse, repeat, until you run out of tape.

SHOW MORE

Track 4 from Popozão - EP
Length: 00:03:02
Year: 2006
Track Description:
Lather, rinse, repeat, until you run out of tape.

SHOW LESS

21
Kevin Federline : Popozão (A Cappella)
Press "stop" and take the cassette tape out.

SHOW MORE

Track 4 from Popozão - EP
Length: 00:03:02
Year: 2006
Track Description:
Press "stop" and take the cassette tape out.

SHOW LESS

22
Kevin Federline : Popozão (A Cappella)
Place the cassette tape back in the recorder to record side B.

SHOW MORE

Track 4 from Popozão - EP
Length: 00:03:02
Year: 2006
Track Description:
Place the cassette tape back in the recorder to record side B.

SHOW LESS

23
Kevin Federline : Popozão (A Cappella)
Repeat steps sixteen through twenty.

SHOW MORE

Track 4 from Popozão - EP
Length: 00:03:02
Year: 2006
Track Description:
Repeat steps sixteen through twenty.

SHOW LESS

24
Kevin Federline : Popozão (A Cappella)
However, now record the a cappella version onto the tape.

SHOW MORE

Track 4 from Popozão - EP
Length: 00:03:02
Year: 2006
Track Description:
However, now record the a cappella version onto the tape.

SHOW LESS

25
Kevin Federline : Popozão (A Cappella)
Thank you for aiding me in my quest for world domination.

SHOW MORE

Track 4 from Popozão - EP
Length: 00:03:02
Year: 2006
Track Description:
Thank you for aiding me in my quest for world domination.

SHOW LESS
Tag Board
You must log in to leave a tag
Stuff
Quick Jump
osborne's other mixes
Related mixes
recent visitors
show all