[?]
Not a member? Sign-up now, it's free!
Login
[?]
These are links to some of the major sections in the mixtape collective.
Lists: Browse various lists that are generated by the loads of data we have collected.
Contests: Check out the latest contests, see previous winners, and find out how you can be a part
Music: Check out our ever-growing database of musical knowledge! Use it to find any artist, album, or track that has been entered since the birth of the site and rate and find detailed usage statistics.
Main
[?]
Tired of looking at the same old pages? Try checking out a random one, you never know what you might find...
Random!
Mellotrontastic!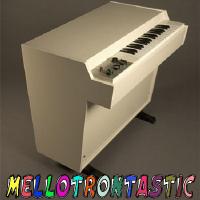 Mellotrontastic!
Created by:
johnny_luddite
Tracks:
14
Length:
01:16:39
Keywords
1. mellotron
2. strings
3. sampling
Created on
1/19/07 08:16pm
Level
5
Points
2453
Total visitors
52
Unique visitors
30
description:
I just listened to a radio documentary about the Mellotron, the early sampling keyboard that actually played taped notes of the instrument you were trying to emulate. That led me to a website dedicated to the instrument, and that in turn led me to this, a little trip through the world of the mellotron, from the Beatles to Modest Mouse and many stops inbetween.
tracklist
1
The Beatles : Strawberry Fields Forever
Probably amongst the best known tracks to use a mellotron. The flute sounds at the beginning define it for me. [...]

SHOW MORE

Track 8 from Magical Mystery Tour
Length: 00:04:10
Year: 1967
Track Description:
Probably amongst the best known tracks to use a mellotron. The flute sounds at the beginning define it for me. One of the few sixties recordings where I can listen again and hear something fresh still.

SHOW LESS

2
The Kinks : days
A great song, Ray Davies melancholic voice and upfront mellotron strings. What more could you ask for?

SHOW MORE

Track 28 from Kronikles
Length: 00:02:51
Year: 1972
Track Description:
A great song, Ray Davies melancholic voice and upfront mellotron strings. What more could you ask for?

SHOW LESS

3
David Bowie : Space Oddity
Another very identifiable song, and Bowie's first true classic. The strings on the recording were played on a [...]

SHOW MORE

Track 1 from Space Oddity
Length: 00:05:16
Year: 1969
Track Description:
Another very identifiable song, and Bowie's first true classic. The strings on the recording were played on a mellotron by a double tracked Rick Wakeman. He later blew up his mellotrons apparently because of their unpredictability as stage instruments, but here the instrument just helps add to the strangeness and beauty of the record.

SHOW LESS

4
King Crimson : Epitaph
Crimson's epic doom laden masterpiece, with wonderfully full almost overpowering string sounds from the mellot [...]

SHOW MORE

Track 3 from In the Court of the Crimson King
Length: 00:08:25
Year: 1969
Track Description:
Crimson's epic doom laden masterpiece, with wonderfully full almost overpowering string sounds from the mellotron.

SHOW LESS

5
Matching Mole : Immediate Curtain
Robert Wyatt's band after he left Soft Machine, and it is Wyatt himself who plays the full on mellotron string [...]

SHOW MORE

Track 8 from Matching Mole
Length: 00:05:57
Year: 1972
Track Description:
Robert Wyatt's band after he left Soft Machine, and it is Wyatt himself who plays the full on mellotron strings here. Obscure but entirely wonderful.

SHOW LESS

6
Yes : And You and I
One of the masterpieces of prog rock and mellotron use. Rick Wakeman again. I avoided Yes for about twenty yea [...]

SHOW MORE

Track 2 from Close To The Edge
Length: 00:10:11
Year: 1972
Track Description:
One of the masterpieces of prog rock and mellotron use. Rick Wakeman again. I avoided Yes for about twenty years, but I now listen to them again, usually when I am in a Mogwai mood.

SHOW LESS

7
Orchestral Manoeuvres in the Dark : Joan Of Arc (Maid Of Orleans)
We move from the prog rock seventies into the synth pop eighties, but oddly, this was the time that the mellot [...]

SHOW MORE

Track 6 from Architecture and Morality
Length: 00:04:12
Year: 1981
Track Description:
We move from the prog rock seventies into the synth pop eighties, but oddly, this was the time that the mellotron started to make a comeback. OMD used them extensively, and on this track the female vocal samples as well as the strings are from a mellotron rather than a synth.

SHOW LESS

8
Talk Talk : Life Is What You Make It
This is from the mid eighties when Talk Talk started to divert from their poppy beginnings into almost Floyd t [...]

SHOW MORE

Track 3 from The Color Of Spring
Length: 00:04:29
Year: 1986
Track Description:
This is from the mid eighties when Talk Talk started to divert from their poppy beginnings into almost Floyd territory. In that respect, I see them as a link between early Floyd and Mogwai, but then at my age you start to see all manner of stuff that might not actually be there.

SHOW LESS

9
Oasis : Wonderwall
Another leap forward in time to 95, and what was good enough for the fabs is certainly good enough for Noel an [...]

SHOW MORE

Track 3 from (What's the Story) Morning Glory?
Length: 00:04:18
Year: 1995
Track Description:
Another leap forward in time to 95, and what was good enough for the fabs is certainly good enough for Noel and 'our kid'. Mellotron cellos abound.

SHOW LESS

10
The Flaming Lips : Are You a Hypnotist??
I am the only one who thinks Wayne Coyne and Grissom out of CSI are in some strange way related? Anyway, that [...]

SHOW MORE

Track 7 from Yoshimi Battles the Pink Robots
Length: 00:04:44
Year: 2002
Track Description:
I am the only one who thinks Wayne Coyne and Grissom out of CSI are in some strange way related? Anyway, that has nothing to do with anything. My fave Flaming Lips album, with this track containing lovely choir samples a la Mellotron!

SHOW LESS

11
Belle & Sebastian : Nice Day For A Sulk
I just read B&S described as 'fey and twee'. Well sometimes that isn't a bad thing. Again, lovely mellotron fl [...]

SHOW MORE

Track 9 from Fold Your Hands Child, You Walk Like A Peasant
Length: 00:02:36
Year: 2000
Track Description:
I just read B&S described as 'fey and twee'. Well sometimes that isn't a bad thing. Again, lovely mellotron flutes on this.

SHOW LESS

12
John Frusciante : Carvel
Lots of nice flutes and strings here, some mellotron samples, some actually played on a mellotron. Frusciante' [...]

SHOW MORE

Track 1 from Shadows Collide With People
Length: 00:06:14
Year: 2003
Track Description:
Lots of nice flutes and strings here, some mellotron samples, some actually played on a mellotron. Frusciante's work gets under my skin in a way most peoples music can't.

SHOW LESS

13
The Mars Volta : Take the Veil Cerpin Taxt
Frusciante plays on this, as does Flea. If anything sounds like vintage Crimson in the modern age, it is this! [...]

SHOW MORE

Track 10 from De-Loused In The Comatorium
Length: 00:08:44
Year: 2003
Track Description:
Frusciante plays on this, as does Flea. If anything sounds like vintage Crimson in the modern age, it is this!

SHOW LESS

14
Modest Mouse : The World At Large
One of the bands I am now listening to as a result of hanging about MTC a lot. Mellotron strings abound throug [...]

SHOW MORE

Track 2 from Good News for People Who Love Bad News
Length: 00:04:32
Year: 2004
Track Description:
One of the bands I am now listening to as a result of hanging about MTC a lot. Mellotron strings abound through this song, but the instrument really comes into it's own near the end where they play about with the pitching, and the effect is pretty wonderful.

SHOW LESS
Tag Board
You must log in to leave a tag
Stuff
Quick Jump
johnny_luddite's other mixes
Related mixes
recent visitors
show all