[?]
Not a member? Sign-up now, it's free!
Login
[?]
These are links to some of the major sections in the mixtape collective.
Lists: Browse various lists that are generated by the loads of data we have collected.
Contests: Check out the latest contests, see previous winners, and find out how you can be a part
Music: Check out our ever-growing database of musical knowledge! Use it to find any artist, album, or track that has been entered since the birth of the site and rate and find detailed usage statistics.
Main
[?]
Tired of looking at the same old pages? Try checking out a random one, you never know what you might find...
Random!
I LOVE EVERYBODY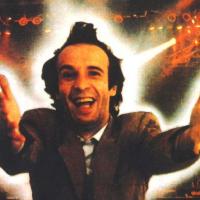 I LOVE EVERYBODY
Created by:
sledgbrainerd
Tracks:
16
Length:
01:18:42
Keywords
1. Mix Contest 9
2. Mix Contest 9
3. Mix Contest 9
Created on
2/18/07 02:55pm
Level
7
Points
3162
Total visitors
108
Unique visitors
60
This mix was ranked #3 out of 12 entries for this contest
description:
Like Roberto Benigni, I too love all yall's. Each song was selected with someone in mind, either from real life or from MTC.

This mix as a whole is dedicated to my Nintendo Wii, which is the best/worst thing to happen to my arms since my discovery of masturbation.
tracklist
1
Cows : Midnight Cowboy
For:
David Scott Stone

You are scoring my film. You are a nice man. I like you.

SHOW MORE

Track 6 from Cunning Stunts
Length: 00:02:50
Year: 1991
Track Description:
For:
David Scott Stone

You are scoring my film. You are a nice man. I like you.

SHOW LESS

2
David Bowie : Big Brother
For:
Jaysix

You keep it real. You are a right-on guy.

SHOW MORE

Track 10 from Diamond Dogs
Length: 00:03:20
Year: 1974
Track Description:
For:
Jaysix

You keep it real. You are a right-on guy.

SHOW LESS

3
The Ramones : Today Your Love, Tomorrow the World
For:
Rachael

This title was too perfect.

SHOW MORE

Track 14 from Ramones
Length: 00:02:12
Year: 1976
Track Description:
For:
Rachael

This title was too perfect.

SHOW LESS

4
Tom Waits : Judy was a Punk
For:
Bisounours

You are mean. I like you.

SHOW MORE

Track 16 from Ramones Tribute
Length: 00:03:28
Year: 2004
Track Description:
For:
Bisounours

You are mean. I like you.

SHOW LESS

5
Queens of the Stone Age : First It Giveth
For:
T-Bag

Remember when we all lived at the Ashlanders and you would wake us up with this CD [...]

SHOW MORE

Track 3 from Songs for the Deaf
Length: 00:03:18
Year: 2002
Track Description:
For:
T-Bag

Remember when we all lived at the Ashlanders and you would wake us up with this CD every morning?

SHOW LESS

6
Harkonen/These Arms Are Snakes : Touched For the Very First Time
The Harkonen is for:
Corey
The These Arms are Snakes is for:
Eric

Everytime I think [...]

SHOW MORE

Track 5 from Like a Virgin EP
Length: 00:06:31
Year: 2004
Track Description:
The Harkonen is for:
Corey
The These Arms are Snakes is for:
Eric

Everytime I think of you guys, its like Im losing my ass virginity.

SHOW LESS

7
Dungen : Christopher
For:
Those on MTC I don't know as well quite yet.

I'm a slut. I love you all.

SHOW MORE

Track 6 from Invaders (comp.)
Length: 00:02:00
Year: 2006
Track Description:
For:
Those on MTC I don't know as well quite yet.

I'm a slut. I love you all.

SHOW LESS

8
Pink Floyd : Careful With That Axe Eugene
For:
Both Werner Herzog and johnny_luddite

Herzog: Because I would make love to him passionate [...]

SHOW MORE

Track 2 from Ummagumma (Disc 1)
Length: 00:08:50
Year: 0000
Track Description:
For:
Both Werner Herzog and johnny_luddite

Herzog: Because I would make love to him passionately. And this song makes me think of Aguirre: The Wrath of God.

luddite: Because You offer the most out of everyone on MTC. I wish I could give a million pounds. Is that how you spell that? Pounds?

SHOW LESS

9
Boris w/ Merzbow : Texas Spaceship
For:
Eraserhead

If you really are 14, I think you are the coolest kid ever. When I was 14, I [...]

SHOW MORE

Track 3 from Megatone
Length: 00:17:56
Year: 2002
Track Description:
For:
Eraserhead

If you really are 14, I think you are the coolest kid ever. When I was 14, I listened to Rob Zombie and shit.

SHOW LESS

10
Of Montreal : We Were Born the Mutants Again With Leafling
For:
youandme

You have very good taste in music, and you told me about those bands from Athens [...]

SHOW MORE

Track 12 from Hissing Fauna, Are You The Destroyer
Length: 00:04:57
Year: 2007
Track Description:
For:
youandme

You have very good taste in music, and you told me about those bands from Athens.

SHOW LESS

11
Smoosh : Make It Through
For:
Val

One time you played this on Jon's parent's computer 3 times in a row. I drank Natura [...]

SHOW MORE

Track 0 from She Like Electric
Length: 00:03:10
Year: 0000
Track Description:
For:
Val

One time you played this on Jon's parent's computer 3 times in a row. I drank Natural Ice and sat in the backyard. Megan kept trying to jump on me.

SHOW LESS

12
Ween : Mutilated Lips
For:
My future wife.

Because this will be playing at our wedding.

SHOW MORE

Track 5 from The Mollusk
Length: 00:03:48
Year: 1997
Track Description:
For:
My future wife.

Because this will be playing at our wedding.

SHOW LESS

13
Subtle : I Love L.A.
For:
riotsheelds

My MTC pal that I can talk about LA shit with. You also have great taste in [...]

SHOW MORE

Track 2 from A New White
Length: 00:03:56
Year: 2004
Track Description:
For:
riotsheelds

My MTC pal that I can talk about LA shit with. You also have great taste in music.

SHOW LESS

14
Faith No More : Just a Man
For:
The Mike Patton peeps on MTC.

I love you.

SHOW MORE

Track 14 from King For A Day, Fool For A Lifetime
Length: 00:05:36
Year: 1995
Track Description:
For:
The Mike Patton peeps on MTC.

I love you.

SHOW LESS

15
Tortoise and Bonnie "Prince" Billy : Pancho
For:
lord_bearded

You are my brother. I love you.

SHOW MORE

Track 6 from The Brave and The Bold
Length: 00:03:13
Year: 2006
Track Description:
For:
lord_bearded

You are my brother. I love you.

SHOW LESS

16
Edward Furlong : It's Christmas Time
For:
Galaxiepi, kittybomb, and Bootylicious

Trust me, you guys love this sweet tune. Trust me [...]

SHOW MORE

Track 8 from Hold on Tight
Length: 00:03:37
Year: 1993
Track Description:
For:
Galaxiepi, kittybomb, and Bootylicious

Trust me, you guys love this sweet tune. Trust me, I love your sweet asses.

SHOW LESS
Tag Board
You must log in to leave a tag
Stuff
Quick Jump
sledgbrainerd's other mixes
Related mixes
recent visitors
show all