[?]
Not a member? Sign-up now, it's free!
Login
[?]
These are links to some of the major sections in the mixtape collective.
Lists: Browse various lists that are generated by the loads of data we have collected.
Contests: Check out the latest contests, see previous winners, and find out how you can be a part
Music: Check out our ever-growing database of musical knowledge! Use it to find any artist, album, or track that has been entered since the birth of the site and rate and find detailed usage statistics.
Main
[?]
Tired of looking at the same old pages? Try checking out a random one, you never know what you might find...
Random!
Wedding at a Funeral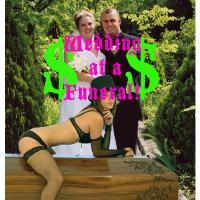 Wedding at a Funeral
Created by:
sledgbrainerd
Tracks:
14
Length:
01:17:16
Keywords
1. Mix Contest 15
2. Mix Contest 15
3. Mix Contest 15
Created on
8/29/07 06:01pm
Level
6
Points
2747
Total visitors
93
Unique visitors
52
This mix was ranked #1 out of 14 entries for this contest
description:
About a month ago I was searching through the VHS at the local Goodwill (on Vine and Lexington, I think) and I came across a movie entitled "Wedding at a Funeral". It was some z-grade comedy with no stars and I could not find a director credit anywhere. Based on the artwork alone, I decided to gamble my 2.99 on this tape.

The story goes like this:
An old rich man passes away. His son, a bigtime partier finds out that his dad's will stipulates that if he is not married by the time the first shovel full of dirt falls on his coffin, he gets nothing. Why? Well, I guess that is something that the filmmakers decided to leave up to your imagination. Kind of like the suitcase in Pulp Fiction, or like the jokes in Little Man. I decided the reason was that the old man wanted his son to marry some shallow money obsessed bitch for lots of money.

"She'd be kind of llike Michelle Pfeifer in Scarface but crazier..." The old man would say to himself with a grin on his face, while he counted his millions .

But I digress. The plot of this movie is basically Billy Madison but instead of school, it's dating.

Oh by the way, this movie is absolutely preposterous on an awesome way.

This is my soundtrack to the key scenes in the film...
tracklist
1
David Bowie : John, I'm Only Dancing
Opening Titles

The opening titles run during a very peculiar scene in which the father character, L [...]

SHOW MORE

Track 0 from The Rise and Fall of Ziggy Stardust and the Spiders From Mars
Length: 00:02:46
Year: 1972
Track Description:
Opening Titles

The opening titles run during a very peculiar scene in which the father character, Lord Beanmoth rolls around with some very young "prostitute-like" women while they all indulge in cocaine (or perhaps powdered sugar?) This is in the grand bedroom in his grand estate. The only light comes from a very large fireplace that has one of those polar bear rugs in front of it. I personally think they should have gone with the moosehead on the wall but whatever. Lord Beanmoth clutches his heart and keels over. The hookers screams echo into our next scene...

SHOW LESS

2
The Beatles : Glass Onion
This song cuts in on the screams just as the new scene does. A series of quick cuts shows a sort of timelaps [...]

SHOW MORE

Track 3 from The Beatles (White Album)
Length: 00:02:17
Year: 1968
Track Description:
This song cuts in on the screams just as the new scene does. A series of quick cuts shows a sort of timelapse of a night of partying by a lad named Harry Beanmoth and his cohorts. Lots of pot, lots of making out and people falling into things. Drinking games also. Everyone is passed out eventually. Dissolve to the morning...

SHOW LESS

3
The Clash : Every Little Bit Hurts
A knock at the door. Harry answers the door to find a very well groomed government representative. The man i [...]

SHOW MORE

Track 9 from Clash on Broadway [2004 Reissue]
Length: 00:04:38
Year: 2004
Track Description:
A knock at the door. Harry answers the door to find a very well groomed government representative. The man informs him that Lord Beanmoth has passed in the night of natural causes. Harry slams the door shut, sits down on the couch and cries into one hand as the other throws beer bottles at the wall. He cries ridiculously loud. This wakes everyone up which further agitates Harry and he starts screaming for everyone to get out. They shuffle out and the well-groomed man from before shuffles in.

"I wasn't finished" the man says.

"Oh yeah what else?" Harry asks

"If you want any of your inheritance you need to be married by the end of your fathers funeral, according to his will"

Harry looks at his watch and runs out of the house, a new sense of purpose visible on his face.

SHOW LESS

4
Frank Zappa : Willie the Pimp
MONTAGE!!!!!!!!

We are four scenes into the movie and we are already in the middle of a montage. T [...]

SHOW MORE

Track 2 from Hot Rats
Length: 00:09:16
Year: 1969
Track Description:
MONTAGE!!!!!!!!

We are four scenes into the movie and we are already in the middle of a montage. This montage shows Harry getting ready for going out on dates. He shops for clothes, answers classified ads, and, in one baffling shot, trims his ass hair. Then the montage takes another peculiar turn and shows Harry going down to the bar and drinking and getting in fights. He ends up puking in the toilet. A title card comes up and says 3 days left...

SHOW LESS

5
Harry Nilsson : Jump into the Fire
Harry awakes in the morning (no black eyes mind you) and check his day planner. His first date is with a woma [...]

SHOW MORE

Track 12 from Nilsson Schmilsson
Length: 00:07:00
Year: 1973
Track Description:
Harry awakes in the morning (no black eyes mind you) and check his day planner. His first date is with a woman named Blair at 11am. A sort of brunch thing I guess. He checks his watch and it says it is noon. He crosses blair off of his list and gets ready for his next date at 1pm. He basically goes on dates all day and then hes about to give up when a totally smokin hot babe comes to the bar to meet him for his last date. Score.

SHOW LESS

6
Jeff Buckley : Everybody Here Wants You
Harry takes this hot broad home (her name is Lisa) and they get it on. As they are doin "it", the phone rings [...]

SHOW MORE

Track 2 from Sketches For My Sweetheart The Drunk
Length: 00:04:44
Year: 0000
Track Description:
Harry takes this hot broad home (her name is Lisa) and they get it on. As they are doin "it", the phone rings and Blair leaves a message saying that she would still be willing to see him the next day. Lisa gets mad cuz she thinks he has a girlfriend or somethin' and storms out without putting her clothes back on, her fake boobs just flowin and shit. Harry gets up and runs after her and asks her to marry him. We don't see the answer. We do however see Harry call back Blair, so my guess is that Lisa said no.

SHOW LESS

7
The Jesus and Mary Chain : Never Saw It Coming
The next morning he meets Blair for breakfast. She isn't the prettiest tulip in the garden but she has a cute [...]

SHOW MORE

Track 7 from Stoned and Dethroned
Length: 00:03:32
Year: 1994
Track Description:
The next morning he meets Blair for breakfast. She isn't the prettiest tulip in the garden but she has a cute personality. I guess he gets smitten with her but it sure doesn't look like it. But he asks her to marry him after breakfast after a huge romantic inspirational speach about being tired of being lonely and other bullshit. Believably, she accepts. The waitress starts crying and tells them their breakfast is on the house. But the problems are just beginning...

SHOW LESS

8
MC5 : Call Me Animal
Harry drops Blair off at her house so that I guess she can go look for a dress or something. Harry rock out i [...]

SHOW MORE

Track 11 from The Big Bang! Best of MC5
Length: 00:02:04
Year: 0000
Track Description:
Harry drops Blair off at her house so that I guess she can go look for a dress or something. Harry rock out in his car on the way home all pumped up and shit about being rich soon. He gets home and finds the front door open. He walks in and Lisa is there naked on the couch. She says that she accepts his offer and not knowing what to do he for some reason says "Oh great" all awkwardly and tells her she needs to go so he can "get ready" (for marriage i think). He closes the door behind her and breathes a sigh of relief.

SHOW LESS

9
Talking Heads : Houses in Motion
ANOTHER FUCKKKIN MONTAGE SCENE

Just the natural events that occur while you are trying to plan a qu [...]

SHOW MORE

Track 0 from Remain in Light
Length: 00:04:33
Year: 0000
Track Description:
ANOTHER FUCKKKIN MONTAGE SCENE

Just the natural events that occur while you are trying to plan a quickie wedding on short notice while trying not to let either of your fiance's know that you have 2 fiance's. There is even a "near disaster" scene where he takes Blair to a cake store and Lisa walks in probably researching cakes on her own.

GET THIS

He escapes the heinous situation by telling Blair he's going to the bathroom, he escapes out the window, AND DRIVES OFF! All this before Lisa notices. The movie never tells you how Blair gets home or what her reaction is to such a strange thing.

SHOW LESS

10
Ween : Even if You Don't
All of a sudden it cuts to wedding day. I'm guessing Harry must be still avoiding Lisa because SHE IS NOT IN [...]

SHOW MORE

Track 3 from White Pepper
Length: 00:03:25
Year: 2001
Track Description:
All of a sudden it cuts to wedding day. I'm guessing Harry must be still avoiding Lisa because SHE IS NOT IN THE MOVIE ANYMORE. She just disappears! Woops!

Anyway Everyone is set up for the wedding and the bride starts walking down the isle.

SHOW LESS

11
Gorillaz : Sound Check (Gravity)
As Blair walks down the aisle, Harry looks over and sees his Dad's coffin. That's right folks, the title is l [...]

SHOW MORE

Track 8 from Gorillaz
Length: 00:04:41
Year: 2001
Track Description:
As Blair walks down the aisle, Harry looks over and sees his Dad's coffin. That's right folks, the title is literal! THEY ARE GETTING MARRIED AT HIS DAD'S FUNERAL. Harry all of a sudden is filled with sadness as with all of this wedding and money business he must have forgotten that his dad died! As Blair gets to the altar Harry runs off crying like a bitch. Unfazed, Blair runs after him and catches up to him, says I LOVE YOU to him (to which he replies I LOVE YOU TOO) and they make out. Everyone cheers and the minister says I NOW PRONOUNCE YOU MAN AND WIFE! (WHAT?!) and then everyone cheers again. In the crowd you see the waitress that gave them free breakfast on their first date.

SHOW LESS

12
Al Green : Let's Get Married
Then guess what happens? If you guessed that Hairy marches over and slams his fathers casket shut and starts [...]

SHOW MORE

Track 10 from Greatest Hits
Length: 00:05:34
Year: 1995
Track Description:
Then guess what happens? If you guessed that Hairy marches over and slams his fathers casket shut and starts lowering it into the ground to thunderous applause, you would be right. A crane shot floats us out of the cemetary and words come onto the screen:

Harry and Blair stayed together and donated much of the inheritance to charity. Most of it. The named their YACHT Lord Beanmoth and had 3 children.




WHAT!!!!!!!!??????????????????????

SHOW LESS

13
Thom Yorke : Black Swan
End credits

The chorus of this song says "This is fucked up. Fucked Up"

Yep it is.

SHOW MORE

Track 4 from The Eraser
Length: 00:04:48
Year: 2006
Track Description:
End credits

The chorus of this song says "This is fucked up. Fucked Up"

Yep it is.

SHOW LESS

14
Godspeed You! Black Emperor : East Hastings
Here is a bonus track to drink gasoline and forget that this movie exists to. This movie is like walking down [...]

SHOW MORE

Track 2 from F# A# oo
Length: 00:17:58
Year: 1998
Track Description:
Here is a bonus track to drink gasoline and forget that this movie exists to. This movie is like walking down East Hastings, and if you've ever been there you know thats true.

SHOW LESS
Tag Board
You must log in to leave a tag
Stuff
Quick Jump
sledgbrainerd's other mixes
Related mixes
recent visitors
show all