[?]
Not a member? Sign-up now, it's free!
Login
[?]
These are links to some of the major sections in the mixtape collective.
Lists: Browse various lists that are generated by the loads of data we have collected.
Contests: Check out the latest contests, see previous winners, and find out how you can be a part
Music: Check out our ever-growing database of musical knowledge! Use it to find any artist, album, or track that has been entered since the birth of the site and rate and find detailed usage statistics.
Main
[?]
Tired of looking at the same old pages? Try checking out a random one, you never know what you might find...
Random!
Florida - Where America Goes To Die!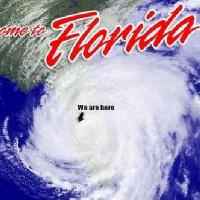 Florida - Where America Goes To Die!
Created by:
tellinore
Tracks:
16
Length:
01:03:19
Keywords
1. Florida
2. tribute
3. rock
Created on
4/04/07 12:55pm
Level
4
Points
1916
Total visitors
44
Unique visitors
24
description:
Florida's a crazy place. It's probably the only place in the world where you can find so many different cultures crammed into one unified state. You have your traditional "Southerners" up in the North and the Panhandle, you have a very international metropolitan area in Miami, with pockets of almost entirely Spanish-speaking communities, you have the Northern transplants coming from New England and New York that retire to Palm Beach, Broward County, as well as the Southwest coast in places like Naples. In addition to that, you have Disney that dominates Central Florida, which is crazy enough as it is.
I've always wanted to make a "tribute" to my home state, where I've lived all my life in almost every corner of the place (from Miami to Broward to Jacksonville to Orlando to Gainesville) and have experienced first-hand the schizophrenia that is Florida. Florida is famous for a thousand different types of music - southern rock, punk, ska, latin, blues, folk, hardcore, and boy bands. Because of this, this mix is a bit eclectic. But I hope that it'll display the kind of love-hate relationship most Floridians have with their home state.
tracklist
1
Mofro : Florida
Mofro's a great southern rock band from Jacksonville, and on this song they echo the feelings of a lot of the [...]

SHOW MORE

Track 7 from Blackwater
Length: 00:04:11
Year: 2001
Track Description:
Mofro's a great southern rock band from Jacksonville, and on this song they echo the feelings of a lot of the more "Southern" residents of the state - that development is ruining the state, depriving it of its natural beauty.

SHOW LESS

2
Muddy Waters : Deep Down in Florida
A simple blues song about going down to Florida to enjoy the beaches and sun that "shines damn near every day. [...]

SHOW MORE

Track 7 from Hard Again
Length: 00:05:26
Year: 1976
Track Description:
A simple blues song about going down to Florida to enjoy the beaches and sun that "shines damn near every day." Also, he gives a shout out to Gainesville, which is always cool.

SHOW LESS

3
The Mountain Goats : Tallahassee
"Twin prop airplanes passing loudly overhead
Road to the airport two lanes clear
Half the whole town [...]

SHOW MORE

Track 1 from Tallahassee
Length: 00:04:43
Year: 2002
Track Description:
"Twin prop airplanes passing loudly overhead
Road to the airport two lanes clear
Half the whole town gone for the summer
Terrible silence coming down here
And you"
Tallahassee really is a ghost town during the summer, as it's mostly comprised of two colleges and the state capital, with the students and legislators mostly getting the entire Summer off.

SHOW LESS

4
Butthole Surfers : Moving To Florida
One of the weirdest songs you'll ever hear.

SHOW MORE

Track 10 from Rembrandt Pussyhorse
Length: 00:04:32
Year: 1986
Track Description:
One of the weirdest songs you'll ever hear.

SHOW LESS

5
Against Me! : We Laugh At Danger (And Break All The Rules)
A Gainesville band that isn't afraid to say that sometimes, you just want to get the hell out of Florida. I th [...]

SHOW MORE

Track 3 from Reinventing Axl Rose
Length: 00:03:17
Year: 2002
Track Description:
A Gainesville band that isn't afraid to say that sometimes, you just want to get the hell out of Florida. I think a lot of Floridians feel this way, for one reason or another.
"Mary, there is no hope for us
If this GM van don't make it
across the state line
we might as well lay down and die
Because if Florida takes us
we're taking everyone down with us
Where we're coming from
will be the death of us"

SHOW LESS

6
Less Than Jake : Gainesville Rock City
Possibly the most famous band to come out of Gainesville, save for Tom Petty. It's in many ways a total opposi [...]

SHOW MORE

Track 7 from Borders and Boundaries
Length: 00:03:07
Year: 2000
Track Description:
Possibly the most famous band to come out of Gainesville, save for Tom Petty. It's in many ways a total opposite of the Against Me! track, in that it's about missing your hometown when you're away. So many kids vow to move away and never come back to the place they grew up, but it's hard to recognize when you really just want to come back home.

SHOW LESS

7
A New Found Glory : Never Snows In Florida
I grew up in Coral Springs, FL, where A New Found Glory are from, so they've always been kind of a guilty plea [...]

SHOW MORE

Track 2 from Nothing Gold Can Saty
Length: 00:02:47
Year: 1999
Track Description:
I grew up in Coral Springs, FL, where A New Found Glory are from, so they've always been kind of a guilty pleasure of mine. This song is pretty awesome, and the fact that it's 90 degrees outside right now online confirms that it never snows in Florida.

SHOW LESS

8
Modest Mouse : Florida
Another song about getting the hell out of Florida. Apparently Isaac Brock spent a little time in Florida and [...]

SHOW MORE

Track 4 from We Were Dead Before the Ship Even Sank
Length: 00:02:59
Year: 2007
Track Description:
Another song about getting the hell out of Florida. Apparently Isaac Brock spent a little time in Florida and had a bit of a rough time. But what the song is saying that merely leaving the state didn't help his situation out any. So running away from your problems isn't always the best solution.
"Even as I left Florida
Far enough, far enough
Wasn't far enough

Couldn't quite seem to escape myself
Far enough, far enough
Far from Florida"

SHOW LESS

9
Grandaddy : Florida
"Florida
Florida
My ex-girlfriend's a model in Florida
Florida
Florida
I got lots of [...]

SHOW MORE

Track 6 from Excerpts from the Diary of Todd Zilla
Length: 00:04:38
Year: 2005
Track Description:
"Florida
Florida
My ex-girlfriend's a model in Florida
Florida
Florida
I got lots of friends in Florida"

SHOW LESS

10
Hot Water Music : Free Radio Gainesville
Another Gainesville punk band. Awesome politically-charged song. Represent.

SHOW MORE

Track 2 from No Division
Length: 00:02:29
Year: 1999
Track Description:
Another Gainesville punk band. Awesome politically-charged song. Represent.

SHOW LESS

11
For Squirrels : Mighty K.C.
This song has nothing to do with Florida, but I'm including it solely for the fact that For Squirrels have a k [...]

SHOW MORE

Track 4 from Example
Length: 00:05:39
Year: 1995
Track Description:
This song has nothing to do with Florida, but I'm including it solely for the fact that For Squirrels have a kind of eerie history for people in Gainesville. They were formed here in 1992, and released this album in August of 1995. Just a month later, two of the groups members, along with their tour manager, were killed in Georgia when their van was heading back home to Gainesville after playing a music festival in New York.

SHOW LESS

12
Against Me! : Miami
I can't stress it enough - Miami really does suck.

SHOW MORE

Track 1 from Searching for Former Clarity
Length: 00:04:00
Year: 2005
Track Description:
I can't stress it enough - Miami really does suck.

SHOW LESS

13
Lynyrd Skynyrd : Jacksonville Kid (aka 'Honky Tonk Night Time Man')
Contrary to what "Sweet Home Alabama" may suggest, Lynyrd Skynyrd is straight outta Jacksonville, FL, and this [...]

SHOW MORE

Track 13 from Street Survivors (Expanded Edition)
Length: 00:04:05
Year: 1977
Track Description:
Contrary to what "Sweet Home Alabama" may suggest, Lynyrd Skynyrd is straight outta Jacksonville, FL, and this song is great in that it's basically saying "what the fuck has happened to my hometown?" Jacksonville is the most "Southern" city in Florida for a lot of people, and there's always a little bit of tension between people that live up there and those that live in Central or South Florida, mostly due to the cultural differences. Even within the city there are cultural divides, as the song references that "the only place I'm welcome, is way the other side of town". He means the West side, as the more West and North you go in Jacksonville, the more "Country" it gets. Before the guitar solo, Van Zant yells "play this one for Southside," as the Southside has always been the more "modern" area. He also references the Northside during one of the guitar solos, the Northside being another of the more "Southern" areas. Jacksonville is a confusing city.

SHOW LESS

14
Mofro : Lochloosa
Another soul song about lamenting the destruction of Florida's natural resources.
"Homesick but it's alri [...]

SHOW MORE

Track 3 from Lochloosa
Length: 00:04:04
Year: 2004
Track Description:
Another soul song about lamenting the destruction of Florida's natural resources.
"Homesick but it's alright ⁄ Lochloosa is on my mind...All we need is one more damn developer ⁄ Tearing her heart out ⁄ ⁄ All we need is one more Mickey Mouse ⁄ Another golf course another country club ⁄ Another gated community"

SHOW LESS

15
Chumbawamba : Celebration, Florida
Celebration, FL, is an actual city near Orlando that was planned and built by Disney, and was meant to be a so [...]

SHOW MORE

Track 16 from WYSIWYG
Length: 00:03:14
Year: 2000
Track Description:
Celebration, FL, is an actual city near Orlando that was planned and built by Disney, and was meant to be a sort of "perfect" community. It's actually really creepy driving through it, as everything is so perfectly manicured and "Disney-fied." I know, it's Chumbawamba, but this song is pretty hilarious, and also dead-on.
"they're buying up nostalgia
for a time they can't remember
down in Celebration, Florida
...
social engineering
it gives you that fuzzy feeling
down in Celebration, Florida"

SHOW LESS

16
John Vanderslice : Gainesville, Fla
A great song to end the mix with by a great Gainesville-born singer-songwriter.

SHOW MORE

Track 13 from Time Travel is Lonely
Length: 00:04:08
Year: 2001
Track Description:
A great song to end the mix with by a great Gainesville-born singer-songwriter.

SHOW LESS
Tag Board
You must log in to leave a tag
Stuff
Quick Jump
tellinore's other mixes
Related mixes
recent visitors
show all