[?]
Not a member? Sign-up now, it's free!
Login
[?]
These are links to some of the major sections in the mixtape collective.
Lists: Browse various lists that are generated by the loads of data we have collected.
Contests: Check out the latest contests, see previous winners, and find out how you can be a part
Music: Check out our ever-growing database of musical knowledge! Use it to find any artist, album, or track that has been entered since the birth of the site and rate and find detailed usage statistics.
Main
[?]
Tired of looking at the same old pages? Try checking out a random one, you never know what you might find...
Random!
Fast Times at Idaho State University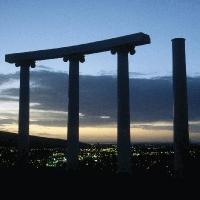 Fast Times at Idaho State University
Created by:
Danielle
Tracks:
11
Length:
00:44:18
Keywords
1. school
2. walking
3. routine
Created on
4/13/07 03:34pm
Level
4
Points
1882
Total visitors
52
Unique visitors
32
description:
I realized this morning that I pretty much listen to the same songs while walking to school, between classes, and on my way to work so I've decided to chronicle my morning, post leaving my room.
* The cover is of the top of campus. Back in the day, some mortuary donated those pillars, and for some reason ISU mounted them on a hill.
tracklist
1
Deerhunter : Spring Hall Convert
It is no exaggeration to say that I hate life in the morning. As I walk to the elevator (I live on the 8th flo [...]

SHOW MORE

Track 8 from Cryptograms
Length: 00:04:29
Year: 2007
Track Description:
It is no exaggeration to say that I hate life in the morning. As I walk to the elevator (I live on the 8th floor) I need something soothing, but not something that will make me sleepy. This song does the trick.

SHOW LESS

2
Sparks : Perfume
As I leave the building, I am usually feeling a bit better. While waiting for the sign to say "walk" at the in [...]

SHOW MORE

Track 2 from Hello Young Lovers
Length: 00:04:59
Year: 2006
Track Description:
As I leave the building, I am usually feeling a bit better. While waiting for the sign to say "walk" at the intersection towards campus, this song comes on. Its peppy, but not cheery in a way that irritates me this early.

SHOW LESS

3
Fujiya & Miyagi : Collarbone
About now, I'm walking by the library, which means I am late. I need a good beat, but nothing too abrasive as [...]

SHOW MORE

Track 2 from Transparent Things
Length: 00:04:03
Year: 2006
Track Description:
About now, I'm walking by the library, which means I am late. I need a good beat, but nothing too abrasive as it is early and I am still grouchy. This song puts me at a good pace.

SHOW LESS

4
Queen : Don't Stop Me Now
If its Mon/Wed/Fri, then I'm on my way to Gender and Politics. If its Tue/Thur, then I'm late to Lit (ALWAYS l [...]

SHOW MORE

Track 0 from Platinum Collection
Length: 00:03:31
Year: 0000
Track Description:
If its Mon/Wed/Fri, then I'm on my way to Gender and Politics. If its Tue/Thur, then I'm late to Lit (ALWAYS late to this class).This song will be on as I am walking in and trying to untangle myself from my mess of headphones, large bag and assortment of layers. I am really conspicuous.

SHOW LESS

5
Murray Head : One Night in Bangkok
I do not know how this song made it onto my mp3 player, but it was always on as I left class and walked to the [...]

SHOW MORE

Track 19 from Greatest Hits
Length: 00:03:59
Year: 2001
Track Description:
I do not know how this song made it onto my mp3 player, but it was always on as I left class and walked to the union building for coffee. Then, one time it didn't come on and I missed it, so now it plays everytime.

SHOW LESS

6
Q and Not U : Tag Tag
I have no time to waste before work! I need something to move and motivate me! This song gets me over to the d [...]

SHOW MORE

Track 13 from Power
Length: 00:04:40
Year: 2004
Track Description:
I have no time to waste before work! I need something to move and motivate me! This song gets me over to the dept. of Mass Communication, where I have a work study job.

SHOW LESS

7
Gnarls Barkley : Smiley Faces
I'm leaving work now. I'm not so down with Gnarls, but I love this song. Chances are I'm feeling much more che [...]

SHOW MORE

Track 5 from St. Elsewhere
Length: 00:03:05
Year: 2006
Track Description:
I'm leaving work now. I'm not so down with Gnarls, but I love this song. Chances are I'm feeling much more cheery and this song will give me the optimism I need to endure my psychoanalysis and dream interpretation class.

SHOW LESS

8
The Thermals : A Pillar Of Salt
Leaving class, I'm probably annoyed. I now head over to the debate team squad room. This song helps me to rele [...]

SHOW MORE

Track 4 from The Body, The Blood, The Machine
Length: 00:02:57
Year: 2006
Track Description:
Leaving class, I'm probably annoyed. I now head over to the debate team squad room. This song helps me to release my irritation instead of projecting it onto my debate partner, haha.

SHOW LESS

9
Indian Jewlery : Lesser Snake
Still walking...

SHOW MORE

Track 1 from Invasive Exotics
Length: 00:04:19
Year: 2006
Track Description:
Still walking...

SHOW LESS

10
Wolf Parade : Dear Sons and Daughters of Hungry Ghosts
Tired, I'm going to the union for more coffee. Feeling productive, this song helps me forget the mass amounts [...]

SHOW MORE

Track 8 from Apologies to the Queen Mary
Length: 00:03:39
Year: 2005
Track Description:
Tired, I'm going to the union for more coffee. Feeling productive, this song helps me forget the mass amounts of homework that are ensuing.

SHOW LESS

11
Eric Clapton : Layla
A weird closer, I know. However, the 7 minute and 4 second version of this song is exactly how long it takes m [...]

SHOW MORE

Track 5 from Clapton Chronicles: The Best of Eric Clapton
Length: 00:04:37
Year: 1999
Track Description:
A weird closer, I know. However, the 7 minute and 4 second version of this song is exactly how long it takes me to walk from the student union building to my door.

SHOW LESS
Tag Board
You must log in to leave a tag
Stuff
Quick Jump
Danielle's other mixes
Related mixes
recent visitors
show all